Resee's Easter Basket, and Resee's Nest Cupcakes – A Kid Friendly Thing To Eat
These are soooooooo darn cute! Plus, they're easy to do! Not to mention – yummy! Imagine Resee's Peanut Butter Cups, with Coconut & vanilla frosting underneath. Plus, Chocolate Covered Coconut Candy sits inside the Resee's – So good! Use these adorable cupcakes for the Easter table, a Spring party, or a birthday party! Here's What You'll Need!: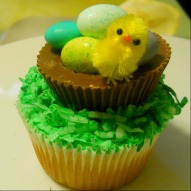 Cupcakes of your choosing
Vanilla Frosting tinted green with green food coloring – Reserve some vanilla frosting & color some brown if you decide to attach the wire with frosting.
Coconut Flakes
Green Food coloring
Big Resee's Peanut Butter Cups – They make the giant ones that look to me, very similar to a basket! Maybe it's just me, but they turned out so cute!
Chocolate covered Coconut Eggs – M & Ms makes these
Milk Chocolate Colored Chocolate Melts – Melted ( Only a little bit – about 1/8 of the bag) **This is only if you want to attach the wire to the Resee's Cup with chocolate – It would be the most natural looking way to go.
A 3 inch piece of naturally wired for each basket handle – found in the floral section of Michael's Craft Store
A little birdie, or little chicken for the nest (found mine at Michael's in the Easter Section) – So cute! & a little bunny for the basket!
Now, Here's What You'll Need To Do:
Frost your cupcakes with the green frosting
Place the coconut flakes in a zip tight bag, along with some green food coloring & shake!
Add your green coconut to the outer edge of the cupcake – leave the center with only frosting so the Resee's can hold on.
While your Resee's is still in the brown wrapper, take a knife, and  in the center, cut out a hole. Make the hole big enough to fill it up with eggs, but not so big that it will make the Resee's fall apart.
**If you are making a basket from the Resee's cup for Easter,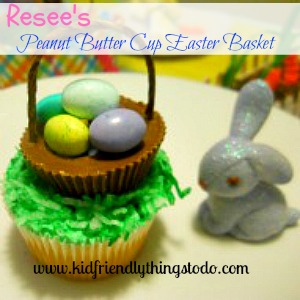 Chocolate Melt Method: You'll want to now, place your Resee's Cups on a cookie sheet, and attach the 3 inch wire with melted chocolate. Hold it in place for about 30 seconds to give the chocolate time to firm for you.
Frosting Method: If you want to make it really easy on yourself – dab a little of brown tinted frosting on the edges of the Resee's cup, and gently insert the ends of the wire into the brown frosting hills.
Now, back to the Resee's Cup:
Take the wrapper off of the Resee's Cup
Place the Resee's Cup on the Center of the frosted cupcake
Fill with Coconut Eggs.
You could use some melted chocolate (or frosting) to glue the eggs down on the top of the Resee's. One or two might try to get away, if you don't. Not necessary – though.
Display Nests with a little chicken or birdie! & Place a Bunny somewhere on your Cupcake display for an added cute factor!