Dr. Seuss Cat In The Hat Crayon Holders Craft – A Kid Friendly Thing To Do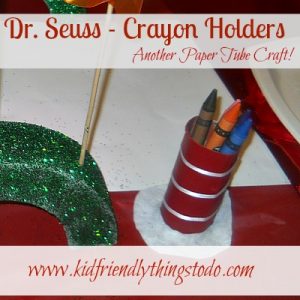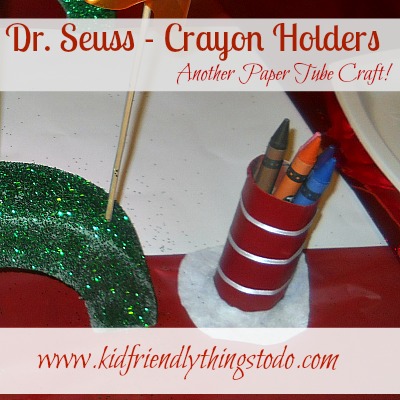 Posted by Melissa in Arts & Crafts | 0 comments
Now that you have a Cat In The Hat Tablecloth instruction. Here is a Cat In The Hat Crayon Holder to add to the fun!
Here's What You'll Need: For Each One –
Toilet Paper Tube
Red Spray Paint
White Ribbon
White Felt or Foam
Scissors
Hot Glue & Hot Glue Gun ( I use a warm gun. I've been burned too many times with the hot one. Yikes!)
Plastic Shot Glasses – You can find them in the drink aisles.
Crayons
Now, Here's What You'll Need To Do:
Cut 1/2 inch slits all around the bottom of your toilet paper roll.
Bend these outward. These help the roll stand, and also provide something for the brim to secure to.
Spray paint with red paint
After they are dry, flip the roll over onto your white fabric, so you can trace a circle from the inside of your roll.
Cut this circle out, and cut a larger circle around it. You are making the brim. It should look like the letter O.
Pull this over your roll of toilet paper, and secure it with glue to your bent slits.
Cut strips of white ribbon to the circumference of your tube.
Place 2 or 3 dots of hot glue on your tube of toilet paper.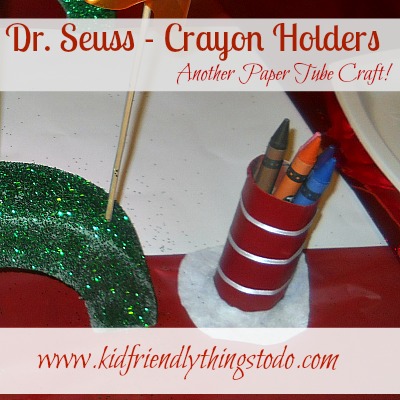 Adhere your white ribbon around the tube, as stripes.
Place a shot glass upside down, inside the tube.
Place a shot glass right side up, on top of the other glass. It will look like an hour glass.
You're done! Stick crayons into the plastic cup, and have fun!
~Melissa – KidFriendlyThingsToDo.com