Making Ugly Doll Marshmallow Treats – A Kid Friendly Thing To Do
Posted by Melissa in Birthday/Holiday & Celebration Dish, Easy Family Recipes, Marshmallow Fun | 0 comments
We love Ugly Dolls! They are so goofy and cute! We have the game, and my oldest just earned a plush ugly doll as a reward. I'm thinking an Ugly Doll Birthday is in our future! And, I'm thinkin' you might have some Ugly Doll lovers in your house…So, I thought I'd give an Ugly Doll Treat a solid try. Here's what we came up with, and here's what we used:
Marshmallows
 lollipop sticks
Blue (light blue), Purple, and Green (lime green) chocolate melts – each melted in small bowls the girls were definitely bummed I didn't have pink for the pink bunny ugly doll – so you might want to throw in some pink melted chocolate
Black Gel Decorative Frosting Tube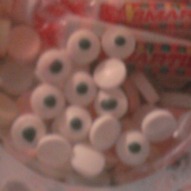 Now, this is what we did:
We dipped the marshmallows into the colored chocolates and placed the chocolate covered marshmallows in a foam piece – floral foam works great
Then, we popped them in the freezer so the chocolate could set
After the chocolate marshmallows were good and cold, we used the "warm" chocolate as glue to put decorations on.
Bat: pictured above
 Ears – Blue sour worms cut into triangles
Teeth – chopped white smarties
Black gel frosting tube for mouth
Bunny: pictured above
Floppy Ears – we used the whole sour worm for floppy ears, so it would have a bend in it
Tongue – The tip of a pink sour worm
Eyes – One candy eyeball, and an X made from the gel tube of frosting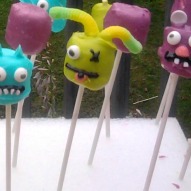 The guy in the right side of the above picture:
 Nose- The very tip of a pink sour worm
Ears – Purple smarties
Eyes – Candy eyes for eyes
Teeth – Pieces of a white smartie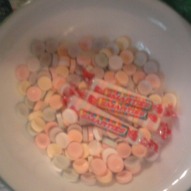 The alien looking guys on the left: Pictured above
Eye – one candy eye in the center
Mouth – a straight black line and 2 pieces of a white smartie
With ugly dolls, you really can't go wrong! Andy combination works! Have fun!
~Melissa – KidFriendlyThingsToDo.Com – A site providing kid friendly recipes, ideas and crafts! Plus, if you're around Connecticut, Rhode Island, or Massachusetts, fun things to do with kids are reviewed including pictures!