Point Judith Lighthouse In Narragansett, RI – A Kid Friendly Thing To Do Review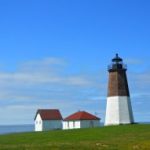 Posted by Melissa in Uncategorized | 0 comments
Point Judith Lighthouse stands tall on Rhode Island's amazing coast. It is still in operation, and with a 270 degree unobstructed view, sends a beam of light across the ocean three times every fifteen seconds. The United States Coast Guard has a station on the Narragansett Bay in Rhode Island. The Coast Guard is kind enough to open this beautiful piece of America's property to visitors. Although you can not climb the tower, you can enjoy the view from every angle on this piece of ocean front property. Hoist your kids up on your shoulders and take in the wonder of the vast ocean, boats passing by, birds settling down on protruding boulders, and families navigating the rocky coast to find treasure brought in by the last high tide! Sit down on a bench by the fenced in rocky ledge and watch the waves come in with the lighthouse as your backdrop. What a day!
Mom's Review:
This is a nice place to visit with kids. We loved the views, and the sea glass hunt! The yard around the light house is fenced in and large enough to let the kids stretch out. The lighthouse, renovated in 2000 is beautiful. The rocky beach near the light house is filled with small rocks to medium sized that are easily navigated.
You're Review: Did You Experience Something Different Here?: Please Leave A Comment Below So We Can Learn From Your Experience:
Favorite Season To Visit:
This View is Timeless! Any Season Will Do
Activities/Things To Do:
Explore New England's Coast – You never know what treasures might wash up on shore!
Take in the beautiful view & enjoy a nice leisurely time with your family
What To Pack:
Sunscreen
Camera/Video Camera
Forget the Stroller – You might want to bring a baby carrier for the little ones
FYI:
More fun things to do in Narragansett are coming soon – Over the next few weeks, I'll post several Narragansett things to do! Look under Places to go by category – Rhode Island – Narragansett.

Is There Anything That Made This Mom Nervous?
Not really. Wet Rocks are always challenging for me. I keep my guard up around those. The grassy property near the light house is fenced in. Pretty safe.
Kid's Review: What Did The Kid's Think Of The Place?:
Abi: Age 9 – "I found the biggest piece of sea glass! The whole bottom of a green bottle!" (Rhode Island is our place to find sea glass – we had a competition going!)
Michael: 7 – He loved looking for crabs and sea creatures!
Dad's 2 Cents: What's All Of This Quality Time Going To Cost Me?:
Not a thing. Free Admission the the lighthouse.
Hours:
Open Daily

Location:
1460 Ocean Rd.
Narragansett, RI

More Pictures For A Better Visual:
go to https://kidfriendlythingstodo.com/2012/07/point-judith-lighthouse-in-narragansett-ri-pictures-a-kid-friendly-thing-to-do-review/
 A Link To Point Judith:
go to http://lighthouse.cc/pointjudith/

~Melissa – KidFriendlyThingsToDo.Com – A site providing fun places to go with kids in Rhode Island, Connecticut, and Massachusetts. Plus kid friendly recipes, crafts and  ideas!