The Monster Mash Milkshake – A Kid Friendly Thing To Drink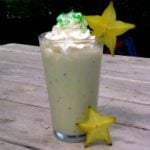 Posted by Melissa in Birthday/Holiday & Celebration Dish, Drinks, Drinks, Easy Family Recipes, Fun Food Crafts, Game Ideas, Halloween, Halloween, Halloween Recipes, Hotel Transylvania Ideas, Milk Shake | 0 comments
This milkshake is yummy and fun! The kiwi with it's little black seeds, help give this milkshake a monstrous look. The honeydew, ice cream, coconut milk make this "monster" easy to swallow!
Here's What You'll Need To Make This Yourself!: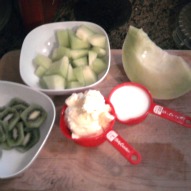 2 cups of honeydew – peeled, seeded, and cut into chunks
4 kiwis – peeled and cubed
1 cup of vanilla ice cream
1/2 cup of coconut milk
Making The Drink: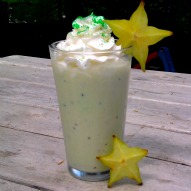 Poor all of the ingredients into a blender and blend until smooth.
Enjoy!
**Keeping it Green – We used sliced star fruit as a garnish!
~Melissa – KidFriendlyThingsToDo.Com – A site providing kid friendly recipes, crafts and ideas! Plus, fun things to do in Connecticut, Rhode Island, and Massachusetts are reviewed with lots of pictures to give you a better visual!