Easy DIY Party Banner Made Out Of Tissue Paper – KidFriendlyThingsToDo.com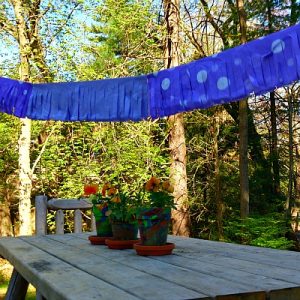 Posted by Melissa in Arts & Crafts, Birthdays, Chinese New Year, Game Ideas | 0 comments
What an easy and inexpensive way to add a beautiful party banner. This banner is so festive looking. I bought the tissue paper at the Dollar Tree, so the cost is only a little more than $1.00! Here's what we did to make this party banner:
We took a sheet of thick tissue paper and folded it in half – into a long rectangle
Then we folded it in half again!
We did that again to 2 more sheets
Then we slipped our twine through the middle of our folds
And, stapled each end – just under the rope
Then we took scissors and cut the piece on the bottom of the tissue paper that was folded and not hanging free
Then, we just cut random sized strips all the way up to the rope – leaving about 1/2 inch margin – Careful not to cut the rope or cut through the top of the tissue paper margin!
And then we were done!
~Melissa – KidFriendlyThingsToDo.com – crafts, party ideas, recipes, fun foods, fun things to do with your family!