Using A Sharpie To Decorate Ceramic Mugs Or Plates – Kid Friendly Things To Do .com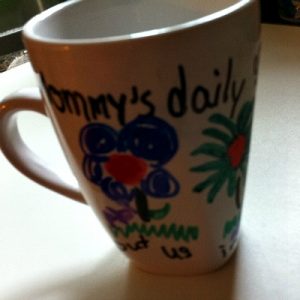 Posted by Melissa in Anytime, Arts & Crafts, Game Ideas, Mother's Day, Mother's Day | 0 comments
This idea on Pinterest implies that you only need a Sharpie and a plate from the Dollar Tree. I thought it looked like so much fun and would be a great Mother's Day gift for my Sunday School class to do. But, I do not like to send kids home with something that is not full proof. Keeping my fingers crossed, I bought some testing items to test this idea. I headed to the Dollar Store, and I bought a white ceramic coffee mug. I bought Permanent Markers and used the Sharpie Markers (also permanent) that I had at home.
Here's my little test, and what I discovered:
Here's A Good Idea! Use Pencil First! –  I only had one mug to try this on, so before I gave the kids a Permanent Marker I drew the plan with a pencil! This really helped give them some guidelines, like their allotted space for letters and drawings!
Then, making sure the surface was safe from Permanent Ink, I let each kid draw a flower in their section. We used both Sharpies and Generic Permanent Markers
The ink from the markers was wet and smeared easily, so I was careful not to let the kids mess up their siblings drawings – a little stressful
Then, I waited a good hour, and tried to rub a little section off – It rubbed off. Hmm…
The Problem: after the Sharpie had time to dry, it was easily smeared. Bummer 🙁 I did a little research on how to set the Sharpie marker on the Ceramic. Here's what I found:
I found this blog that has tried 4 different strategies and found success! Click here!
The blog link above, found that using Oil Based Sharpies – found at craft stores, and spray acrylic sealant worked and held well!
Apparently, you use the Oil Based Markers, allow to dry – bake in the oven to heat set, allow to cool for a long time, then spray waterproof sealer on the mug. Okee! Dokee!
I had no Oil Based Sharpies or Acrylic Sealant, and running out to Michael's was not in my plan. Hoping for the best, I baked my little mug at 350 degrees for an hour and let it sit overnight.
My Result With Only Regular Permanent Marker On Ceramic:
The Generic Permanent Marker Faded! The Sharpie marker is set pretty well, but with a little water and some scrubbing, I do notice the marker chipping away. So, I'm leaving it alone until I can get to the craft store to buy the right equipment, or invest in a Kiln!
This idea from Pinterest would work well if the plate is only for decorative purposes.
I guess I have to keep looking for a Sunday School Mother's Day idea. Bummer, for now…but good to know.
~Melissa – KidFriendlyThingsToDo.com – kid friendly crafts, fun foods, party ideas, recipes, and fun things to do with the whole family. Plus, if you're ever in Connecticut, lots of fun things to do with kids are listed with pictures!