How To Make A Rudolph Paper Bag, How To Make Reindeer Food, and A Poem to Print! – Kid Friendly Things To Do .com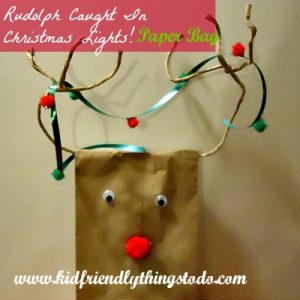 Posted by Melissa in Arts & Crafts, Christmas, Christmas, Craft, Craft, Fun Idea - Thing To Do, Game Ideas | 0 comments
Poor Rudolph is tangled up in Christmas lights! Here's a fun way to bag up the reindeer chow the kids make for Santa's reindeer! This would be a fun addition to a classroom party or any Christmas party. Let the kids mix up some fun food for Santa's Reindeer, oats, glitter (glitter helps the reindeer see the lawn from above!), and sprinkles. Include the poem from below, and add some fun Christmas lights around the reindeer's antlers! A fun take home craft! Full step by step instructions and poem are below!:
You'll Need: For the bag & Christmas lights
A brown paper bag
Hot glue – or tacky glue
Brown Chenille Stems – or brown paper wire stems ( I found them in Michael's craft store in the florist department)
Red pom-pom
Google Eyes
Ribbon
Mini Pom-Poms
Assembling the bag:
Once you have your reindeer food in the bottom of the bag –
Fold the top of the bag over, and place a long brown bendy inside the fold – sticking out at each end. Glue the paper bag over the stem to secure it. Bend the stem ends upwards for antlers
Cut smaller pieces of the brown stem to bend around the ends of the antlers, giving the reindeer some more branches on his antlers
Add google eyes and the big red p0m-pom to the front of the bag with glue
Glue mini pom-poms onto the ribbon, and tangle the ribbon around the antlers!
Attach the poem to the back of the bag
For The Food:
Just mix everything together so the oats are nice, colorful, and shiny!
Here's The Poem: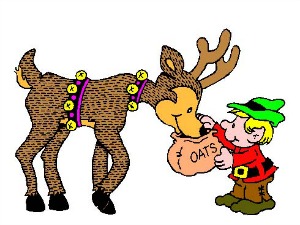 Sprinkle on the lawn at night
The moon will make it sparkle bright
Santa's reindeer fly and roam
This will guide them to your home
~Melissa – KidFriendlyThingsToDo.Com