Olaf From the Movie Frozen Christmas Ornament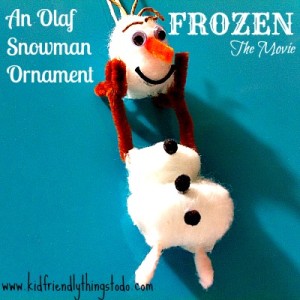 Posted by Melissa in Arts & Crafts, Christmas, Christmas, Craft, Craft, Game Ideas | 0 comments
Have you seen the movie Frozen, yet?! I know, it cost a small fortune to go the movies with kids. My crazy self, thought it would be a terrific idea, after I had been shopping all day long on Black Friday, to take four kids to the late show! Due to the freakishly long line that wound around a maze of partitions, we missed the first thirty minutes. But, we thoroughly enjoyed the part of the movie we did see! Our favorite character was "hands down", Olaf! Wanting to figure out a Frozen craft – last night, tired as a dog, I looked around my make-shift craft room (my craft supplies are back home in Connecticut! 🙁 ) to see what I could find for an Olaf inspired craft. I really, really, really wanted those white pom-pom balls! But, instead I found cotton balls! You know, what? They work! Here's the how to for an Olaf craft ornament!:
You'll Need:
3 cotton balls
3 mini black pom-pom balls
1 Q-tip
1 brown chenille strip (pipe cleaner)
1 orange chenille strip\
2 teeny-tiny googly eyes
brown hemp chord
black hemp chord
glue – I used a low temp glue gun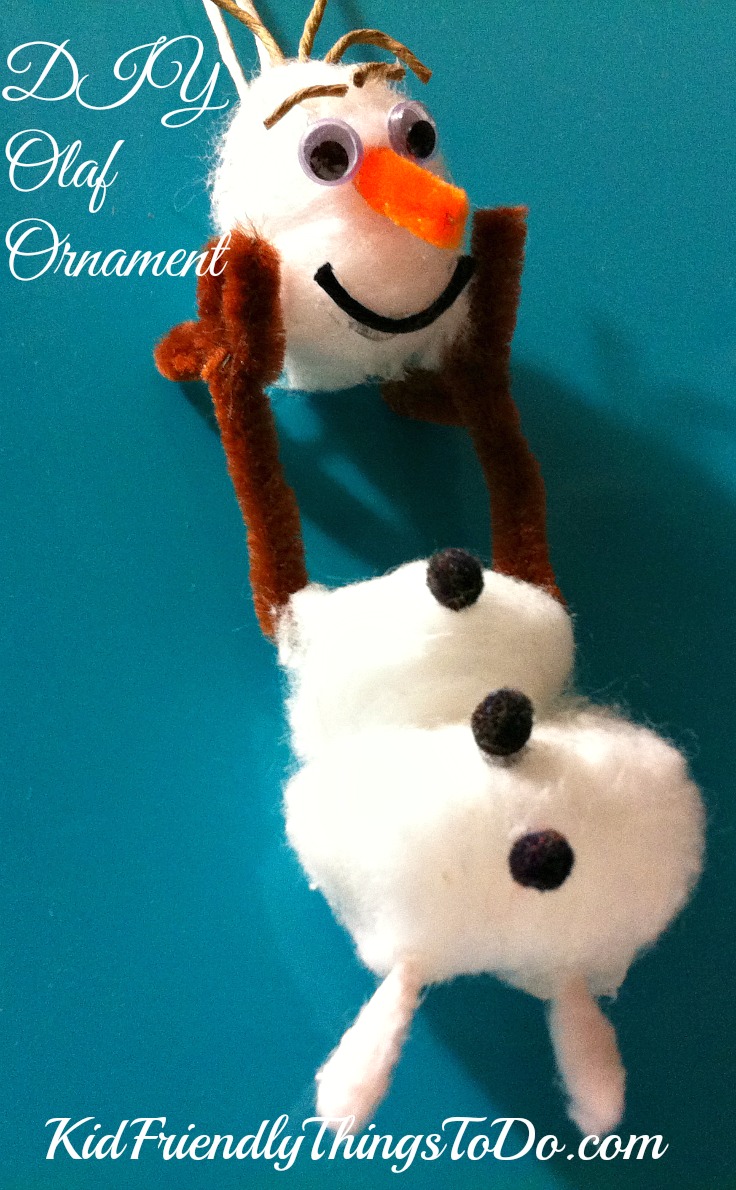 Now,:
**Note – the only problem with cotton balls is that they are very fragile, and tend to pull apart. My apologies for this little stress added to the craft. Again, that's all I had. Feel free to substitute the white pom-pom balls that I wish I had. I know, as soon as I get to Michaels Crafts Store…I'm gonna!
Lets start assembling pieces for Olaf
I started with the bottom, and worked my way up
For Olaf's bum (bottom) – you'll want to put a cotton ball down side-ways – so it's long
Then for the middle part of his body – You'll cut a cotton ball in half
Glue that on top of his bum
Add the 3 mini black pom-pom balls for coal
Cut the ends of a Q-tip for his legs, and glue those on
Now, grab the brown chenille, and cut 4 pieces – about 2 inches long
Make those into the arms like the picture shown above – you'll need 2 pieces for each arm. One to wrap around the top to make fingers
Glue those onto the top portion of Olaf's body
Now, the head!
Grab your third cotton ball, and hold it so it's long in your hands. Cut off the back to make it skinny – just a smidgen! Don't cut it in half
Glue the cut seam together – this will be the back of his head
Now, cut off about an inch of orange chenille for his nose,
A little piece of black hemp for his smile
3 little pieces of brown hemp for his 3 little hairs on his head
2 teeny-tiny pieces of brown hemp for his eyebrows
And, assemble as shown
Glue his hands to the sides of his face
Add a little loop of hemp to the back of his head to hang him from!
There you have it! Olaf!
Happy Holidays!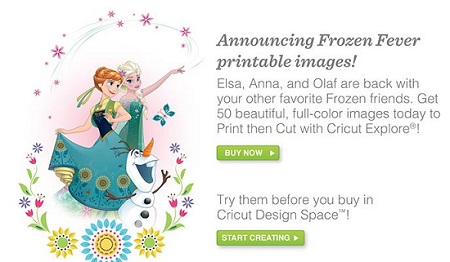 If you enjoyed this post on – Olaf From the Movie Frozen Christmas Ornament – then don't forget to follow me for all of the latest stuff I've been cooking up in this head of mine!
~Melissa – KidFriendlyThingsToDo.com
Linking Up To: