Peppermint Bark Popcorn Snack Mix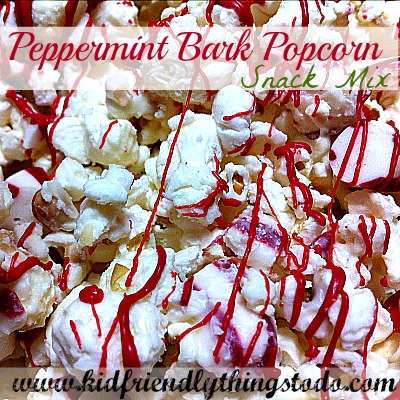 Posted by Melissa in Birthday/Holiday & Celebration Dish, Christmas, Christmas, Christmas - Holiday, Easy Family Recipes, Fun Dessert, Fun Food Crafts, Game Ideas, Holiday Fun Foods, Other Fun Foods, Recipe, Snack Time | 0 comments
Whoa! This snack mix is a can't stop eating this, get this bowl away from mix! With the combination of salty popcorn, white chocolate, and soft peppermint sticks, this snack mix is a winner! Here's the recipe: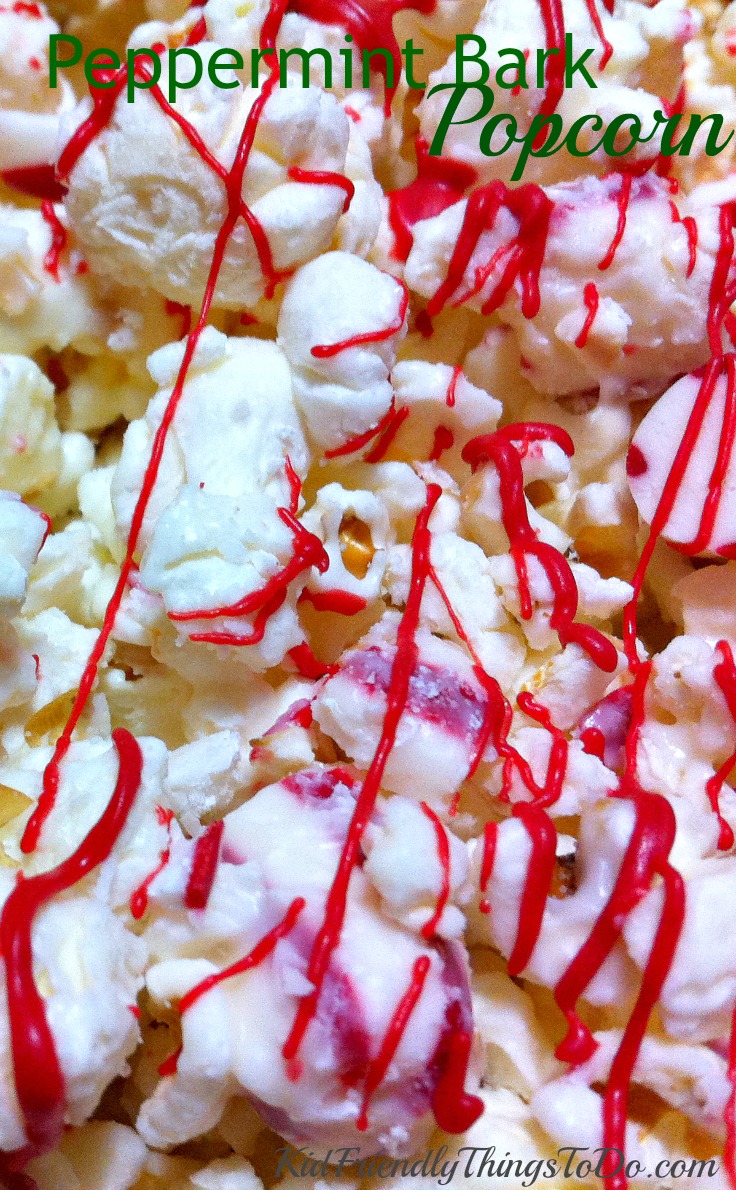 You'll Need:
Popcorn Kernels – about 1/2 cup
Canola Oil – about 3 T
1 bag of White Baking Chocolate
1 bag – or more of Soft Peppermint Sticks
Red Chocolate Melts
Now:
Pour enough oil into to cover the bottom of a large pan – about 1/4 inch high
Pour the kernels in
Pop over med/high heat – covering the pan, but leaving the lid slightly ajar – when the popping slows, remove the popcorn from heat
Once your popcorn is popped, salt it to your liking – no butter
Put the peppermint sticks in 2 zip tight bags, and zip them tight!
I use a rolling pin to crush the peppermint by whacking the sticks. Don't go too crazy here. I know it's fun, but the popcorn bark tastes better when there are large chunks of peppermint
Pour the crushed peppermint over the salted popcorn
Put the white chocolate chips into a glass bowl, and microwave it for about one minute. Everyone's microwave is different, so check on the chocolate's consistency by stirring. If it's nice, and smooth, then it's ready
Pour the melted chocolate over the popcorn, and candy cane mixture
Use a large spoon to mix everything together
Now, have a little bite, ( good, huh?!) but then walk away to let the chocolate set, and get hard – encrusting the peppermint, and popcorn. Depending on the temperature of the room, about 10-20 minutes
Meanwhile, line a baking sheet with wax paper
Once the popcorn is ready, spread it out onto the wax paper
Melt the red chocolate melts, and drizzle it over the popcorn mixture
Let that chocolate set up, and harden
You're done
Transfer the mixture into a serving bowl, or store it in an air tight container.
~Melissa – KidFriendlyThingsToDo.com
Linking up to:
Adapted from Our Best Bites!