A Few Little Leprechaun Ideas For Your St. Patrick's Day – Kid Friendly Things To Do .com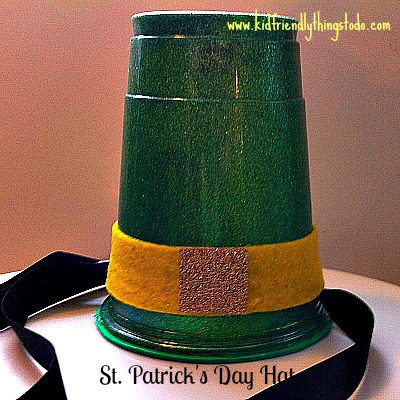 Posted by Melissa in Arts & Crafts, Craft, Game Ideas, St. Patrick's Day, St. Patrick's Day | 0 comments
Here are a few fun ideas to celebrate St. Patrick's Day as a leprechaun!
So glittery, fun, and simple to do! Make little hats for this years party, parade, or St. Patrick's Day fun! Here's the link to this cute craft!
Puffy Paint is such a fun idea! It's my new favorite form of painting with the kids! Here's a fun idea using puffy paint to make a little hand print leprechaun!
There are a lot of cute traps out there for catching a leprechaun! I apologize for the picture – Not my best photography, here! This one lures the leprechauns up to the top of a hat with gold, and just when the leprechauns think they've got the loot, whamo!…they fall through the napkin!
Now…these are simply adorable! Coming to you from Sun Scholars!
My favorite preschool teacher made something similar to these cuties from Paging Super Mom! Let me tell you….a room full of 4 year old Leprechauns is super adorable!
This is awesome! I love this idea! These Mickey Mouse, and Minnie Mouse headbands are found at Disney Family .com
There you have it! Some ideas to inspire you, and get you started on St. Patrick's Day fun with the kids!
~ Melissa – KidFriendlyThingsToDo.com