Hand Print Art – Kid Friendly Things To Do .com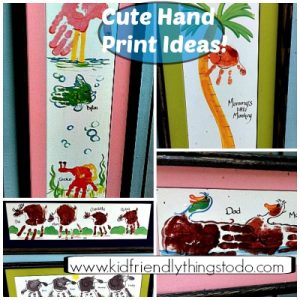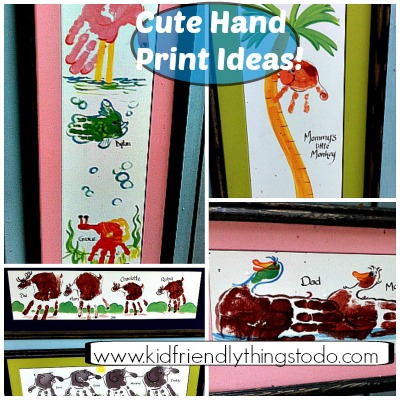 Posted by Melissa in Anytime, Arts & Crafts, Birthdays, Christmas, Christmas, Fun Idea - Thing To Do, Game Ideas, gifts you can make | 0 comments
We just got back from a fun Tennessee trip! Our – End of the Summer trip. My first three were born in Knoxville, Tennessee. When my husband told me it was time to move to Connecticut, I did not leave without a fight! I tell you, I pitched a complete toddler tantrum! This year was the first time we went back in years. I actually got emotional at the Tennesee Welcome Center! I do love that state.
We were able to get a little cabin a short walk to Gatlinburg. We had a momma bear visit the cabin, daily with her two cubs! The scenery was gorgeous. The entertainment was wonderful. The rocking chairs on the cabin porch were perfect. It was just the vacation I needed. Of course we visited Dollywood while we were there. I loooooove Dollywood! That's where I spotted these hand print art ideas! Here's a close up of these clever ideas from Dollywood!:
Awe! Mommy's little Monkey! Cute indeed.
Ducks! Can anything be made from a hand print?! It sure looks that way!
I love the deer. The elephants holding tails with thumb trunks is pretty darn cute!
A flamingo, a fish, and a crab! This would be a cute idea for an "Under the Sea" party! You could do hand print art on little canvas to let the kids take home! So cute!
~ Melissa – KidFriendlyThingsToDo.com