Halloween Mice Dessert – A Fun Food – Kid Friendly Things To Do .com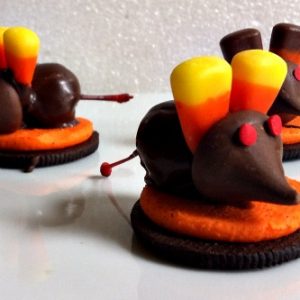 Posted by Melissa in Birthday Dessert Idea, Birthday/Holiday & Celebration Dish, Easy Family Recipes, Fall - Thanksgiving, Fun Food Crafts, Halloween, Halloween, Holiday Fun Foods, Thanksgiving | 0 comments
Mice are back in my kitchen again! This time they are even scarier! With vampire fangs, they are ready for Halloween! With a chocolate covered cherry tail, Hershey's kiss head, and Oreo Cookie base; I can guarantee they won't last long! Here's the step by step on making these Halloween Mice Desserts:
You'll Need:
Oreo Cookies – Twisted Apart
Hershey's Kiss
Brown Chocolate Melts
Maraschino Cherries – with stems
Red Circle Sprinkles for eyes
Optional Fangs :
Slivered Almonds – using only the tips
Red Icing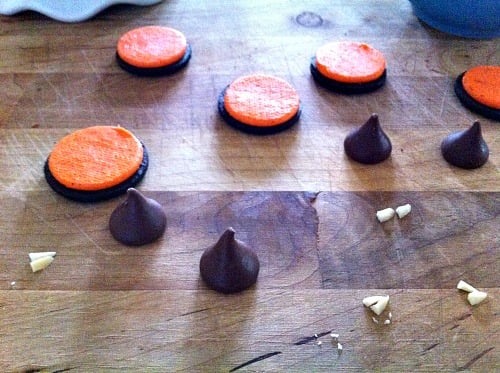 Unwrap the Hershey's! Twist open the Oreos, and if you want…prepare the fangs!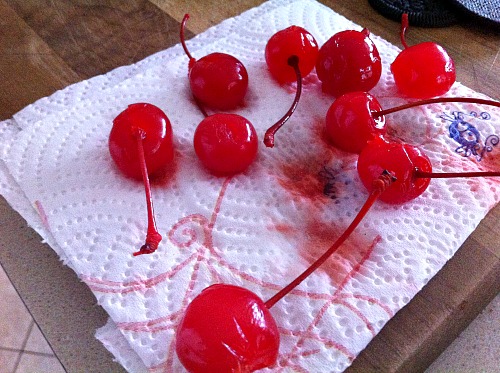 Dry the cherries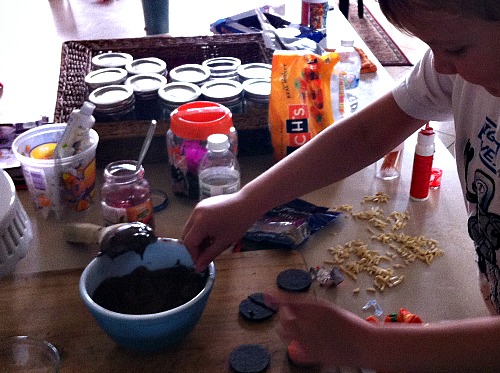 Melt your chocolate! Please disregard the messy counter!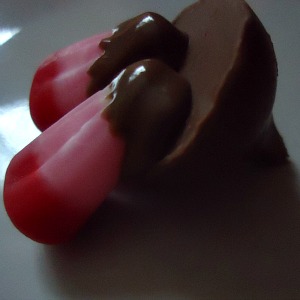 Prepare the ears – but with the fall colored candy corn! Oops! I forgot to take a picture of the orange ears!
Dip the fall colored candy corn tips in chocolate, and let them dry to the back of the Hershey's Kiss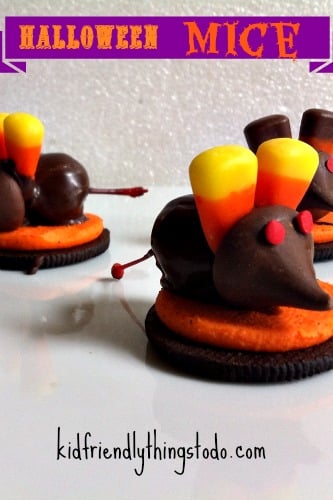 Finally, Dip the cherries into the chocolate, and glue the head, and bum together on top of the Orange filling of your cookie!
*If you want to add the slivered almond fangs, use a toothpick to grab a little chocolate out of the bowl, place on the almonds, and glue them to the bottom of the head – hold for a few seconds while the chocolate set…add red icing blood!
Happy Fall – Happy Halloween
~Melissa – KidFriendlyThingsToDo.com