Gouda & Bacon Stuffed Mushrooms – Kid Friendly Things To Do .com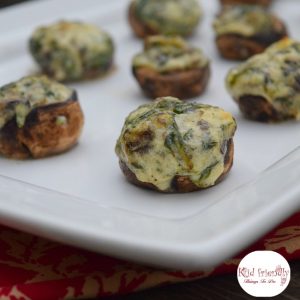 Posted by Melissa in Appetizers, Christmas, Christmas, Easy Family Recipes, Game Ideas, New Years, New Years Eve, Recipe, Recipe, Thanksgiving, Thanksgiving | 0 comments
I have been searching for a stuffed mushroom recipe that I can use as a  traditional holiday appetizer!  Most of the stuffed mushrooms out there are stuffed with dressing that dominates the taste, and makes it dry. Not this one! This is the ultimate gooey cheese, bacon, and chive stuffed mushroom that I have been searching for. It's out of this months Taste of Home magazine (November 2014 issue) – You know…the same issue that has my Muffin Tin Pizza recipe…page 85!!! 😉
Here's my slightly modified version of these Outrageously Delicious Stuffed Mushrooms! You definitely want these in your Thanksgiving, Christmas, and New Years Eve Dinners!:
You'll Need:
*You can make these ahead of time! Time saver! Love those!
4 oz. cream cheese, softened
1 cup of shredded Gouda cheese – I found this at Target
8 bacon strips, cooked and crumbled
4 green onions chopped
1/4 cup of oil packed sun dried tomatoes – chopped
3 t of dried parsley
Chopped mushroom stems from your mushrooms
24 large mushrooms – I used Bella mushrooms – with stems removed, and middle scooped out with a spoon
1 Tbsp. olive oil
salt
Now:
Preheat oven to 425 degrees
Mix the first 7 ingredients
Pour the olive oil in a shallow baking dish, place the mushrooms down – stem side up
Lightly salt the mushrooms
Fill with filling
You can cover, and refrigerate these until your ready – even a day or two in advance!
When you are ready, pop them in the oven the oven for 9-11 minutes, or until tops are golden
Enjoy!
Find the original recipe, and more at Taste of Home
~ Melissa – KidFriendlyThingsToDo.com