How To Brine A Turkey – An Herbed Brine Recipe – Kid Friendly Things To Do .com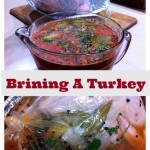 Posted by Melissa in Birthday/Holiday & Celebration Dish, Christmas, Easy Family Recipes, Game Ideas, Main Dish, Poultry, Recipe, Recipe, Thanksgiving, Thanksgiving | 0 comments
I found this recipe for an Herbed Brine in the November issue of Taste of Home. Last weekend I gave it a try, and took some step by step pictures on the how to!
You'll Need:
4 Quarts of water
2 cups of sugar
1&1/2 cups of salt
1/2 cup of fresh parsley
1/2 cup of fresh rosemary
Bay leaves – a small handful
4 tsp. dry mustard
4 tsp. garlic powder
4 tsp. ground (cayenne) red pepper
4 tsp. whole peppercorn
4 Quarts of cold water
Turkey oven roasting bag
Turkey
Aluminum Disposable Roasting Pan
Brining is basically giving the turkey a salt water bath for a long period of time. There is a science behind the idea. Basically the salt water locks the moisture in so the meat won't dehydrate during cooking. It should remain nice and juicy!
Now, on to the how to 🙂
In a large stock pot…add the first nine ingredients
Bring to a boil, and stir to dissolve the salt & sugar
Add 4 more quarts of cold water to the brine – this will cool it off for you!
Transfer your brine to whatever you'll use to pour the brine with
I used a nice big bowl with a spout to transfer the brine into the roasting bag. A pitcher would have worked well, also
Place your turkey inside the roasting bag, and place it in the disposable roasting pan.
*I found the pan to be very helpful in catching splashed water, and a great container for rinsing the turkey!
Seal the bag, and pop the turkey – still in the disposable container – into the refrigerator
You will want to let the turkey marinate in the brine for several hours, or overnight!
Occasionally flip the bird over so everything is exposed to the brine
When you are ready to cook the turkey empty the bag of juices, and thoroughly rinse the turkey – inside, and out! I know, it seams odd to rinse off all of the spices, and seasonings, but you'll want to really give it a thorough rinsing. Trust me…you don't want a bird that's too salty!
Pat it dry, and place it in your roasting pan…breast side up
Rub olive oil all over the turkey – top, and bottom
You can shake a little ground pepper over the turkey for some added flavor
Roast it according to this turkey cooking chart 
Here's the beautiful outcome! A juicy, and beautiful turkey!
He loves posing with food! Those curls, cute face, and charming personality are the only things that keep him out of constant time out! Fourth+Youngest+Boy = Trouble!!!!
Happy Thanksgiving Everyone!
Find the original recipe and so much more at Taste of Home!
~ Melissa – KidFriendlyThingsToDo.com
Linking up to: