Old Wood Rd. Rye Squares – A Delicious Cream Cheese & Mushrooom Appetizer – Kid Friendly Things To Do .com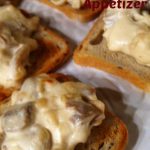 Posted by Melissa in Appetizers, Christmas, Easy Family Recipes, Game Ideas, New Years, Recipe, Recipe, Thanksgiving | 0 comments
This recipe is from my mother-in-law. She actually calls them Old Wood Road Rye Rounds (not real sure where ROUND comes from? There is nothing ROUND about them). She named them after her Road because they were the constant appetizer for her street's holiday parties! Don't let these babies escape the kitchen without a few tucked away for yourself! Trust me…the platter will come back empty. 😉 Here's the recipe for Nana's Old Wood Road Rye Rounds/Squares?!.
You'll Need:
4 T. – 1/2 stick of softened butter
8 0z. of cream cheese
1 can of sliced mushrooms – drained DO NOT SUBSTITUTE FRESH  – I tried – blah!
2 T. Worcestershire sauce
2 T. dried minced onion – or 1 small sweet onion diced
1 loaf of Party Jewish Rye bread
Now on to the Good Stuff!:
Grab a medium size mixing bowl, add the first 5 ingredients
Mix it all together
Place the Rye slices on a baking sheet
Set the oven to broil
Broil both sides of the bread until they are golden brown – should only take a minute or 2 on each side
Spoon the topping onto the toasted squares, and pop them back under the broiler for another minute, or until the top is a little golden
Done!
Happy Holidays!
~ Melissa – KidFriendlyThingsToDo.com
Linking up to: