Slow Cooker Spaghetti & Meatballs – Kid Friendly Things To Do .com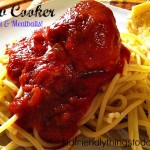 Posted by Melissa in Easy Family Recipes, Main Dish, Meats, Pasta | 0 comments
This slow cooker spaghetti and meatballs dish is perfect for this extra busy time of year! The bonus is the meatball sandwiches for the following day's lunch! Two meals in one!
Here's the recipe that is slightly adapted from this month's Taste of Home issue!
You'll Need:
This makes 12 servings – about 24 meatballs!
Meatballs
1 cup of Seasoned Bread Crumbs
2 Tbsp. of shredded Parmesan Cheese
1 tsp. ground black pepper
1/2 tsp. salt
2 eggs that are lightly beaten
2 pounds of ground beef, or ground turkey
Sauce:
1 large sweet onion – chopped
3 cans of tomato sauce (15 oz. each)
2 cans of diced tomatoes (14&1/2 oz. each)
1 can of tomato paste
6 garlic cloves – peeled and chopped
2 bay leaves
1 tsp. each of dried basil, and parley flakes
1 tsp. salt
1/2 tsp. pepper
1/4 tsp. of crushed red pepper flakes
*Warning – don't substitute cayenne pepper for red pepper flakes. It's far too spicy. Trust me on that! 🙂
Now:
In a large bowl mix the first 7 ingredients together
Roll the meat mixture into 1&1/2 inch balls
Using a large skillet, brown the meatballs in a little bit of olive oil – drain
Get out your slow cooker, and add the onions tomato sauce, diced tomatoes, tomato paste, and spices
Stir well
Add the meatballs
Set low and cook – covered – for about 5 or 6 hours
Remove the bay leaves before serving over cooked spaghetti noodles
Find this original recipe and more at more at Taste of Home
~ Melissa – KidFriendlyThingsToDo.com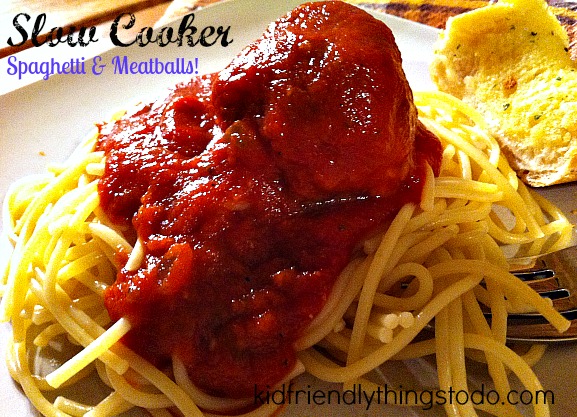 Slow Cooker Spaghetti & Meatballs
2014-12-11 11:51:41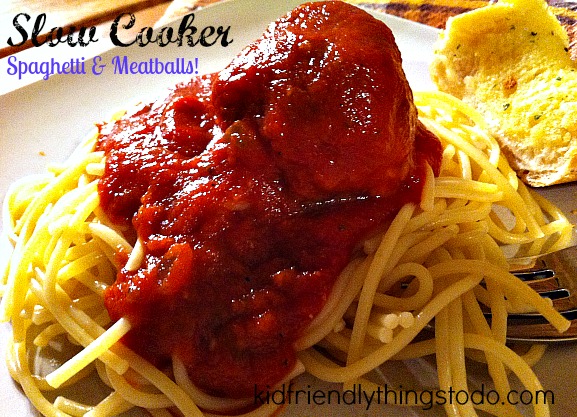 Serves 12
Delicious and Easy! Perfect for the holidays
Meatballs
1 cup of Seasoned Bread Crumbs
2 Tbsp. of shredded Parmesan Cheese
1 tsp. ground black pepper
1/2 tsp. salt
2 eggs that are lightly beaten
2 pounds of ground beef, or ground turkey
Sauce
1 large sweet onion – chopped
3 cans of tomato sauce (15 oz. each)
2 cans of diced tomatoes (14&1/2 oz. each)
1 can of tomato paste
6 garlic cloves – peeled and chopped
2-4 bay leaves
1 tsp. each of dried basil, and parley flakes
1 tsp. salt
1/2 tsp. pepper
1/4 tsp. of crushed red pepper flakes
Instructions
In a large bowl mix the first 7 ingredients together
Roll the meat mixture into 1&1/2 inch balls
Using a large skillet, brown the meatballs in a little bit of olive oil – drain
Get out your slow cooker, and add the onions tomato sauce, diced tomatoes, tomato paste, and spices
Stir well Add the meatballs
Set low and cook – covered – for about 5 or 6 hours
Remove the bay leaves before serving over cooked spaghetti noodles
Notes
*Warning - Don't substitute red (cayenne) pepper for crushed red pepper
Adapted from Taste of Home
Kid Friendly Things to Do.com - Family Recipes, Crafts, Fun Food Crafts, and Game Ideas https://kidfriendlythingstodo.com/