Ham and Beans Soup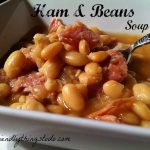 Posted by Melissa in Easy Family Recipes, Main Dish, Other, Soups & Salads | 0 comments
My mom used to cook the dry Great Northern Beans for this Ham and Beans soup all day on the stove. I really enjoyed those beans, and appreciate the time that went into that dinner. I, however, use canned Great Northern Beans, and this dinner is ready in less than 30 minutes. Sorry mom! Slightly adapted from the recipe my mom used to make, but still incredibly delicious and quick! This is the perfect recipe for the leftover holiday ham! Here's the recipe for this warm your heart & soul, comfort food, soup:
You'll Need:
3 cans of Great Northern Beans
+ 3 cans of water (about 6 cups)
Fully Cooked Ham with bone in
1/2 tsp. of ground pepper
Instructions:
In a large pot over the stove, add the beans, water, and ham – I empty the beans out, fill the cans with water, and dump the water into the pot – my lazy way of avoiding getting one more item out of the cupboard 🙂
Set the heat to high, and get it boiling, turn the heat down to simmer
Simmer, with the lid on, for about 30-45 minutes or until the liquid starts to thicken up
Just a couple of minutes before serving – add the ground pepper, and stir in
Serving Suggestion: Serve with your favorite cornbread recipe! Yum!
Ham and Beans Soup
2015-01-08 09:14:13
This is the kind of soup winters are made of! Delicious,comfort food soup.
Ingredients
3 cans of Great Northern Beans
+ 3 cans of water (about 6 cups)
Fully Cooked Ham with bone in
1/2 tsp. of ground pepper
Instructions
In a large pot over the stove, add the beans, water, and ham - I empty the beans out, fill the cans with water, and dump the water into the pot - my lazy way of avoiding getting one more item out of the cupboard 🙂
Set the heat to high, and get it boiling, turn the heat down to simmer
Simmer for about 30-45 minutes - the liquid should thicken up a bit
Just a couple of minutes before serving - add the ground pepper, and stir in
Notes
Serving Suggestion: Serve with your favorite cornbread recipe
Kid Friendly Things to Do.com - Family Recipes, Crafts, Fun Food Crafts, and Game Ideas https://kidfriendlythingstodo.com/
~ Melissa – KidFriendlyThingsToDo.com