Grilled Salmon and Tomato Pasta With Cream Sauce
Posted by Melissa in Easy Family Recipes, Grilling Fun, Main Dish, Pasta | 0 comments
Last week, I finally had the perfect night to grill up some salmon. I love, love, love grilled salmon! I absolutely love pasta. So, when I saw a recipe with the two together, and a cream sauce on top of that…Hellur! Here's a super simple, and delicious Grilled Salmon and Tomato Pasta you'll just adore, and devour! Not in that particular order!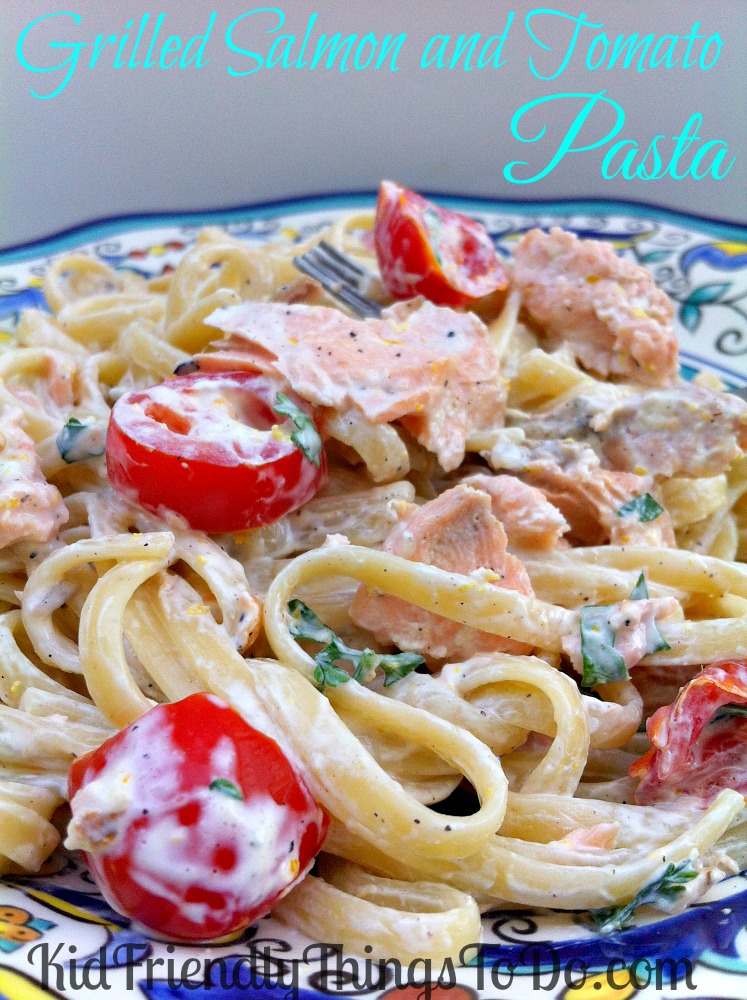 Grilled Salmon and Tomato Pasta With Cream Sauce
2015-05-09 08:45:00
Ingredients
1 lb. of Salmon Fillets
Olive Oil
Sea Salt & Pepper
1 lb. of Linguine Pasta, such as Barilla
1 tsp. Sea Salt
1 container of Grape Tomatoes (about 6 oz.) - Halved
2/3 cup of Sour Cream
2 Tbslp. Milk
3 Tblsp. Chopped Fresh Parsley
1 Tblsp. Grated Orange Rind
1/2 tsp. Sea Salt
1/2 tsp. Ground Black Pepper
Instructions
Place Salmon Fillets in a container and drizzle olive oil all over them
Sprinkle Sea Salt & Pepper on both sides
Let the Salmon soak in the oil for a few minutes
Get the grill ready by spraying oil, and warming the grill for the Salmon
Cook the Salmon Fillets on the grill, for about 15 minutes., turning about halfway through
While the Salmon in cooking, Boil water for the pasta, add 1 tsp. of salt to the water, add the linguine, and cook until done - Drain
Meanwhile, prepare the sauce by getting out a large bowl, and adding the sour cream, milk, orange rind, tomatoes, and parsley - Mix together
When the Salmon is done, make sure you remove the skin, and chop the Salmon
Add the chopped Salmon, and Pasta to the bowl of cream sauce
Fold everything in and Serve Warm!
Notes
It takes about 8 minutes per inch of Salmon Fillet to cook. Salmon should be pink in color, all the way through
Adapted from Pasta by Linda Fraser
Adapted from Pasta by Linda Fraser
Kid Friendly Things to Do.com - Family Recipes, Crafts, Fun Food Crafts, and Game Ideas https://kidfriendlythingstodo.com/
If you enjoyed this post on – Grilled Salmon and Tomato Pasta With Cream Sauce – then don't forget to follow along for lots more free recipes, crafts, DIYs, and so much more!