Naan Shrimp Wraps with Creamy Cajun Dressing Recipe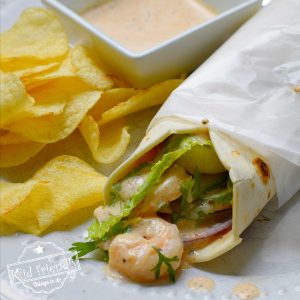 Posted by Melissa in Easy Family Recipes, Main Dish, Sandwich, Seafood | 0 comments
Why go out, and spend $10 at a restaurant for a wrap that might not be as delicious as this, when you can make it this good at home?! It's not just good though. It's lip smackin' goo-ood.

It's Easy, Peasy too. Which is my favorite way to cook! Who has time for anything more than easy, peasy? The ingredients are so good for you, too. I mean, seriously…look at that delicious cucumber, shrimp, lettuce concoction! I'm in love with this sandwich, I tell ya'.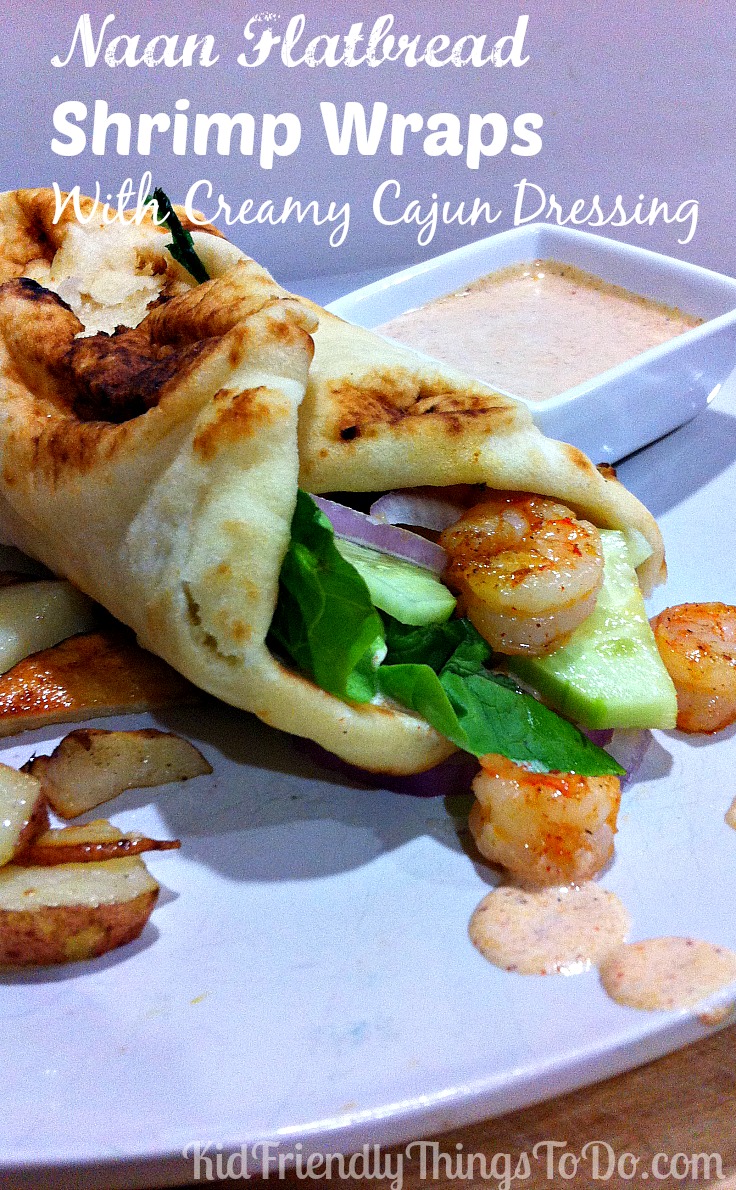 And, do we even need to discuss that dressing? I swear, I'm slathering this dressing on every sandwich and serving it as a dip to ever-y-thing this summer. I have found my summer love, y'all. I think I've convinced you to try it. I'll shut up now, and just give you the recipe. 🙂
Here's some stuff you might need or even want for this recipe:
(contains affiliate links)
Here's the handy dandy printable:
Shrimp Flatbread Wrap with Creamy Cajun Dressing
2015-06-16 07:39:58
Ingredients
3 Tbsp. of lemon juice
4 Tbsp. of olive oil, divided
1&1/2 tsp. of Zatarin's Blackened Seasoning
1/8 tsp. ground black pepper
3 Tbsp. of sour cream
1 lb. of uncooked, but deveined, and peeled shrimp - with tails removed
Boston, or Bibb Lettuce
4 Naan flatbreads
1 Medium cucumber, peeled, and cut into quarters
1 small red onion sliced thin
1/4 cup of fresh cilantro leaves
Instructions
In a medium sized bowl, toss the shrimp in 1 tsp. of the blackened seasoning. Set aside
Whisk the dressing ingredients: lemon juice, only 3 out of the 4 Tbsp. of olive oil, seasonings, and sour cream - set aside
In a large skillet, add the rest of the olive oil, and set the burner on med/high heat
Place the shrimp in the skillet, and stir them while they cook - about 3-5 minutes. They should turn pink
Prepare the flatbread by spreading a large spoonful of sauce down the center, add toppings (lettuce, cucumber, red onion, and cilantro, and shrimp)
Serve with leftover dressing!
Adapted from Taste of Home
Kid Friendly Things to Do.com - Family Recipes, Crafts, Fun Food Crafts, and Game Ideas https://kidfriendlythingstodo.com/
~Melissa – KidFriendlyThingsToDo.com