Easy Mini Caramel Apple Pies
Posted by Melissa in Christmas, Dessert, Easy Family Recipes, Thanksgiving | 0 comments
These mini apple pies are so darn easy, and delicious. They are the perfect simple dessert for any dinner, party, or simple treat! This recipe makes eight mini pies and only uses one apple. I love the simple and delicious things!

They look so fancy, don't they?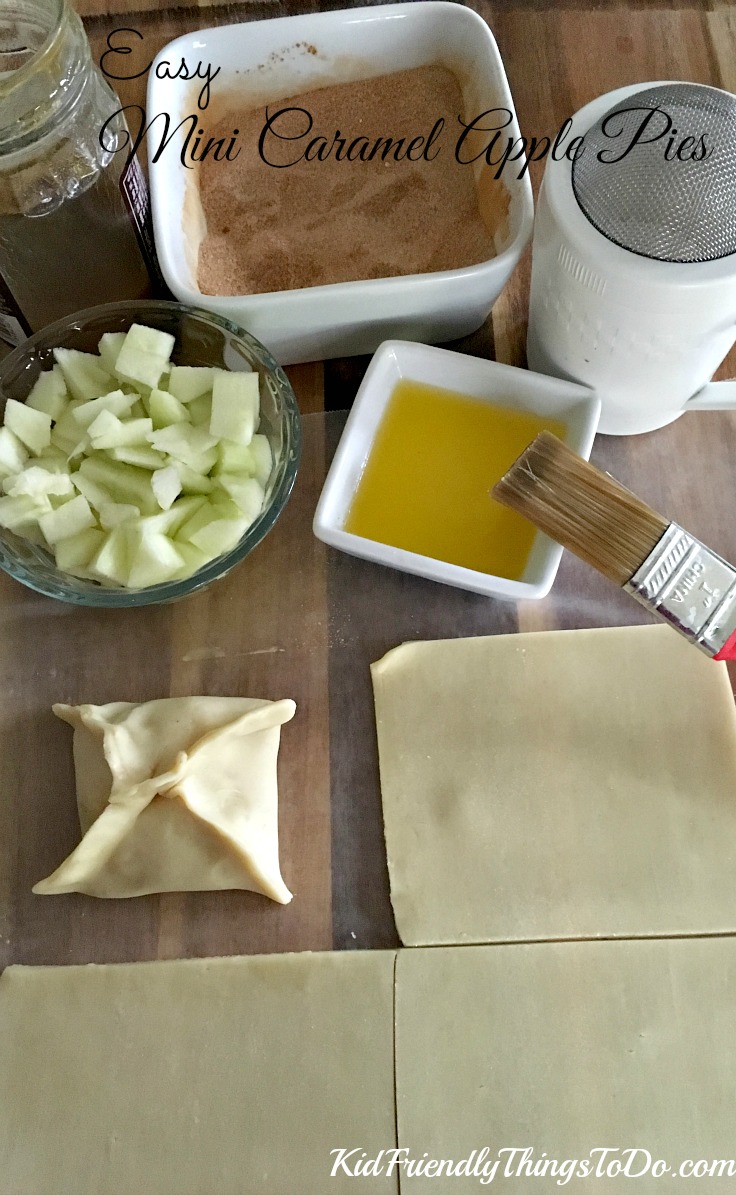 Your guests will not believe that you only spent minutes on this delicious dessert.

Here's my little collage to help you along the steps of this recipe.
And, here's the handy, dandy printable and recipe: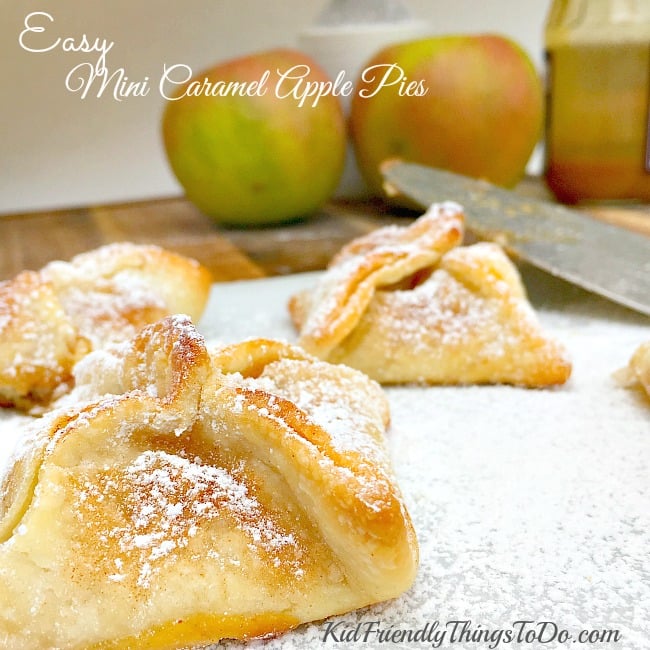 Easy Mini Caramel Apple Pies
2015-12-02 10:40:15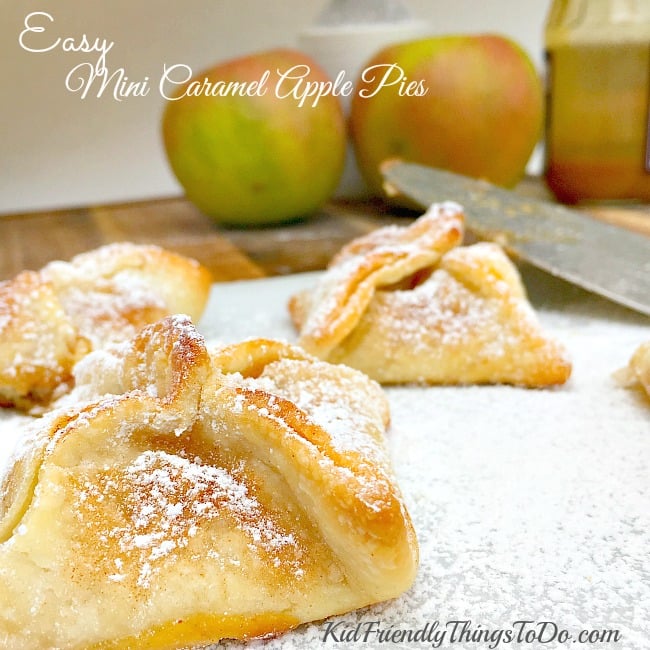 Perfect individual apple pies
Ingredients
Refrigerated pie crusts - 2 pack
2 Tbsp. of melted butter
1 apple, peeled, cored and cubed
Caramel Sauce
Cinnamon Sugar - 1/2 cup of sugar mixed with 1 Tbsp. ground cinnamon
Powdered sugar
Instructions
Preheat the oven to 425 degrees
Trim the pie dough so they are squares instead of circles
Cut the large squares into 4 equal sized squares - about 3"x3"
Brush melted butter onto each square
Add about 1 Tbsp. of apples into the middle of each buttered square
Sprinkle cinnamon sugar generously over the apples - about 1 tsp.
Pour a little bit of caramel sauce over the apples - about 1 tsp.
Bring up the corners of the squares - starting at opposite corners and pushing the points and edges together to seal
Place on a baking sheet covered in parchment paper
Bake for 10 minutes
When cooled - sprinkle with powdered sugar
Serve and enjoy with whipped cream or vanilla ice-cream. Yum!
Kid Friendly Things to Do.com - Family Recipes, Crafts, Fun Food Crafts, and Game Ideas https://kidfriendlythingstodo.com/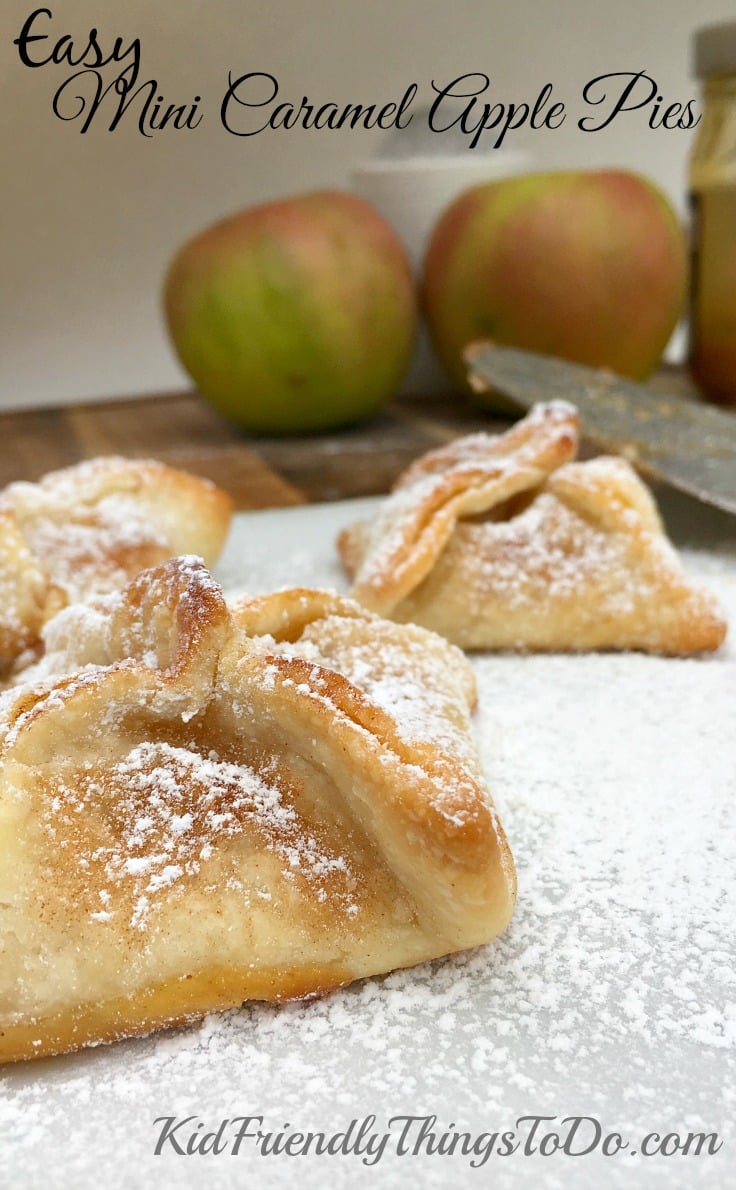 Enjoy your apple pies, tonight!
Here's some stuff you might want or even need for this recipe: