Baked Shrimp & Chicken Egg Roll Recipe
Posted by Melissa in Birthday/Holiday & Celebration Dish, Chinese New Year, Easy Family Recipes, Main Dish, Poultry, Seafood | 0 comments
When my son requested an Asian themed meal for his birthday dinner, I knew egg rolls had to be on the menu. My mom used to make egg rolls for my birthday dinner, and I still remember rolling those suckers up while sneaking bites of the filling. She hand shredded the cabbage, and fried the egg rolls in a wok. I take short cuts anywhere I can, so I don't hand shred anything! I also try to bake instead of fry. I really wasn't sure the baked would hold up to the fried wrappers, but let me tell you…they were crispy and delicious! Come on in, and I'll share the recipe with you. I'll even add a quick version of the homemade sweet & sour sauce, to boot!
Here's the finished product. Truthfully, these pictures are making me wish we had leftovers! Oh yum!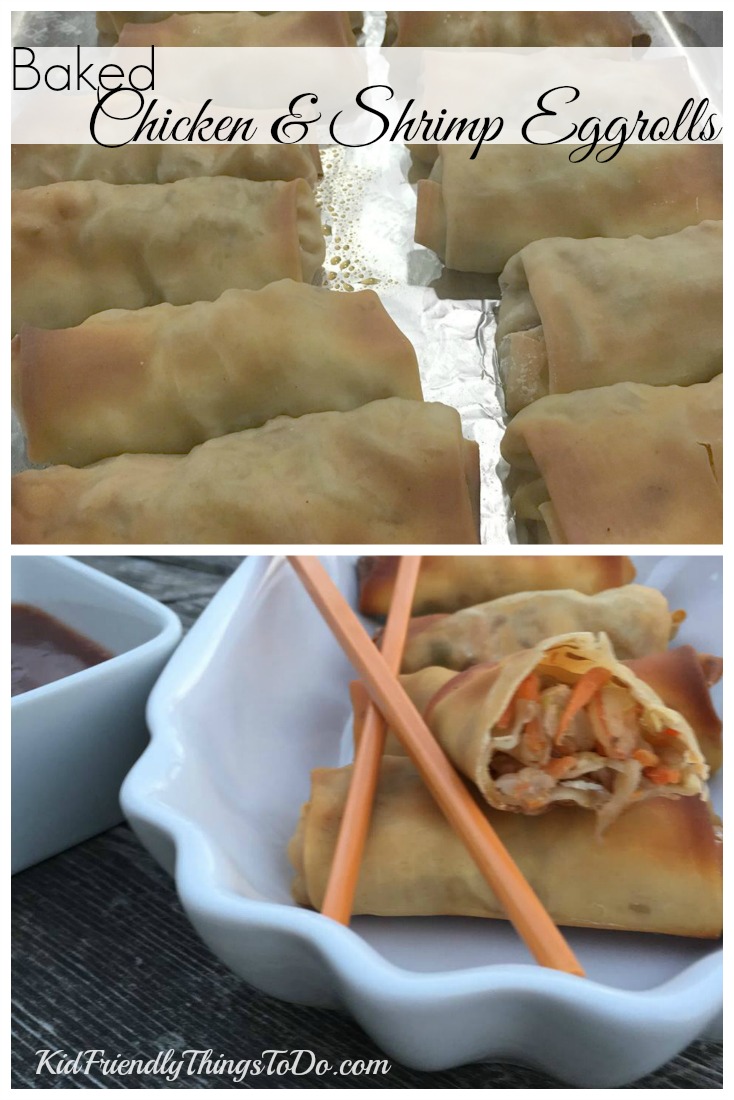 Another great thing about baking is your job is done once they go into the oven. No need to stand over a frying pan.
Are you ready to give it a go? Here's a picture to guide you and the recipe including the sweet & sour sauce is below.
If you haven't had much practice rolling egg rolls, you'll want to refer to this picture as a guide. Don't worry, I'll have a collage of the steps in the print out. It's super easy, too!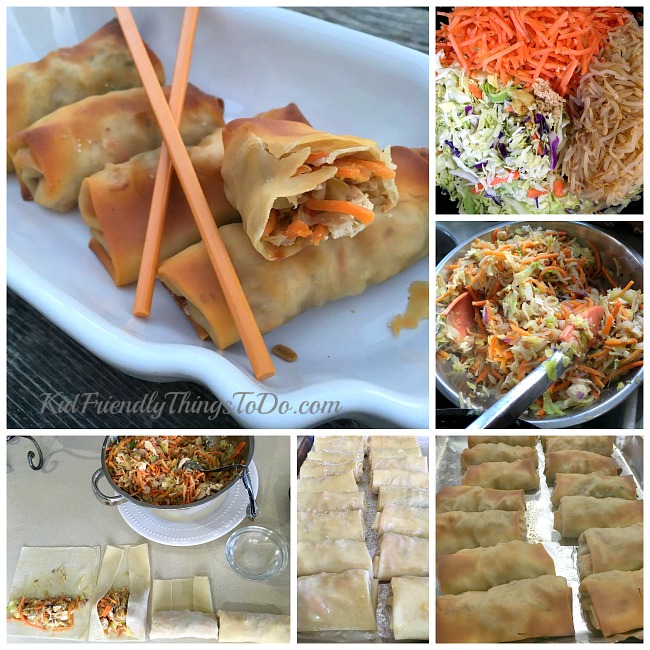 Baked Shrimp & Chicken Egg Rolls
2016-01-25 11:27:55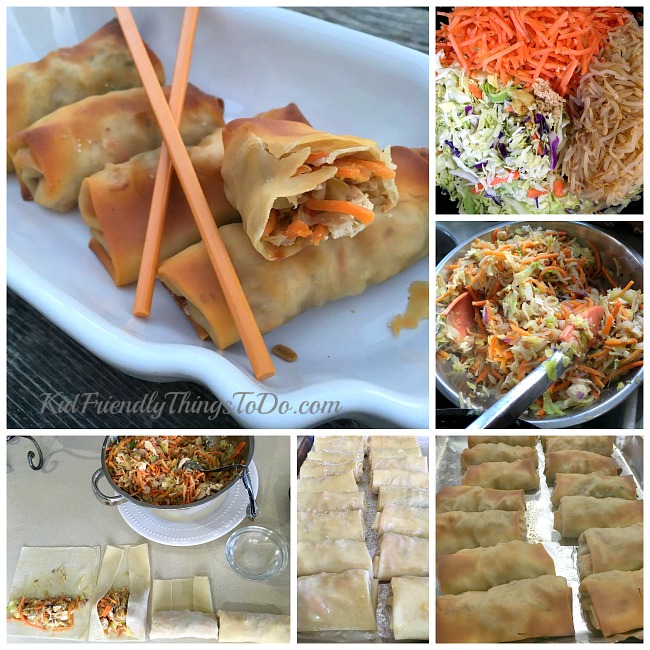 Ingredients
2 Tbsp. olive oil
1 (16 oz.) package of tri-color cole-slaw package
1 (10 oz.) package of shredded carrots
2 cans of bean sprouts - drained
3/4 tsp. salt
1 tsp. minced garlic
1/2 tsp. of ginger paste
1 tsp. soy sauce
8 oz. of mini shrimp - peeled, cooked and deveined
1 cup of cooked cubed chicken
Egg roll wrappers - about 40-50
Olive oil cooking spray
Other Suggested Equipment
Non stick aluminum foil
Dish of water
Tbsp. measuring spoon
Strainer
Sweet & Sour Sauce Bonus
1 Tbsp. corn starch mixed with 1 Tbsp. water
1/2 cup of brown sugar
1/4 tsp. salt
1/3 cup of apple cider vinegar
2-3 Tbsp. of pineapple juice
3 Tbsp. ketchup
1 tsp. Worcestershire sauce
1 tsp. soy sauce
Instructions
In a large, non-stick skillet, add the olive oil and heat over med/high heat
Add the coleslaw mixture, carrots and bean sprouts
Add the salt, garlic, ginger and soy sauce - Mix in
Cook the vegetables down for about 10 minutes
Add the chicken and shrimp and cook for an additional 1-2 minutes
Drain the water and place the strainer over a plate to continue draining while you fill wrappers
Preheat the oven to 375 degrees
To fill the wrappers
Set the wrapper out on a work surface
Add 2 Tblsp. of egg roll filling to the length of the wrapper leaving some space on the edges for folding
Fold the 2 sides over the mixture and roll the egg roll up
Seal the ends with water *you can use a clean paint brush or basting brush to spread the water on the edge of the egg roll wrapper
Spray oil spray on the bottom of the egg roll and set it down on your foil lined pan
Spray the top of the egg roll with the oil spray
Repeat that process about 40 more times - (you'll be an expert!)
Bake at 375 degrees for about 20 minutes or until the outside of the wrappers are golden brown (oven times may vary)
Enjoy with your favorite sauce or
Mix the sweet and sour sauce ingredients into a sauce pan, and boil until thick
Notes
You can double sauce ingredients
Kid Friendly Things to Do.com - Family Recipes, Crafts, Fun Food Crafts, and Game Ideas https://kidfriendlythingstodo.com/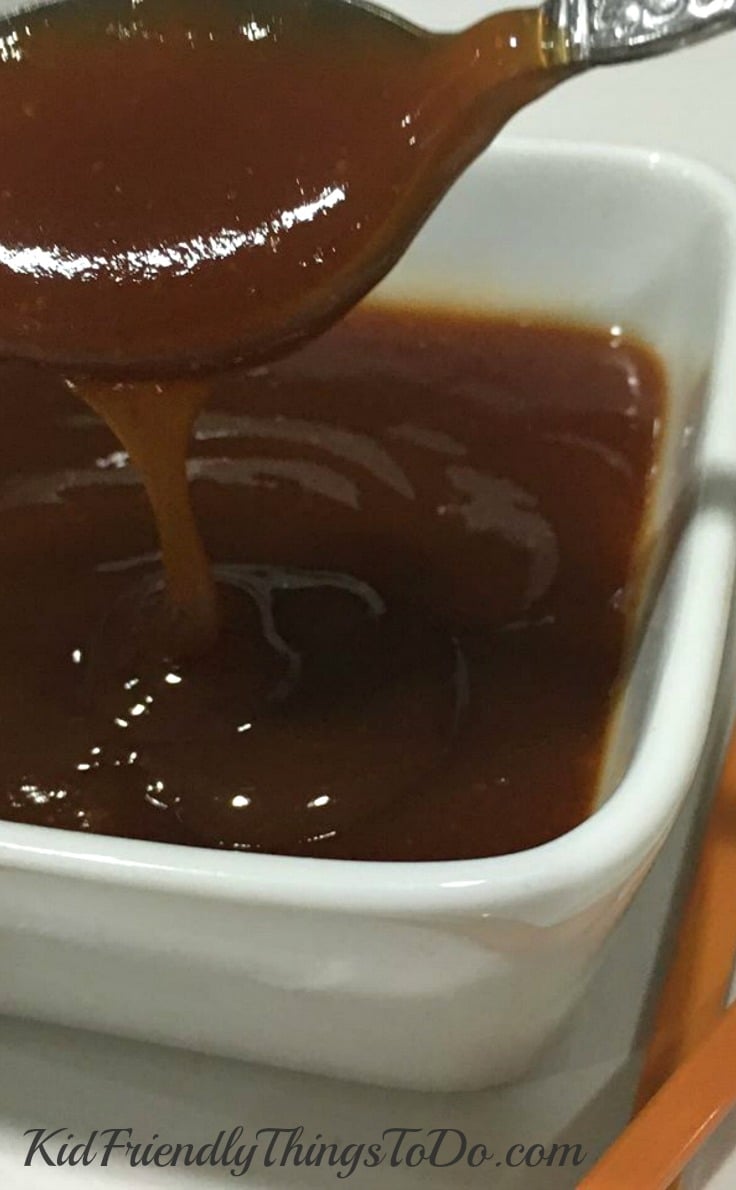 Here's some stuff you might need or even want for this recipe:
(affiliate link)
~Melissa -KidFriendlyThingsToDo.com