Guess that Smell Christmas Game for the Whole Family to Play!

Posted by Melissa in Christmas, Game, Game Ideas | 4 comments
Forgive me for interrupting the Halloween and Fall posts with a little Christmas fun to share with you all. Last week, I bought supplies for a fun Christmas Game and the kids couldn't wait to play it. Everyone- kids, teens and adults had a blast trying to Guess the Christmas Smells. Come on in and I'll share how we Played Guess that Smell Christmas Game for the Whole Family to Play!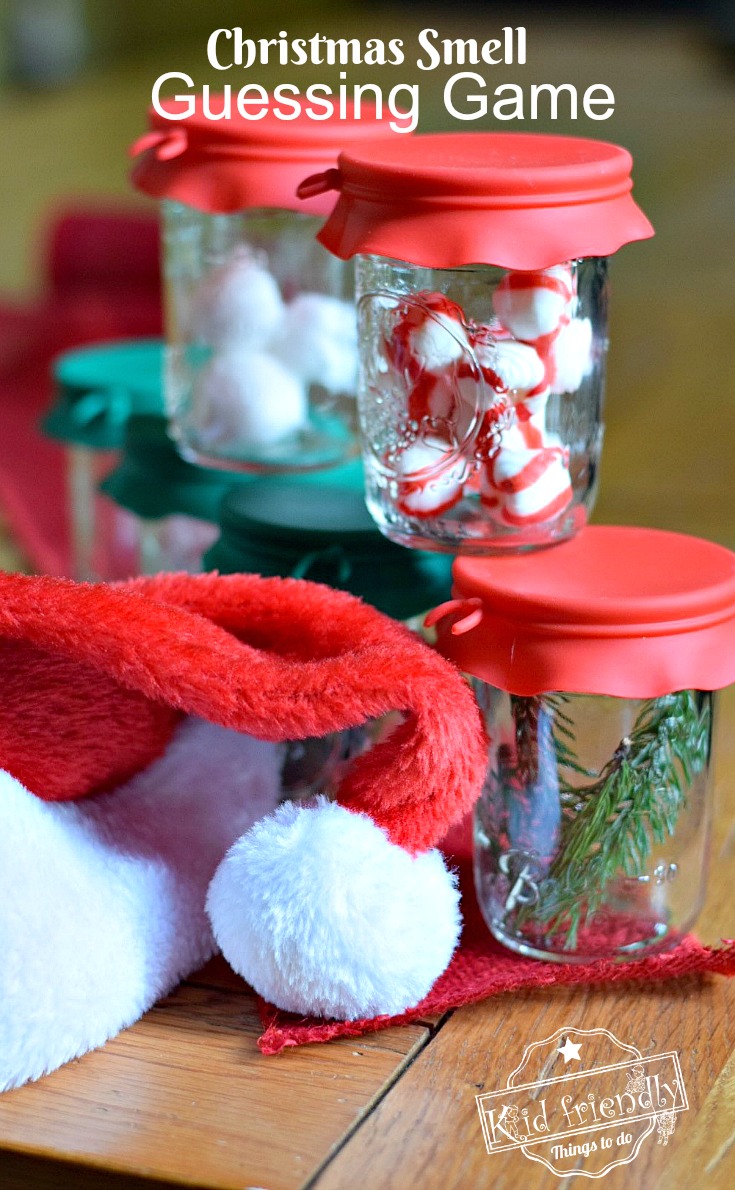 My kids have asked to play this over and over. This is a really simple game to pull together. It's so much fun to watch everyone try and guess what the item inside the jar reminds them of.

I even threw in a bonus one that made everyone gag! Who knew Nutmeg was such a strong scent? Oopsies! Not one person guessed nutmeg. Since eggnog is A) liquid and B) not in stores – I opted for nutmeg as a substitute. If you want a good laugh, you should use nutmeg too!

So much fun!
Here's What You'll Need for Guess that Smell Christmas Game for the Whole Family to Play!
*If you plan on dividing into teams, then get double of everything
Jars with lids or any other container that will keep the smell well contained until the player is ready to smell it – *I found my silicone jar lids at Menards that pull right off. They are perfect for this game. I'll include an Amazon link below
Santa hat for a blindfold
Christmas items that give off the scent of Christmas (Ideas to follow)
Paper and pen to keep track of who guessed it right!
*optional – piece of paper cut to the height of the jar. Place this on the inside of the jar – molding it to the curve of the jar. This will completely hide the contents from observers
Ideas for Christmas Smelling Items:
Pinecone
Pine Needles
Peppermint Candy
Cotton balls soaked with vanilla extract
Cotton balls soaked with almond extract – that might be specific to our Christmas Cookies. Almond always reminds us of Christmas. I'll link the recipe to the yummiest Sugar Cookies Ever, below
Cinnamon Sticks
Chocolate
Fudge
Gingerbread
Hot Chocolate – not sure how to do the liquid thing without a huge mess, but maybe you'll figure it out *Update – I found an extract for hot chocolate on Amazon! Link is below
Extracts and oils – soak cotton balls with the scent and place in jar. Seal with lid
Nutmeg – hee!hee!
It would be fun to throw in something stinky – like the a smell version of the jelly bean game – bean boozled. What stinks at Christmas? Hmm…
Any other ideas? Leave us a comment below
Instructions:
Our Family Version:
I set up the jars at the table and only let one person at a time come into the room to guess *The reason for that was that I didn't want the person guessing to persuade the next person in any way. I wanted original guesses. It is more fun to have everyone in one room. I guess you could use earmuffs and blindfolds?!
I handed the first contestant each jar and recorded what they guessed
The kids that already guessed loved watching on…as a new person was trying to guess. They got to hand the jar to the new victim contestant
I gave them a point for an exact guess, or if they told me what the scent reminded them of from Christmas (as long as they weren't way off)
Of course, I let them all eat the peppermints after we were done!
Team Play Idea:
You'll run through the game twice so each person has a chance to be a sniffer and a recorder
Grab some Christmas cardstock. Cut it into strips as tall as the jar. Insert it inside the jar wrapping it around the whole inside to conceal what is inside. This will ensure onlookers can not see what is inside the jar.
Throw in a few different scents for each team so the jars per team don't entirely match up with their objects inside (you'll see why as you read on)
For each team – Number jars 1-however many scents you have per team
To play in teams, with each round – choose a sniffer for each side and one person from the opposing team as a note taker and helper
When you're ready, the helper from the opposing team (without looking inside) should hand jar number one to the contestant and record their guess
For extra fun and lots of pressure – time them! Give them one minute to guess all jars correctly
Keep going until each scent is recorded or time is up
Compare to see which team won
Play one more time: Have the note takers become the sniffers and the sniffers become the note takers. Have teams switch sides so now the sniffer is smelling a different set of jars that they have not seen before, and go again
Classroom Variation:
You could have a scent station where the adult helper passes a jar around and each kids guesses the item inside
As Promised:
Here are My Top Amazon Picks for this Guess that Smell Christmas Game for the Whole Family to Play!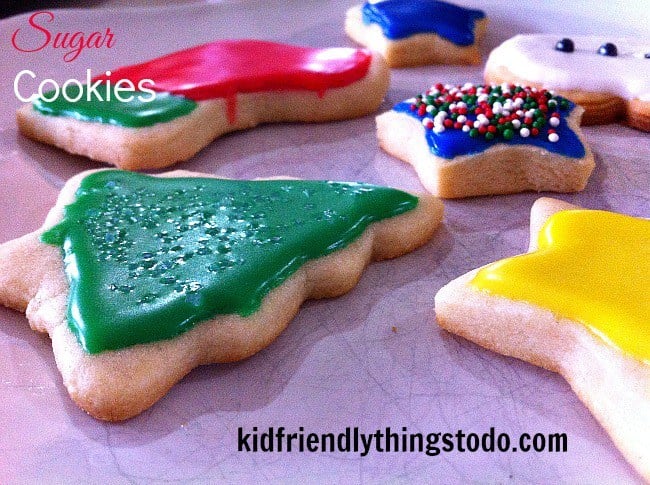 Here's the Best Ever Sugar Cookie Recipe I promised – click here