It's Abraham Lincoln on a pretzel. Abraham with an extra-long beard. If anyone feels like a last minute fun food idea for President's Day – I've got ya covered.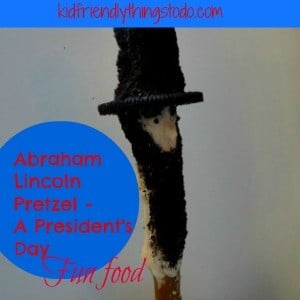 President's Day Chocolate Covered Pretzel
I only made one Abraham Lincoln this a.m. so the ingredients are for one – you'll have to adjust them accordingly:
Pretzel Rod
About a dozen White Wilton Chocolate Melts
1 Orange Wilton Chocolate Melt
Toothpicks
Black gel frosting
Oreo Cookies – Get yourself a few, just in case you have casualties
Wax Paper on a flat working surface
Instructions
First off, prepare your Oreo Cookies – Twist them apart and get rid of the center (eat it, if you have to:) )
One will be cut for the hat – so saw one in half and then carve out the center to get a U shape
Now, crush your leftover cookie parts – this will be hair, beard, and the top of the hat – you might want to get another cookie, while you at it. You can never be too prepared when decorating chocolate. It drys fast!
Now, melt your white and orange chocolate melts according to the package directions – we're mixing them together to make a peachy skin tone for Abe
Then take a butter knife or something similar and spread most of the chocolate onto the top 1/2 of the pretzel
Set that onto the wax paper and get to work immediately
Place your U shaped Oreo Cookie about 1&1/2 inches down from the top of the pretzel
Sprinkle the crushed Oreo Cookie onto the top half of the hat. All the rest of the Oreo Cookie should be sprinkled below the hat bill and made to look like the picture above. Give Abe a long beard and some hair!
Now use toothpicks to dip into the cream colored chocolate and dab a nose onto Abe's face
Use the same toothpick to dab eyes
Use the black gel frosting to give Abe big bushy eyebrows and eyeballs
Poor Abe – He looks scared
~Melissa – KidFriendlyThingsToDo.Com – kid friendly crafts, fun foods, party ideas, and fun ideas for the whole family!
Copyright Protected!