Have you ever heard of apple gourds? My dad introduced these to me several years ago. I couldn't believe how much they resembled an apple! So, when I was a girl scout leader, and entered our troop into the fall garden fairy displays using a "Fairy Picking Patch" as our theme…I turned to apple gourds to make a "fairy cider mill"! I looked up types of apples online, and found one that I liked. Then, I set out to match paints to my picture. I bought craft paints, and got to work on 3 giant apples!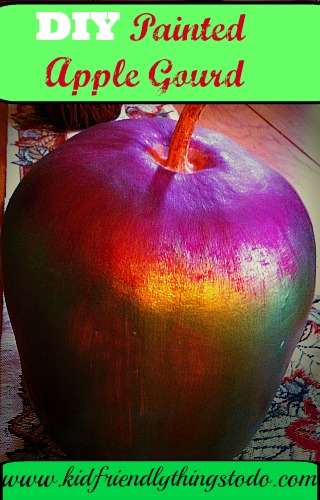 Yep, I use to have 3 different sizes of these. They were so pretty as a set. Then, I had my fourth child! No complete has survived his mass destruction. So, until I sit down, and order more apple gourds, I decorate my coat rack with this lonely, but oh so pretty painted gourd.
I hope I've introduced you to something fun, or given you an idea for fall decoration! I found a website that sells apple gourds at a pretty reasonable price. I might just have to order 2 more, and get my set back. 🙂 In case you want to look around at these cool gourds, here's the link!