A Chicken Ala King Recipe Served over Biscuits For An Easy and Delicious Meal

Posted by Melissa in Easy Family Recipes, Main Dish, Poultry | 0 comments
Y'all…this is simple an AMAZING dinner! If you are ready for down home comfort food that's easy to make and delicious, then you have to try this Chicken Ala King Recipe tonight. You won't regret it. Come on in and I'll share A Chicken Ala King Recipe Served over Biscuits For An Easy and Delicious Meal…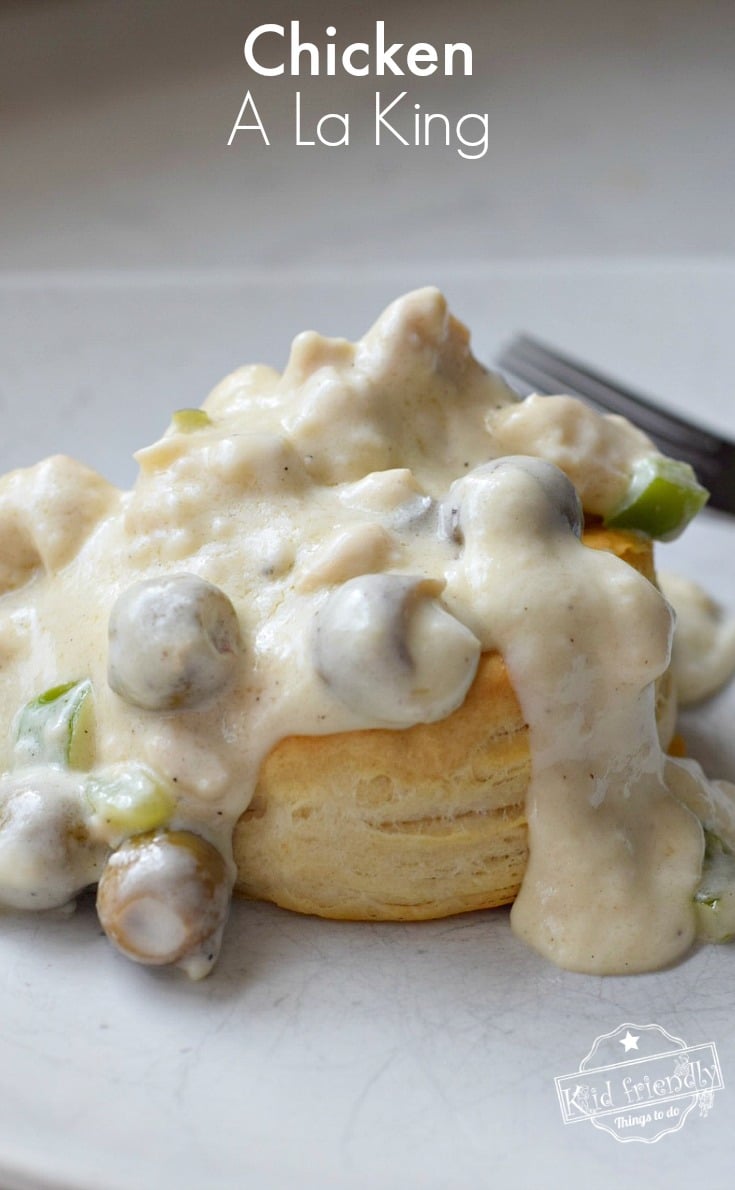 I mean look at this deliciousness!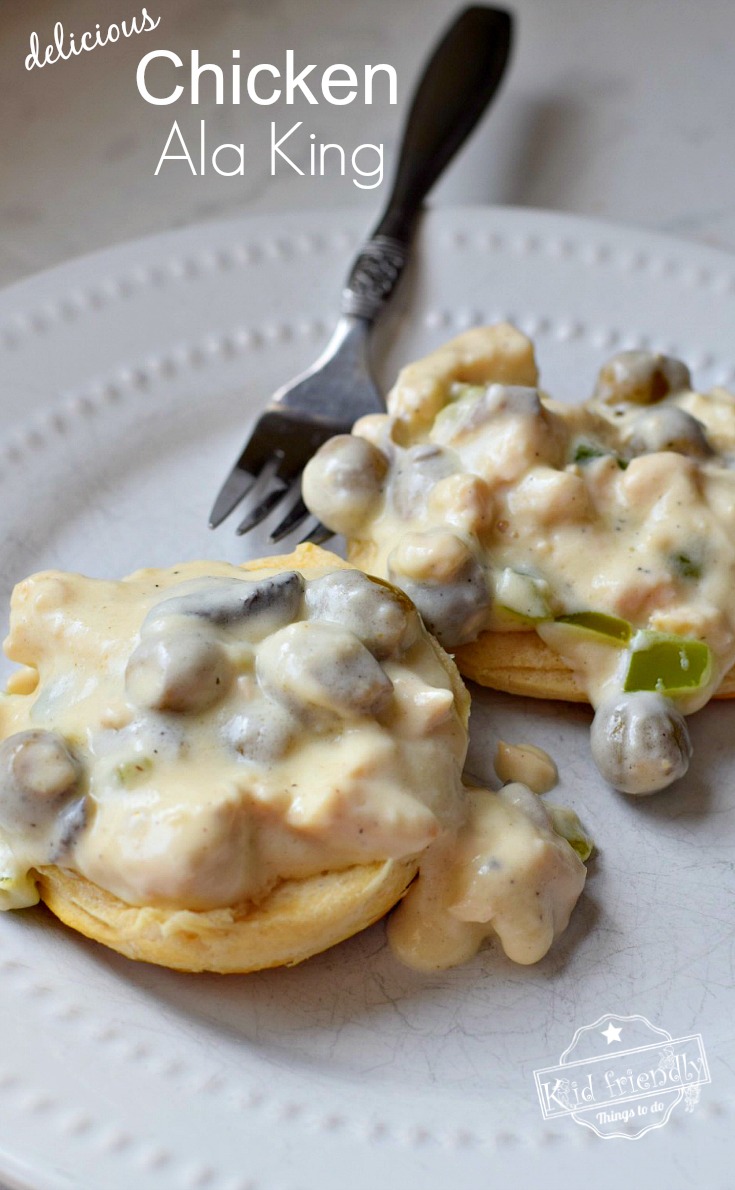 Topping a fluffy biscuit is a creamy Roux is filled with mushrooms, olives, chicken and green pepper. It is so yummy!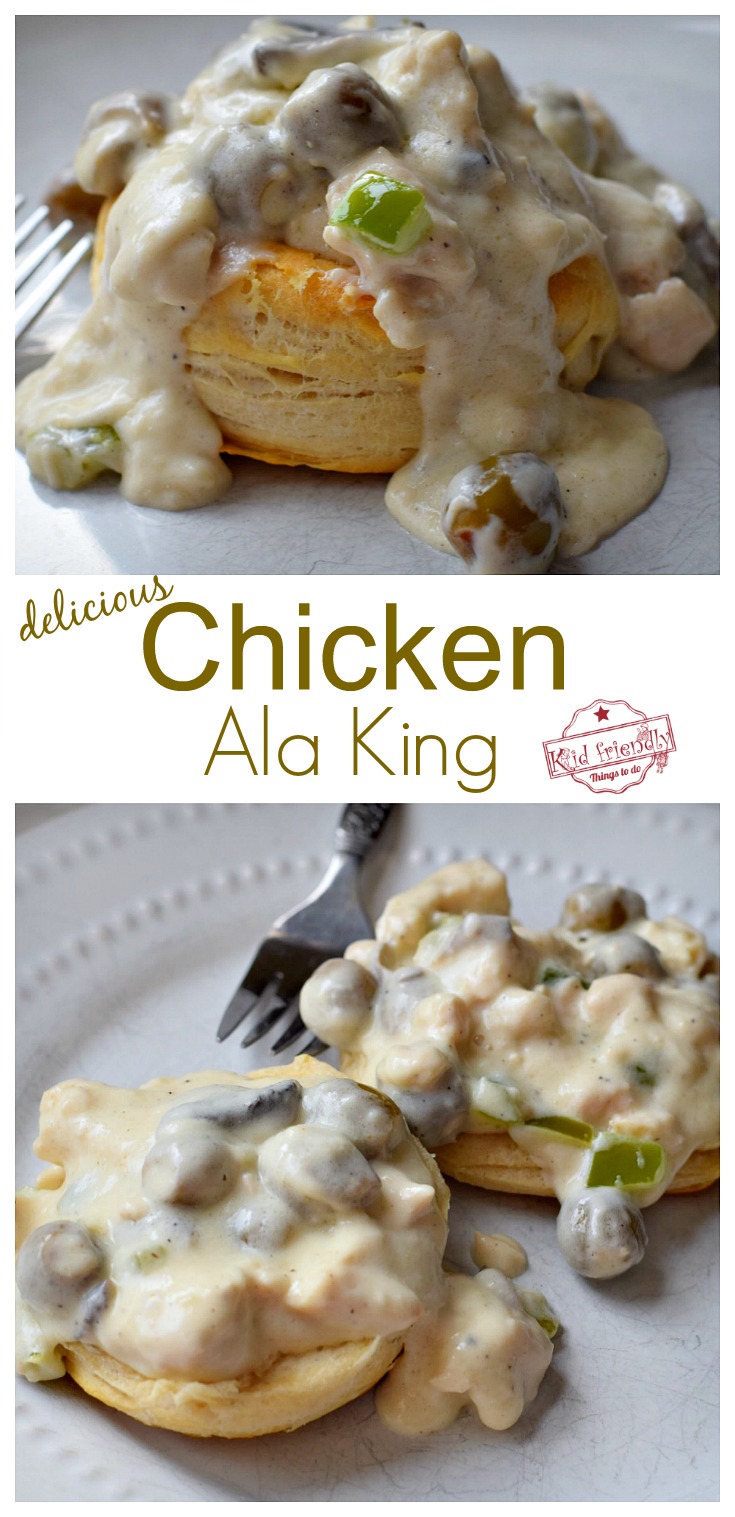 You'll want to pull up a chair and dig right in, or just grab a fork and sample from the skillet like I did!
Here's my Handy Dandy Printable for A Chicken Ala King Recipe Served Over Biscuits for an Easy and Delicious Meal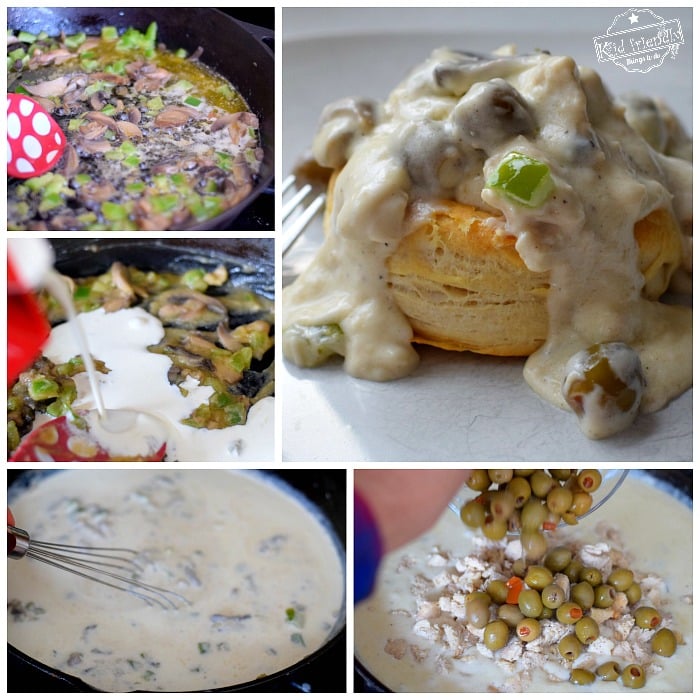 Chicken Ala King
2018-02-08 15:51:55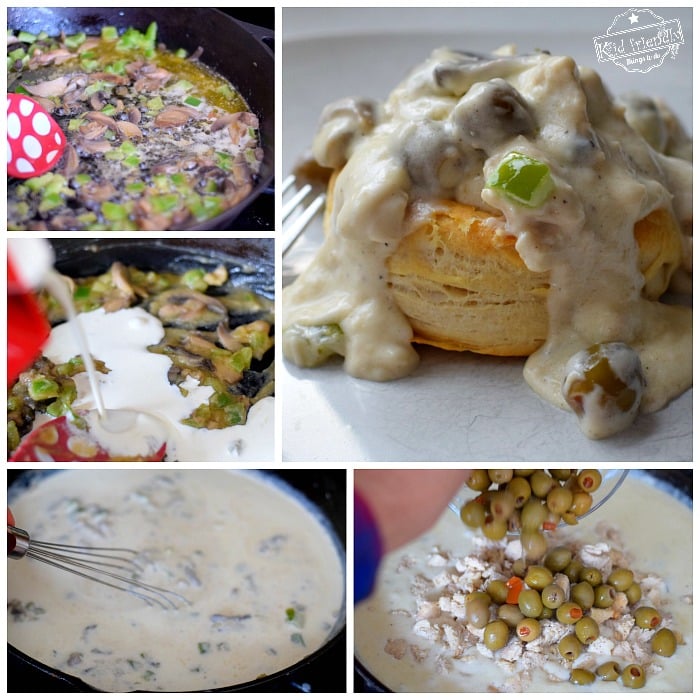 Serves 4
Ingredients
1 (6 oz.) can of mushrooms - drained but reserve juice
1/2 cup of green pepper
1/2 cup of unsalted butter
1/2 cup of flour
1 tsp. of salt
1/4 tsp. of pepper
2 cups of heavy cream
1&3/4 cups of chicken broth
2 cups of cooked - cubed chicken
1 (4 oz.) jar of green olives - drained
1 package of Fluffy Store Bought Refrigerated Buttermilk (or your favorite style) biscuits
Instructions
Prepare the biscuits according to the package directions
In the meantime - while those are baking in the oven...
In large skillet (I like to use my iron skillet) over medium heat, melt the butter
Add the drained mushrooms and pepper
Cook for a few minutes or until the pepper is getting tender
In a small bowl, mix the flour, pepper and salt
Use a whisk to stir in the flour mixture
Remover from heat and stir in the cream, liquid from the can of mushrooms and chicken broth
Heat to boiling - stirring constantly for about 1 minute. The roux should turn into a gravy-like mixture
Stir in the chicken and olives
Serve over the biscuits
Kid Friendly Things to Do.com - Family Recipes, Crafts, Fun Food Crafts, and Game Ideas https://kidfriendlythingstodo.com/
If you enjoyed this "old school" Chicken Ala King Recipe Over Biscuits, then stick around and enjoy some more – Like…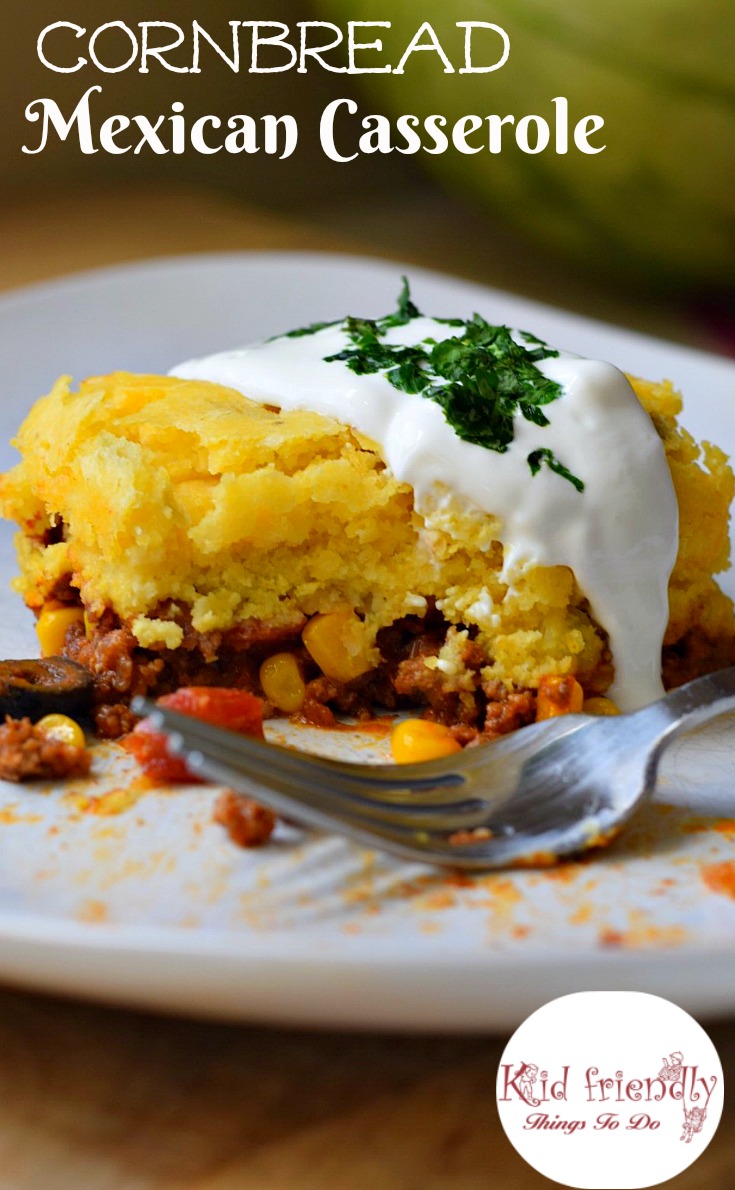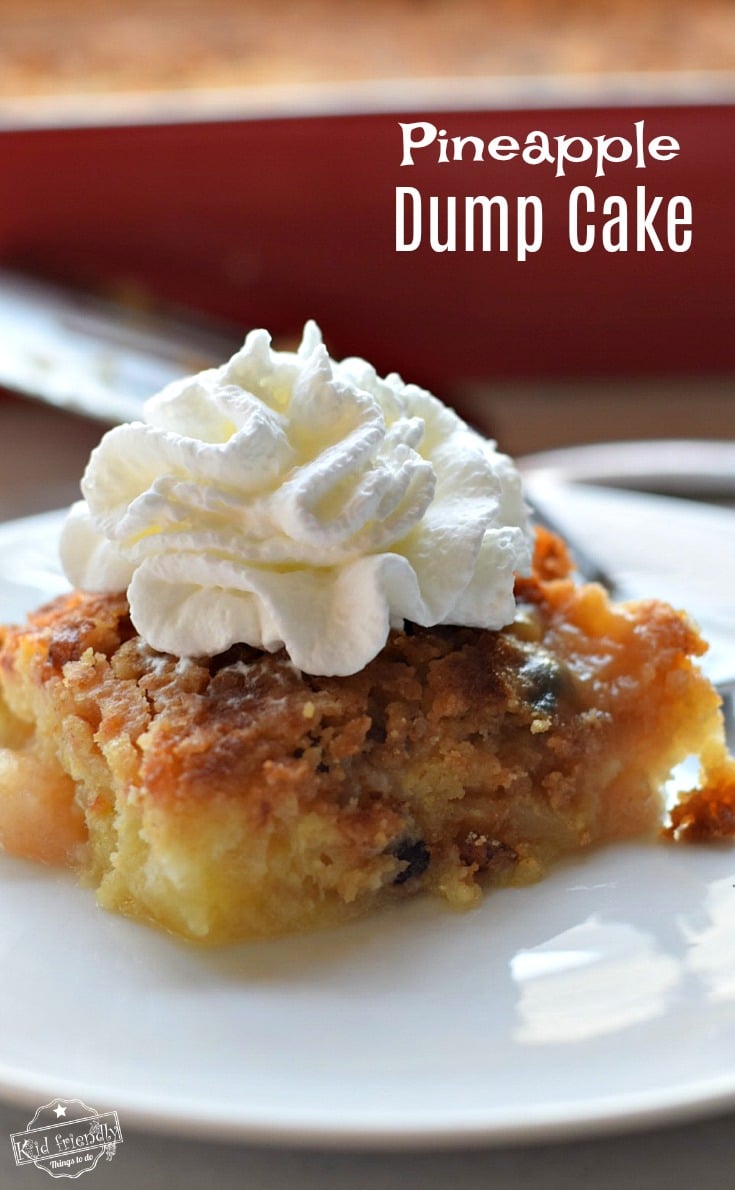 Until next time…
~Melissa – Kid Friendly Things To Do