Thanks to a tip from some friends, we have discovered another kid-friendly farm and pumpkin patch. At Fair Weather Acres, in Rocky Hill, CT kids can jump in the corn pit (a farms version of a ball pit), run through a hay maze, ride some pedal go-karts around the tracks, get their face painted, find their way out of a spider-shaped corn maze, and grab a bite to eat and some hot cocoa! That's not all. After the tractor has dropped you off at the pumpkin patch the kids can grab a red wagon and pick out any pumpkin they want (small to giant size)! Everything is included in the price of admission, except the food!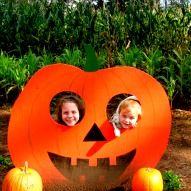 Yes, At last! A kid-friendly farm with a Corn Maze!
Speaking of food. The activity area has some great food to choose from. Some choices include pulled pork sandwiches, pizza, popcorn, fried dough, apple fritters, pumpkin seeds, and ice cream. Yum!
Mom's Rating:
We had a terrific time. I had to convince the kids to leave. (by promising we would come back next week). There is so much to do. I really like the fact that the farm had a small feel to it. There were cute scarecrows everywhere you looked, making for several great Kodak moments! Everything was close by and manageable, the staff was very friendly. It was an enjoyable visit.
Favorite Season To Visit:
Fall. Definitely Fall.
Activities/Things To Do:
Jump into a giant corn pit!
Ride pedal go-carts (adult-sized and toddler-sized).
Face Painting
Find your way out of a corn maze
Go around and around in the hay maze
Go through yet, another hay maze (the round bails)
Grab a bite to eat
Pumpkin Patch
Snap about a million pictures
What To Pack:
Sunscreen for the sunny days
$$Credit Cards are accepted -Except for concessions
$$Cash for Concessions
Camera/Video Camera
Stroller – There is not a Lot of walking, but the kids tire out from all of the fun, plus the corn maze!
Diaper Bag
FYI:
Take everything you need. The parking lot is not too far of a walk, but it won't be convenient to run to the car.
Is There Anything That Made This Mom Nervous?
Well, the kids can get a little excited in the maze, and run off in front. Luckily, the paths are mostly dead ends.
Dad's 2 Cents $$. What's All of This Quality Time Going To Cost Me?
$13.00 For Adults & Kids
FREE kids 2 and under
You get a lot for the cost of admission. But, a TIP is to look for a Living Social or Groupon Coupon. They offer some family specials, sometimes.
Location:
1146 Cromwell Ave.
Rocky Hill, CT
860-529-6755
Hours:
Starting Mid September-First Weekend in November
Saturdays and Sunday 10-6
Last Ticket Sold at 4:30(Although I would give yourself 2 hours to enjoy the farm)
Kid's Thoughts:
Abi's Rating(An 8 year old kid's take on the place)-#10 For Awesome Time!
Ella's Favorite Part: Jumping into the corn pit.
Our Experience:
We set off this morning to check out the farm our friends had just discovered. We were excited to find a corn maze that was located in such a fun place, with so many kid-friendly activities. We first purchased admission and noticed several cutouts for the kids to pose in front of. After we took a few pictures, we headed over to wait for the hayride. Once everyone was loaded up, we were off on a short ride to the corn maze and kid activities. The tractor dropped us off in front of a tented area, with several activities to check out.
The first thing the kids wanted to do was explore the maze. But, on the way there they couldn't help going over to every scarecrow to check them out. The most popular scarecrows were the bride and groom. I gave the map, with the corn maze in the shape of a spider, to the oldest kid, and we were off! We were out in about 15 minutes! Success!
The kids couldn't wait to get some food and check out the corn pit. Then, my camera dies! Completely. No more pictures. OH NO! A few minutes later, we were all loaded up on the hay wagon to go get batteries in the van. Then, back to hay wagon to go back to the farm! But, my camera was dead. I guess I worked it too much. The fun must go on, even though mom is freaking out inside. I couldn't help, but enjoy the moment. It is a great farm. We left with four enormous pumpkins, that we didn't have to pay by the pound:)
Don't wait for the extra photos. Go this weekend. I promise you'll have a fun family time!
More Pictures – To Get A Better Visual:
Go To http://www.kidfriendlythingstodo.com/?s=fair+weather+acres+pictures

~Melissa
KidFriendlyThingsToDo.Com – A site dedicated to giving you reviews on fun things to do with kids in Connecticut – reviewed by mom, and kids. Providing kid-friendly recipes, ideas, and crafts!