Front Porch Fall Display Ideas – Kid Friendly Things To Do .com
Posted by Melissa in Home & Garden | 0 comments
I love fall! Each year, I spend a little time decking our front porch out with pumpkins, wreaths, and leaves. This year, I tried to keep it somewhat simple on the front porch. I left my fun gourd, and scarecrow display for the side door, and I have a little something in the backyard, as well.
I couldn't get the cornstalks from a previous fall porch round up out of my head. So last week, between church, and a soccer game I drove to my dad's house, grabbed a wagon out of the barn, and a knife out of the kitchen to cut some stalks down! I enlisted my sister, who lives next door to my dad, and while my dad was still at church we ran to the back field, and chopped away!
Doing naughty things with your siblings just like you did when you were kids is still hysterical! I highly recommend it – as long as it's not illegal! The best part was…we had to run past the church next door with a wagon full of chopped down corn stalks! My sister pushed the wagon while I pulled! What a sight that must have been! Hey…it's all for the good of the beautiful fall display!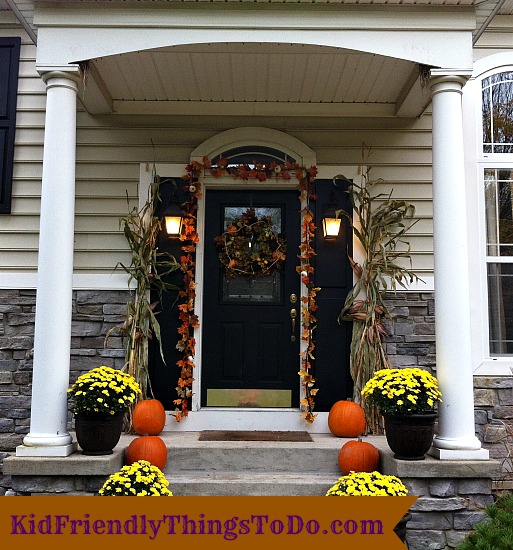 The stalks are a little skimpy, I might have to go back for more. But, in the mean time I am really enjoying my fall display.
I found the swags at Michael's craft store. I used 3 to go around the complete door.
The wreath is from Sam's Club – that was purchased years ago.
That's it! My simple front porch display! Happy Fall Y'all!
~ Melissa – KidFriendlyThingsToDo.com