Here Are Lots Of Fun Memorial Day Crafts, Recipes, and Fun Things To Do! – Kid Friendly ThingsTo Do .com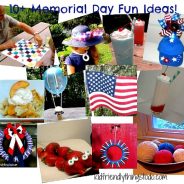 Posted by Melissa in Arts & Crafts, Game Ideas, Memorial Day, Memorial Day, Summer | 0 comments
I put some crafts, recipes, and ideas for you to try out this Memorial Day! Check them out!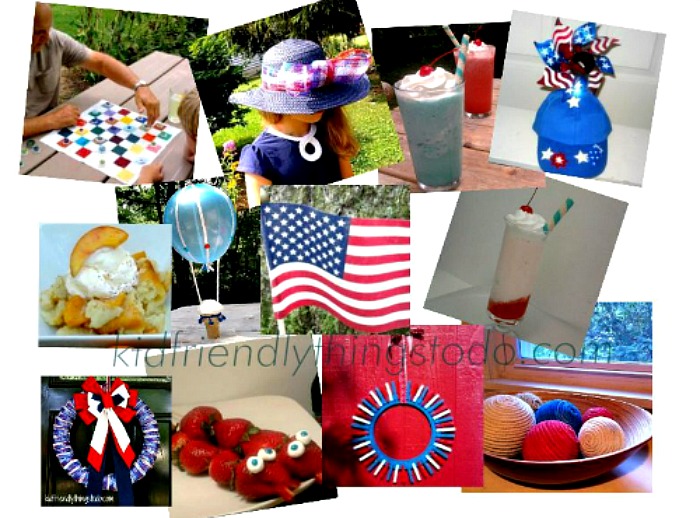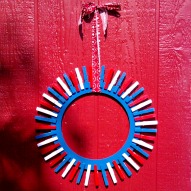 A great craft for the holiday!:
This is my favorite wreath! And, it's such a fun craft for the kids to do! All you have to do is supply the colored clothespins and wooden wreath form! Click here to see the tutorial!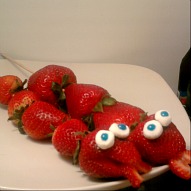 Easy and So Cute! I came up with this idea after I saw some grape caterpillars on Pinterest! Oh…Pinterest inspiration! Click Here For The Tutorial!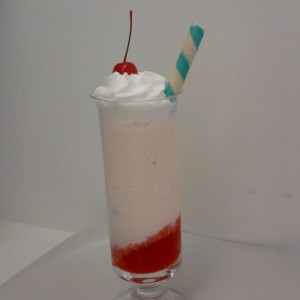 Yummy! A great way to finish off your picnic! This is a Maraschino Milk Shake! Here's The Tutorial!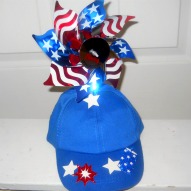 A Silly Patriotic Spinner Hat Craft! This is inspired by the Beanie Hats with propellers! But, I used a garden spinner from Michael's Craft Store! The spinner spins every time you walk! It's awesome! Here's the tutorial!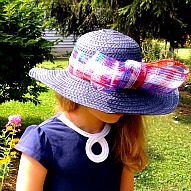 An Elegant Patriotic Hat For Girls! Easy, Easy, Easy to do! Here's the link for the tutorial!
The most amazing Peach Cobbler. What's a picnic without cobbler? Here's the recipe!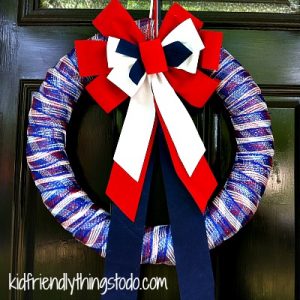 Use a pool noodle and some duct tape to make this wreath form! Then create your own Patriotic Wreath of Fun! Click Here!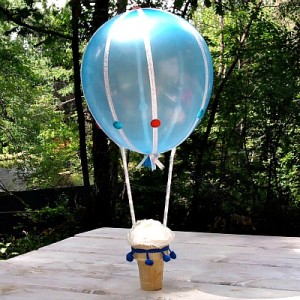 Alternate, Red, White & Blue Balloons for a fun American Past-Time Dessert! The ice cream cone cupcake stands in for this hot air balloon's basket! Here's the tutorial!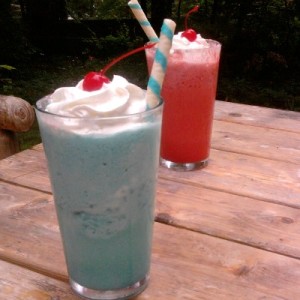 A Slushy and a Milk Shake combined! Delicious! Use Red and Blue Jello packets to make these patriotic and refreshing drinks! Click here!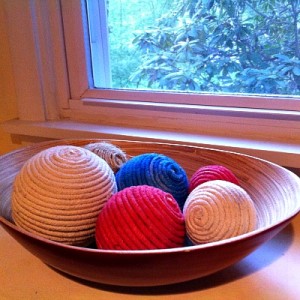 Decorate your home with these patriotic DIY rope balls! Easy to do and fun! Click Here!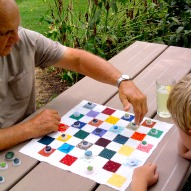 And, finally…add some American Past-Time Quality Time with this DIY fabric and button checkerboard! No sewing required! Click Here!
Happy Memorial Day! Enjoy your friends, family and the freedom are all so thankful for!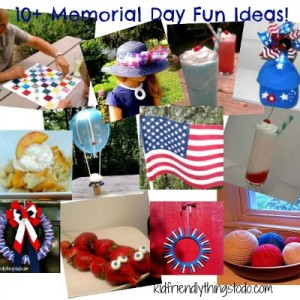 ~Melissa – KidFriendlyThingsToDo.com – crafts, recipes, fun foods, party ideas, and fun things to do with your family! Plus, if you are in the Connecticut area, check out all of the fun things to do…listed above!