St. Patrick's Day Leprechaun Cupcakes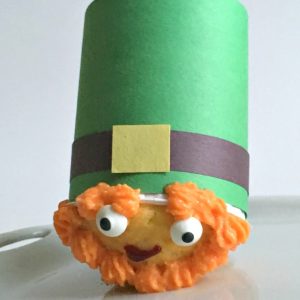 Posted by Melissa in Cupcakes, Fun Food Crafts, Game Ideas, Holiday Fun Foods, Recipes, St. Patrick's Day, St. Patrick's Day | 0 comments
I would have to say that this is another one of my combination of fun food ideas and a craft. Really, fun food is really like a craft with food, isn't it? Come on in and I'll show you how to make this fun little Leprechaun Cupcakes for St. Patrick's Day!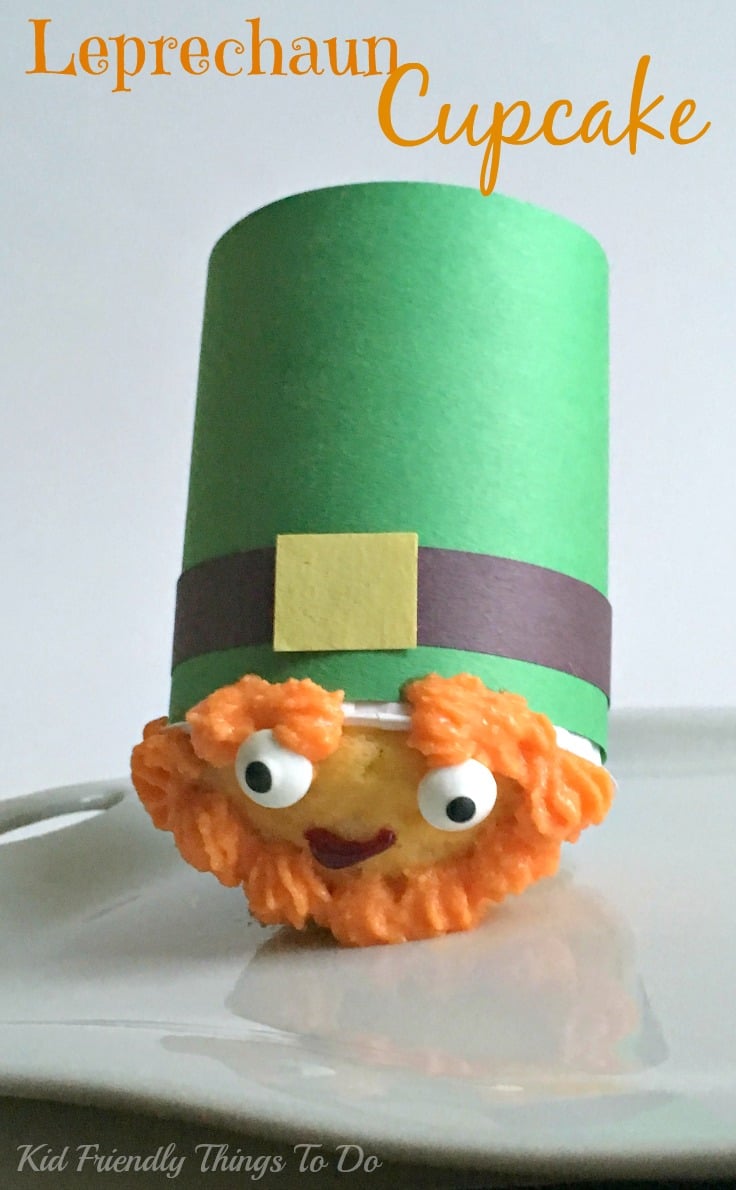 This did not start out as a craft. But, when you tell kids that you have a fun idea for a cupcake, only to find no green cupcake wrappers…you improvise! After watching all of the fun stuff come out of the cabinets, the anticipation mounts and the kids expect results! Thank goodness for construction paper…phew!
To Make Your Cupcake…You're going to need a few ingredients:
Cupcake wrappers – I used the thick paper wrappers. I prefer them over the regular kind. They are a little easier to work with and the oil from the cupcakes never bleed through.
Yellow Cake Mix and ingredients listed on your box to make your cupcakes (oil, water, etc…)
Green, black and yellow construction paper
Glue – I like Fabri-Tack or warm glue from my low temp. glue gun
Candy Eyes
White Frosting
Orange gel coloring or red and yellow mixed together
Piping bag with a Star Tip
Red gel tube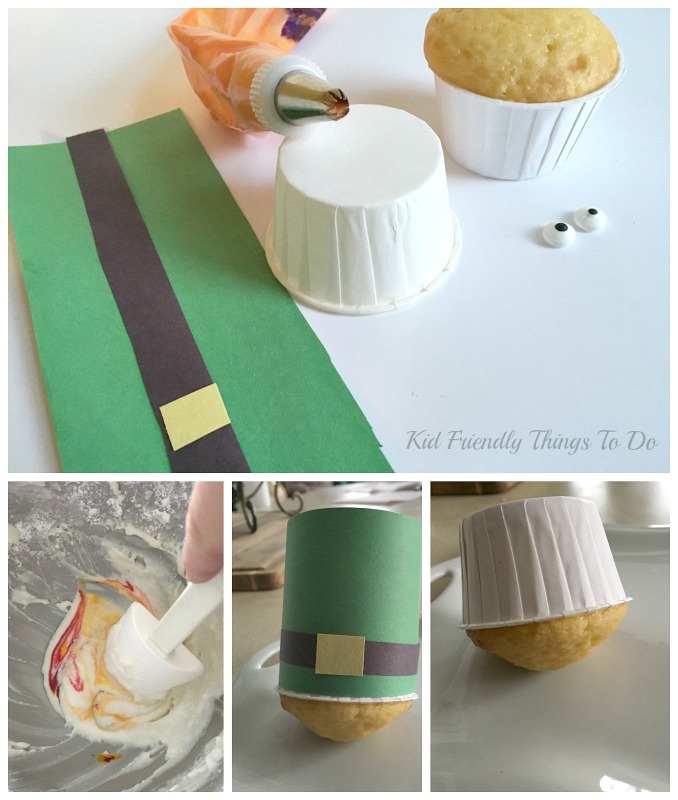 Now:
Make your cupcakes by following the directions on the box and fill your wrappers about 1/2 to 3/4 of the way full
Bake the cupcakes
While those are baking, get your frosting ready by coloring it orange and placing the prepared frosting into a piping bag with a star tip
Also, use a cupcake wrapper as a guide to cut out the right length of green constructions paper strips for the hat – you can make this strip about 2-3 inches wide so it is a nice and tall hat – Glue the edges together, and slip off of the wrapper to continue your process making more (enough for all of your cupcakes)
Cut narrow strips of black construction paper for the band – wrap those around the green hats (about 3/4 of the way down) and glue in the back
Cut our little yellow squares and add them to the black strips on your hats
Once the cupcakes have baked and have cooled completely, you'll turn them upside down on a serving tray or individual plates
You'll have a limited amount of cupcake showing for the face
Place the candy eyes just below the cupcake wrapper using frosting as glue
Pipe the orange frosting for eyebrows and his beard – It's up to you if you want to lift the cupcake up at this point and fill the back in with more orange frosting
Add a little smile with the red gel food coloring or an alternative idea like licorice
Place your pre-made hats over the wrappers – Done!
Here's some stuff you might need or even want for this fun St. Patrick's Cupcake idea: