The night air is cooling. Leaves are falling from the sky. Acorns are everywhere. Fall is here, again!
In the New England Fall, there are many apple orchards to choose from. It can be overwhelming. I tried a few orchards, but I was disappointed in them. I was searching for the kid friendly version. You know, big enough to have a nice variety, small enough to manage with kids, and yet, maintain a fun factor for all ages. Karabin Farms, in my opinion, has all of that, and more.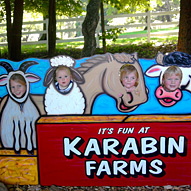 At Karabin Farms, you'll find an apple orchard, fruit to pick yourself, pumpkins in the fields, and in the winter, Christmas trees to cut down, or take a pre-cut one. You'll also find, in the fall, little farm stands with fresh apple cider doughnuts, and a stand for apple cider, and hot cocoa. There were some other food choices, but I'm still thinking of the warm doughnuts.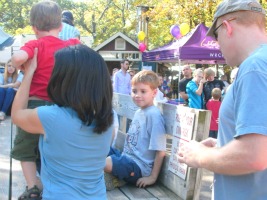 While you wait by the farm stands for your wagon ride, you might have some spare time to check out the small farm animals nearby. Take a glance at the nearby, country store, because you'll be spending a lot of time there when you return from your wagon ride.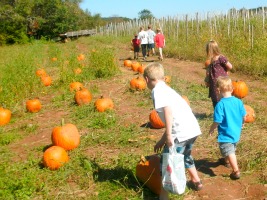 Once you have thoroughly enjoyed this family-friendly atmosphere, get in line for the wagon ride to the fields. The wagon will take you on a very bumpy ride through the Christmas tree forest, and some friendly scarecrows – to the abundant fruit orchard. Karabin farms have plums, pears, peaches, apples, pumpkins, and more.
Someone will help you out of the wagon, hand you an empty bag for each of you, and instruct you as to which fruits are ripe, and their location. After you have sampled a few – everyone does :), and your bag is full, you can simply wait for the next tractor to arrive. Enjoy another ride back to the country store.
Inside the store is an array of country chic, and downright country items, baked goods, Christmas decorations, fall decorations, more apple cider, and soda. Shop as you make your way to the counter, and pay for your pickings. If you like mums, don't forget to add those to your purchase. (The biggest for the best price around)!
Before you leave, be sure to snap a picture in the Karabin Farms cutouts. So fun!
Moms Rating:
We love this place! This is a traditional fall spot for us. The staff has always been friendly and helpful. The farm is clean. The family experience is just great.
The only change I would enjoy is seeing a selection of smaller pumpkins in the pumpkin patch. It can be a bit hard to manage all of those huge ones.
Favorite Season To Visit:
Fall is special, here.
Activities/Things To Do:
Pick your own – Apples, Plums, Pears, Peaches, Pumpkins
Shopping
Enjoying the Animals
Snacking on doughnuts
Sampling Apple Cider Slushies
Wagon ride
Enjoy nature
What to Pack:
Sunscreen – the field is very sunny!
Bee sting kit – sugar bees love the rotting apples.
$$ – they do accept credit cards in the store.
$$ – cash for the outside stands.
Camera/video camera
usual kid stuff
germ-x – if you pet the farm animals.
FYI:
Pumpkins are rather large in the field and are weighed inside ($.49 per lb.)
They have a wonderful variety of unique pumpkins and squash outside the store – Great to Decorate With!
Mums are HUGE! 4 for $18 What a deal!
Watch out for stray bees! We've been there several times, and only had one sting!
Kid's Thoughts On This Place:
Abi's rating – #10 for Awesome! Again with the sweet tooth (apple cider doughnuts and Avery's soda)!
Ella -I love the yummy apples!
Is There Anything That Made This Mom Nervous?:
Not really. There is always someone to help the kids off the wagon.
Dad's 2 cents $$ – What is all of this quality time going to cost me?:

Pumpkins – 49 cents per/lb.

Christmas trees – $55


Mums – 4 for $18
Location:
894 Andrews St.
Southington, CT
(860)620-0194
Hours:
Open daily – 9:00-5:00
Pick Your Own – Friday – Monday until 4:00
Our experience:
I love fall, and I wanted to find a traditional fall spot for us to enjoy. I tried out a couple of orchards and printed off just about every list in the state to read through. The big ones were too commercial feeling, lacking the coziness I had in mind. Some seemed too small and didn't offer the variety of activities I was looking for. Finally, I tried out Karabin Farms, and bingo! We had our place!
From the cute little barn stands to the cold Avery soda, warm smelling candles in the store, and everything in between. Here, the owner and his wife are happily working and enjoying their dream farm along with you. That's a nice touch.
I love finding a variety of pumpkins to make a nice display. I've found many unique household items in the store, as well.
My one-year-old did get stung by a sugar bee (that's my name for them). But, the owner located some ointment for him, as soon as we got to the store. If there are any allergies, just be aware.
I hope you'll add this place to your fall day trips. Take some friends along to participate in the memory. Enjoy. It is really good stuff!
To See More Pictures and Get A Better Visual Please:
go to http://www.kidfriendlythingstodo.com/2011/10/karabin-farms-pictures/
To Visit Karabin Farms Website:
Go to Karabin Farms.
Melissa
KidFriendlyThingsToDo.Com