Do you have a future aviator or astronaut in the house?
If you think airplanes are cool, you might enjoy a visit to the New England Air Museum. Inside you'll find three large hangars, full of historical aircraft, like fighter jets, helicopters, bombers, blimps, missiles, and a number of various aircraft models. The museum has a cockpit to sit in, airplane pedal carts to enjoy, an airplane sand table, a snack-vending area, and a nice gift shop to explore. If your kids will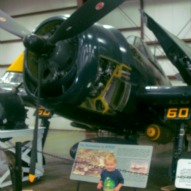 allow you to sit down for a little break, sit in a comfy chair, and enjoy one of the educational movies on aviation history. If you are lucky there may even be an airplane pilot or astronaut standing around to teach you a thing or two about flight!
The airplane museum is host to many special events, where kids can meet WWII Veterans, or women who have chosen aerospace or aviation as their career, and even Santa Claus.
Mom's Review:
We enjoyed our visit to New England Air Museum. The museum is nice and open for kids to easily maneuver. The bombs, jets, and pedal carts were a big hit. The kids enjoyed being so close to real air crafts. The adults in our group enjoyed seeing the impact that aviation has on our countries freedom. I would recommend this as a fun thing to do with kids in CT.
Positives:
Great Price for what you get
So many styles of aircraft
Crafts are a bonus
Negative:
The only negative feedback is that, if you do not arrive on specific "open cockpit days", aside from the cockpit that stands by itself, the kids won't be able to experience sitting in a cockpit(that's actually attached to a plane). Those specified days, also seem to be few and far between. The brochure has pictures of kids in cockpits, and without careful reading, you might think this experience is included. It seems a little misleading. I know we were disappointed.
You can click on the link at the bottom of the page to check the calendar of events.
Favorite Season To Visit:
Any season would do. The museum is mostly indoors, so this would be a good activity for a cold or rainy day.
Activities/Things To Do:
Learn about aviation, and it's part in history.
See airplanes up close
Shopping
Eating
What To Pack:
Stroller, or baby carrier-the museum is a good two hours.
Diaper Bag
Camera/Video Camera
$$$Credit Cards Are Accepted
FYI:
Don't plan on cramming all of it in. We spent two hours, and didn't read very much. We went from airplane to airplane pretty quickly.
Don't forget that if you want your kids to experience the cockpit, check out the calendar of events.
The museum has a lot of events throughout the year, including women take flight,veterans day programs, and a visit from Santa. Check out the museum's website to learn more.
Special Activities-like making a paper airplane are on weekends.
Some activities cost extra, but you will get a lesson in a classroom to learn how to build something such as a rocket and launch it.
Kid's Thoughts:
Michael's Favorite Part: Seeing the jets.
Ella's Favorite Part:The airplane pedal carts
Is There Anything That Made This Mom Nervous?:
The airplanes are separated from you by rope. It's easy to climb under. My one year old managed to walk right under a couple of times. I didn't want to have to pay for a new bomb! Thank goodness, nothing was hurt! Phew!
Dad's Two Cents. What's All Of This Quality Time Going To Cost Me?:
Ages 12 and up-$11
Ages 4-11$6
Ages 3 and under-Free
Ages 65 and Up-$10
Tip:Your local library may have a free pass you can reserve for the museum. These passes usually include 4 people.
Location:
36 Perimeter Rd.
Bradley International Airport
Windsor Locks, CT
860-623-3305
Hours:
7 days a week. 10-5
Closed – Thanksgiving,Christmas, and New Years.
Our Experience:
While Greema was in town, our local librarian was kind enough to find some fun spots for me to go with the kids and my mom. The library passes saved me a lot of money, so we decided to take advantage and visit the air museum. I had seen some brochures on the museum, and saw kids sitting in cockpits, and thought that would be fun. So, we headed out to see some airplanes, up close.
The museum was laid out nicely. The airplanes are all over, and so colorful. The kids were excited to check out everything in the first hangar. On the day we went, tables were set up with instructors teaching the kids how to make paper airplanes. The older kids enjoyed playing with their airplanes. The second hangar held our attention, with blimps and airplane pedal carts to play on. By the third hangar, we were done. And, I had yet to see an open cockpit.
Determined to see the open cockpits, we headed out to the yard. I thought those must be the right planes. Nope! No such luck. Oh well, that is a lesson to myself to read the brochure a little more closely, and never assume by the pictures.
More Pictures To Get A Better Visual:
Go To http://www.kidfriendlythingstodo.com/2011/11/new-england-air-museum-pictures/
To check out the calendar of events:
Go To http://www.neam.org/news/calendar.asp
~Melissa
KidFriendlyThingsToDo.Com – A site dedicated to giving you reviews on fun things to do with kids in CT – reviewed by mom, dad and kids, and providing fun activities, recipes, crafts and ideas to do with kids in CT