Want a blast from the past?! Why not try a roller skating rink? At Ron A Roll in Vernon, CT, you and your family can use the beat of the music to skate your hearts away, or fall on your tush! (That's just what we did!) If you work up an appetite, try out the food stand. If roller skating isn't enough entertainment, there is a little arcade section to enjoy! This is a great thing to do with kids in CT.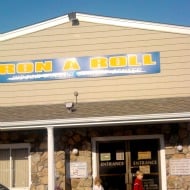 At Ron A Roll, there are allotted times for kid's only roller skating (and for parents as well). There is even a section of the week devoted to toddlers! (See below for details). During the kids only skate, rest assured that the pros will not roller skate all over you, as you recover from your latest fall. Take the whole family for an hour of roller skating at Ron-A-Roll in Vernon, CT. It's such a fun thing to do with your kids.
Mom's Review:
My review is… We had a great time! I'd never been roller skating with young kids. I wasn't sure what to expect, but it's just like I remembered as a kid. I wanted our kids to experience the fun of zipping around on the slick wooden floor on their skates, and they did! The atmosphere inside the roller skating rink reminded me of a bowling alley, but with a disco ball style lighting!
Positives: We went during the kid time block, and our toddler was able to roller skate. I think it's important for small children to have the roller skating rink to themselves without several people trying to whiz by. The managers at Ron-A-Roll are smart to allocate a special time for kids to roller skate.
Negatives: CASH ONLY. Bummer! I never have that much cash on me, and I didn't see this information on their web site! Had to use the little ATM inside – and those public ATMs always make me nervous. 🙁
What To Pack:
CASH$$$
No need for roller skates, rentals are available, but you can use your own if you have them.
band-aids 🙂 LOL!
Camera/Video Camera
FYI:
Great idea for birthday parties
Ron A Roll offers many different types of roller skating opportunities. Such as:
Tiny Tot Skate & Bounce
Cheap Skate Night with all you can eat pizza
Christian Gospel Music Skate
18 & over only
Kids Skate
To check out their other styles, visit their website.
Inline skates are available to rent for an extra charge.
Kid's Thoughts:
Abi's Rating(An 8-year old's take on the place!)-#10 She didn't want to stop!
Michael's Favorite Part-Skating was awesome. Video Games are just as cool!
Dad's 2 cents:
Depending on the option you choose to attend, it is $5.75-9.75 – This includes skate rental
$5.00 admission-if you choose NOT to skate
Don't forget Cash for pizza, drinks, and arcades.
CASH ONLY!:)
Location:
85 South Frontage Road
Vernon, CT
Hours:
October 1,2011-April 30,2012 -Regular Skating
More Pictures To Get A Better Visual:
go to http://www.kidfriendlythingstodo.com/2011/11/ron-a-roll-a-kid-friendly-thing-to-do-pictures/
Our Experience:
We surprised my husband for his birthday with a roller-skating date! We plugged the address into the GPS, but we all kept the secret. Surprise!
Then, I got a surprise, when I showed up with six people, all strapped out of the van, and found out it was cash only! Aargh!
We had fun, once we got going. The girls did not want to participate, but we paid for them, so I pushed the skates on their feet, and pushed them out onto the floor. They had a blast.
Before we could all get out there, the baby had done, at least 3 loops around, laughing the whole time, with an audience cheering him on! What fun! We promised the kids to return, soon! Good Stuff!
Ron A Roll's Web Site:
go to http://www.ronaroll.com/
~Melissa
KidFriendlyThingsToDo.Com – A site with reviews by mom, dad, and kids on fun things to do with kids in CT.