This might change your traditional sugar cookie roll out forever – in a good way.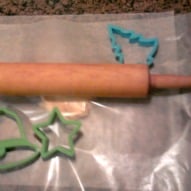 I have found a way to roll out cookie dough without getting dough all over the rolling pin. Simply place the dough in between wax paper to roll out.
Place a piece of wax paper under the cookie dough.
Place a piece of wax paper on top of the cookie dough.
Roll your rolling pin over the top sheet of wax paper.
Take off the top piece of wax paper.
Shape the dough with cookie cutters.
Place the shaped cookie dough on your cookie sheet.
Repeat!
~Melissa
KidFriendlyThingsToDo.Com –