Chocolate Covered Strawberry Ladybugs & Raspberry Flowers – Kid Friendly Things To Do .com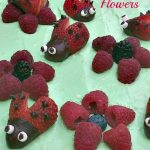 Posted by Melissa in Birthday Dessert Idea, Birthday/Holiday & Celebration Dish, Dessert, Easy Family Recipes, Fun Food Crafts, Other Fun Foods | 0 comments
It's hard to resist a strawberry dipped in chocolate! These cute strawberries disguised as ladybugs are even harder to resist! Add some Raspberry flowers to your ladybug display for a sweet, and delicious summertime dessert! I'll give you the recipe for this delicious cream cheese frosting another day…soon! Here's the how to on the ladybugs!:
You'll Need:
Strawberries – rinsed
Dried mini marshmallows – the kind you find in hot cocoa boxes
Raspberries – rinsed
Blueberries, and Blackberries – rinsed
Cake with frosting
Try to get better looking strawberries than these. It's all I had to work with. I do believe it's strawberry picking season. Maybe, you'll get some beauties!
Whatever you have, try to find the ones that have a rounded tip
Rinse, and cur the stems off
Cut a V in the portion that had the stem
Melt some chocolate melts. I like to use the Wilton Chocolate Melts. They melt so nice and smooth
I also had my dried marshmallows ready to go
Dip the pointed end of the strawberries into the melted chocolate
Set them down to dry
Quick…before they dry place your marshmallows into the chocolate for the eyes
Let dry – It will only take a few minutes
Grab a baggie, and fill one corner with melted chocolate
Snip a little bit off of the tip
Using your bag of chocolate, squeeze out little dots onto the strawberry, and marshmallows
Let that dry
Arrange Raspberry flowers with 5 Raspberries per flower, and a blueberry, or blackberry in the center as the picture shows
Set your ladybugs down around the flowers!
Enjoy!
~ Melissa – KidFriendlyThingsToDo.com