Rainbow Chocolate Covered Strawberries {Rainbow Dessert} | Kid Friendly Things To Do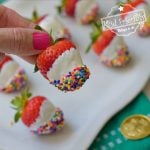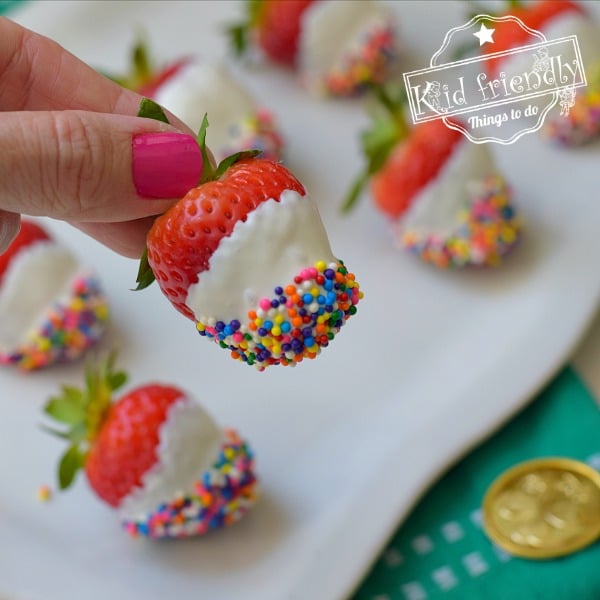 Posted by Melissa in Fun Food Crafts, Holiday Fun Foods, St. Patrick's Day, Summer | 0 comments
Rainbow Desserts are so much fun. You can make these Rainbow Chocolate Covered Strawberries for your rainbow dessert table at unicorn parties, St. Patrick's Day treats and so much more. They are an easy and colorful treat. Come on in and I'll show you how easy it is to make these fun treats…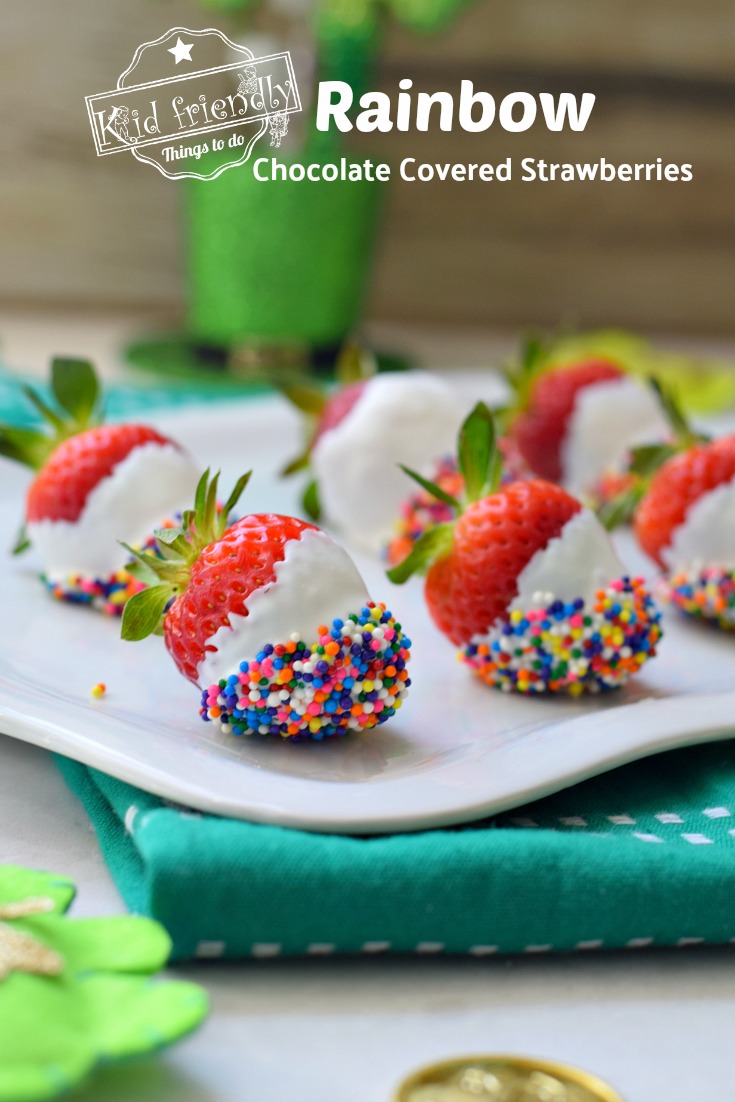 Rainbow Dessert: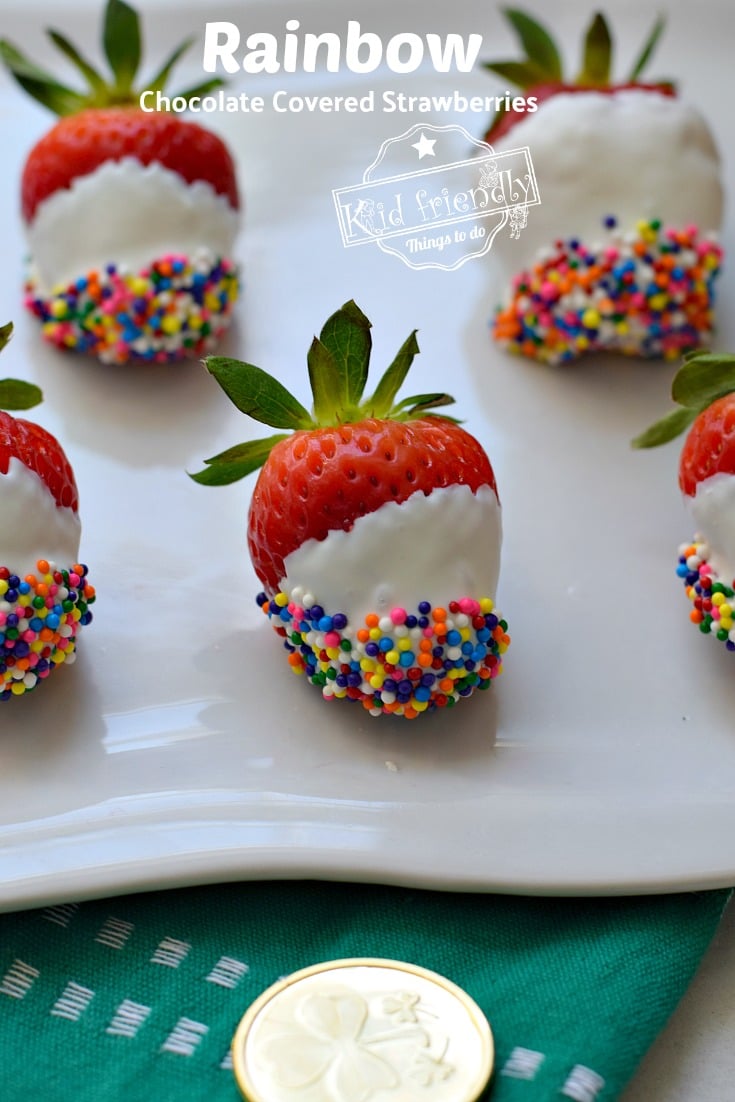 These are so easy to make.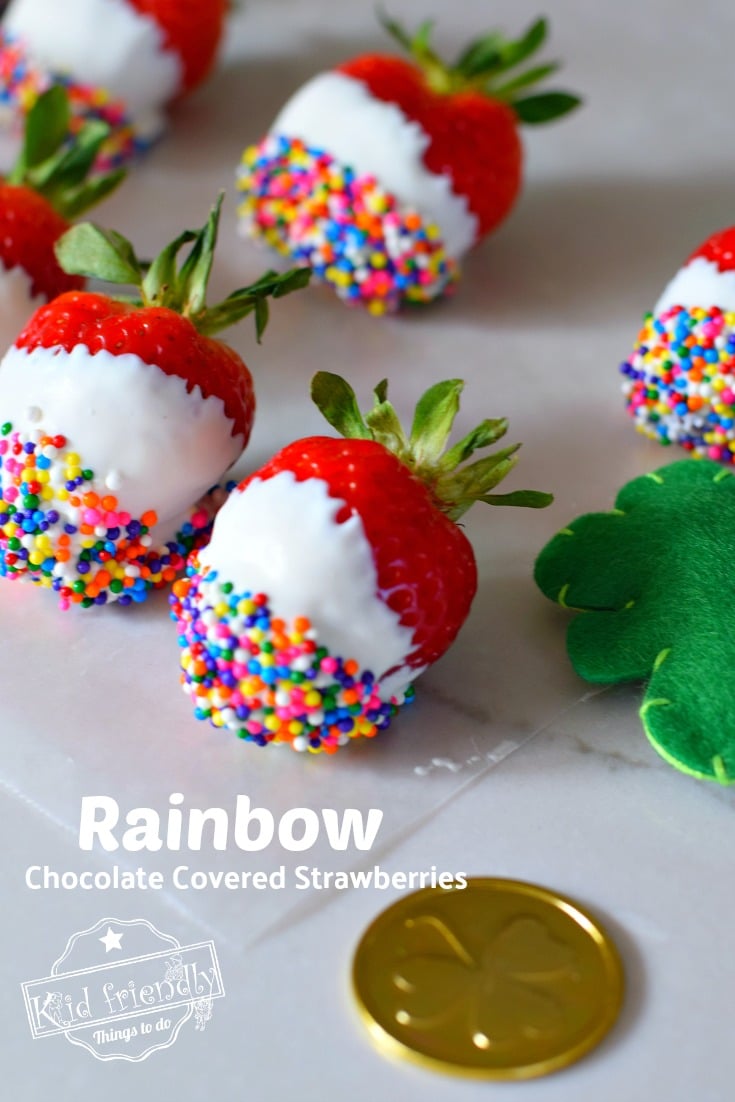 White chocolate clouds and rainbow sprinkles make these strawberries full of texture and so much color.

Here are my top Amazon Picks for this Rainbow Treat:
(affiliate links)
How do you store Chocolate Covered Strawberries?
They are best when eaten the same day as making them. If you need to store them, store them covered in a cool place for up to one day.
How do you dip strawberries in chocolate?
Make sure they are dry
Dip them in the chocolate, as deep as you prefer, spin the strawberries around to fully cover them
Lift them up and hold them up over the chocolate to allow excess chocolate to drip off
Place the strawberries onto wax paper to dry
Here's the recipe for these easy Rainbow Strawberries:
Print
Rainbow Chocolate Covered Strawberries | Kid Friendly Things To Do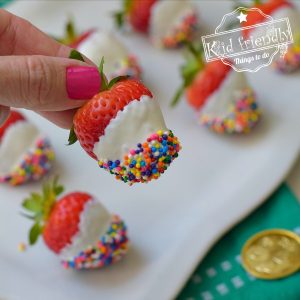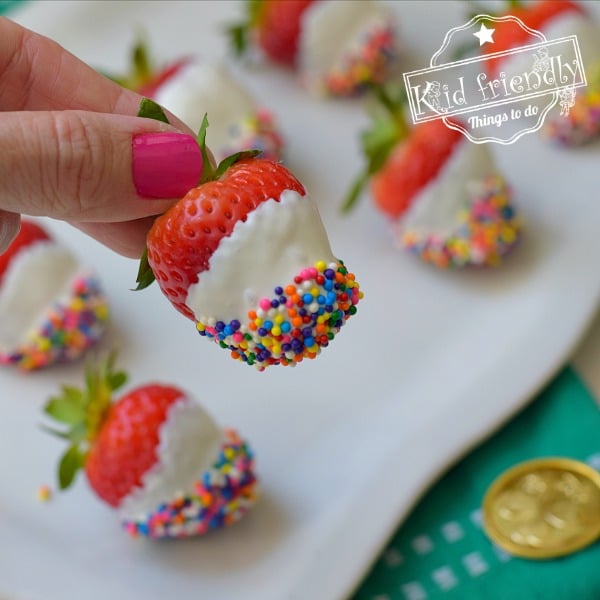 Easy to make and so colorful – these Rainbow Strawberries are perfect for your party.
Scale
Ingredients
White melting chocolate – I used a bag of Wilton Chocolate melts, but you can also use chocolate chips, or bark
Strawberies -rinsed and dried
wax paper
rainbow sprinkles
Extra Equipment:
glass microwavable proof bowls
Instructions
In a small glass microwavable proof bowl – melt white chocolate according to package directions
Pour some sprinkles in a small bowl
*I like to place my chocolate in glass bowl, place in microwave for about 1 minute, take out, stir and if needed – pop it into the microwave for 30 more seconds
Set out a piece of wax paper
Dip your strawberries, one by one into the chocolate – covering them about halfway up
Hold the strawberries up so the excess chocolate drips off
Dip the tips of the strawberries into the rainbow sprinkles
Place strawberries onto the wax paper to dry
Notes
Storing your chocolate covered strawberries:
It is best to eat the strawberries the day of making them
If you do keep them, store them covered in a cool place, but only for one day