This Football Toss Game is a fun summer game to play with the whole family. Perfect for backyard parties and school parties…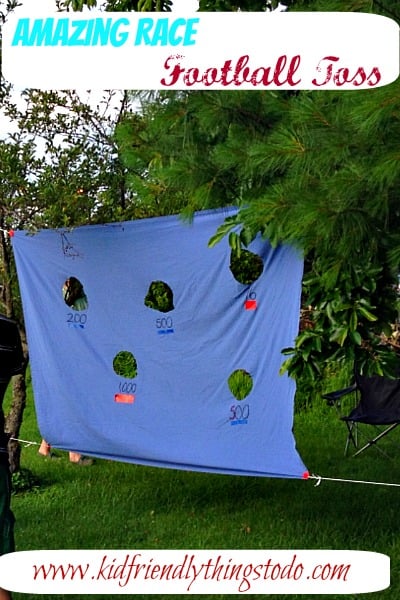 Football Toss – Fun Summer Game
Forget the Martha Stewart perfect, perfect sheet.  It was painful to throw out my beautiful vision.  My plan was to get a white sheet and paint it to look like an American Flag. Then, real-life with four kids hit, and I found a blue sheet in the basement. I handed it over to my Mother-in-Law to massacre it with scissors. Whatever works, right?! We still had a blast, and everyone agrees that we should keep this event in the race for next year. To make things difficult – Teams had to add points to total the year 1776.
Are you looking for fun summer party games? Try some of my other ideas, like…
Here's How We Made this Game…
(We made ours patriotic, but you can change this however you want)
Five holes were cut big enough to fit a ball through, but small enough to make it difficult
Then…the sharpie came out to put amounts that will total to 1776 – the year of the Declaration of Independence
Holes were put in the 4 corners and reinforced with duct tape
I then pushed string through the 4 corners and tied them into loops
Slapping mosquitoes off with fierceness…I hung the sheet between two trees and set out footballs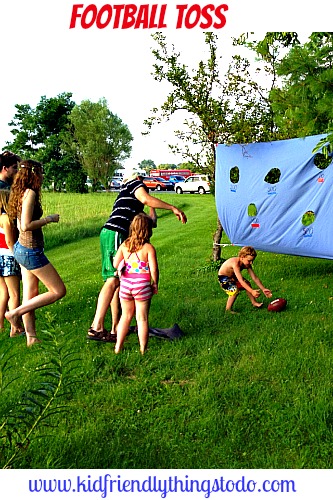 Here's how we played the game…
Everyone took turns
If the total went over 1776, they were told to start all over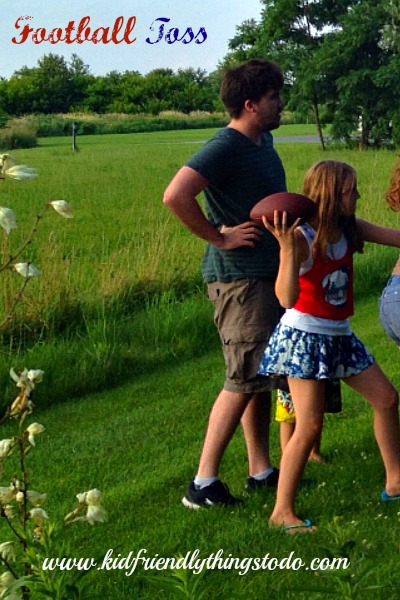 Total Concentration. Who needs a fancy, painted sheet?! Not us.
~ Melissa – KidFriendlyThingsToDo.com