Hey y'all! I know a lot of you moms, dads, grandparents, caregivers and teachers are trying hard to find a fun game for the kid's Valentine's Day party! Well…Look no further! I'm telling you, the kids absolutely LOVE flying Olaf's head toward paper towel bowling pins!
I thought it would be fun to put a Valentine's Day twist on the original Olaf bowling game. This one is so cute with  little conversation hearts stuck to his body. With his belly saying Tweet Me, and I Love You…You might even think twice about knocking him over! Here's what I did to make Valentine Olaf Bowling!: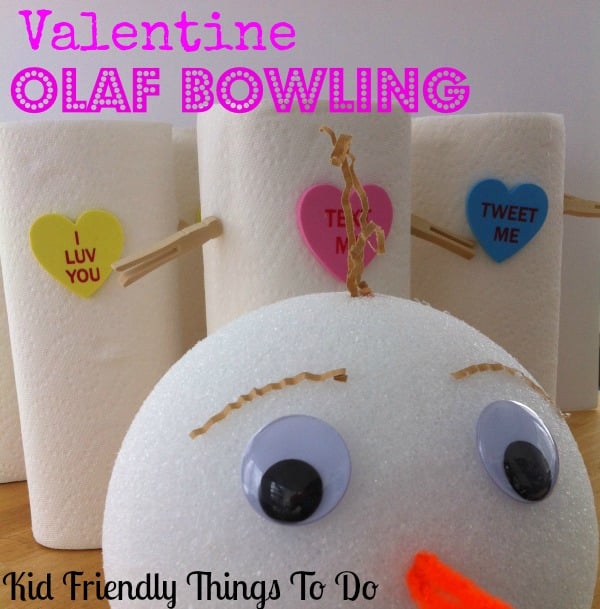 You'll Need:
An 8 inch Styrofoam white ball Large google eyes
about 4 inches from an orange pipe cleaner for the carrot nose
Brown hemp or other cording for eyebrows and hair – I used brown paper filler this time
 Black felt for his mouth
 White foam for his tooth
Paper towel – about 6 rolls
Old fashioned clothespins without the hinges (12)
Conversation Heart Foam Stickers – I found mine at Michaels
Glue gun
Instructions:
The above picture shows brown felt for Olaf's mouth. I ended up switching it out to black, but you get the idea
At this point, I started assembling Olaf's head
I gave him giant eyes by gluing them down – they are about 2 inches in diameter
I used the brown paper filler for his eyebrows and glued them – I trimmed the eyebrows to fit the eyes
Using the brown paper filler, I used my scissors to make a little indentation into the top of Olaf's head and add some brown paper for hair – I secured it with glue
I bent the orange pipe cleaner in half and just pushed it into the Styrofoam
I glued my piece of black felt – about 4 inches wide by 3 inches tall and shaped in a wide U –  to Olaf and added the white foam tooth
His decorations are done!
Now pick Olaf up and with his decorations on the left or right of your hand, line up your fingers like they would be in a real bowling ball
Use your scissors to mark the spots for your fingers
Again, use your scissors to bore holes deep enough for your fingers (or kid's fingers) to go into
Now, on to the paper towel:
Just use your glue gun to glue the wooden clothespin to either side of the paper towel
Peel back the backing from your heart stickers and attach them to Olaf's belly
You are done and ready to Partay!
~ Melissa – Kid Friendly Things To Do