Each summer, I travel back to my home state of Indiana! In two weeks time, I try to spend as much quality time with my nieces, and nephews as possible. One tradition that serves as quality time started several years ago. It's Aunt Meme's tie dye projects. I try to think of something fun to tie die, and let the kids get to it! The kids are not so little any more, ranging from 20 down to 0, but their still my little nieces and nephews! It's something I want the kids to remember, and look forward to – Aunt Meme and her fun summer projects! It brings us all together, and we always have a blast.
Last summer, with some of them heading off to college, I thought tie dye sheets would be a practical  project.  What fun to pull back your blanket and see the cool tie dye sheets. And my family will think of us every night they go to bed – at home, or even far away in college. These sheets will be a nightly reminder of how much we love them and miss them!
Here are some pictures to inspire you to do this with your family this summer! Enjoy!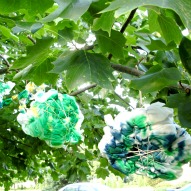 hang them from a tree to dry!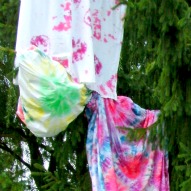 We even did crib sheets for the babies!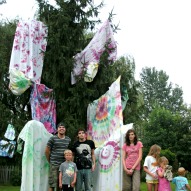 I surveyed the yard, looking for a place to display the sheets. I took out the ladder and started hanging sheets for a fun picture!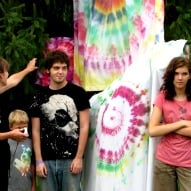 I love these guys! They put up with my perfectionist, annoying personality. Hmm… I wonder how many times I adjusted the sheets for this picture!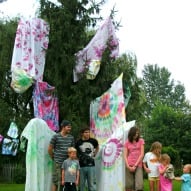 Awesome Time! I have no idea what I'll do to top this. I have to think of something! Any ideas for me?
~Melissa- KidFriendlyThingsToDo.Com – A site providing kid friendly recipes, crafts and ideas! Plus if you're ever in Connecticut, Massachusetts, or Rhode Island fun things to do with kids are reviewed including pictures!