You Are My Sunshine Handprint Craft – Kid Friendly Things To Do .com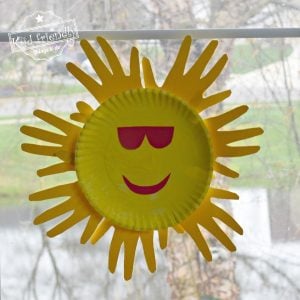 Posted by Melissa in Anytime, Arts & Crafts, Father's Day, Game Ideas, Mother's Day, Mother's Day, School Craft, Spring, Summer, Sunday School | 0 comments
We all love receiving precious handprint art! This one is so cute, and brightens up any room with little rays of hand prints shining out from the sun! This would be a cute idea for Father's Day, Mother's Day, or any other special occasion! You could also add this to a unit on the Solar System, a lesson on Peace, or in Sunday School following a lesson on Creation:
If you have yellow paper, or card-stock then you are a lucky duck! We were on vacation with only yellow marker, and copy paper – it works!
On yellow paper (about 10-12 pieces), trace the child's hanprint, and cut them out
Grab a yellow plate – At $8 for a set of yellow plates in this mountain town…we opted to color our Styrofoam plates yellow!
Turn the plate around to the back, and glue the hand prints all around the outer edge – making sure the yellow color is facing the front of the plate
Decorate with google eyes, or use cupcake wrappers like we did to make sunglasses, and a mouth
We also glued a little strip of paper to the back of the sun to hang with – you could use ribbon or yarn!
~Melissa – KidFriendlyThingsToDo.com