This Water Bottle Penguin Craft is such a cute winter or arctic-themed craft for school. It's a fun project and is a cute water bottle craft for kids that's inexpensive, easy, and fun! Kids can easily make these cute little penguins out of recycled water bottles and happily display them all winter long.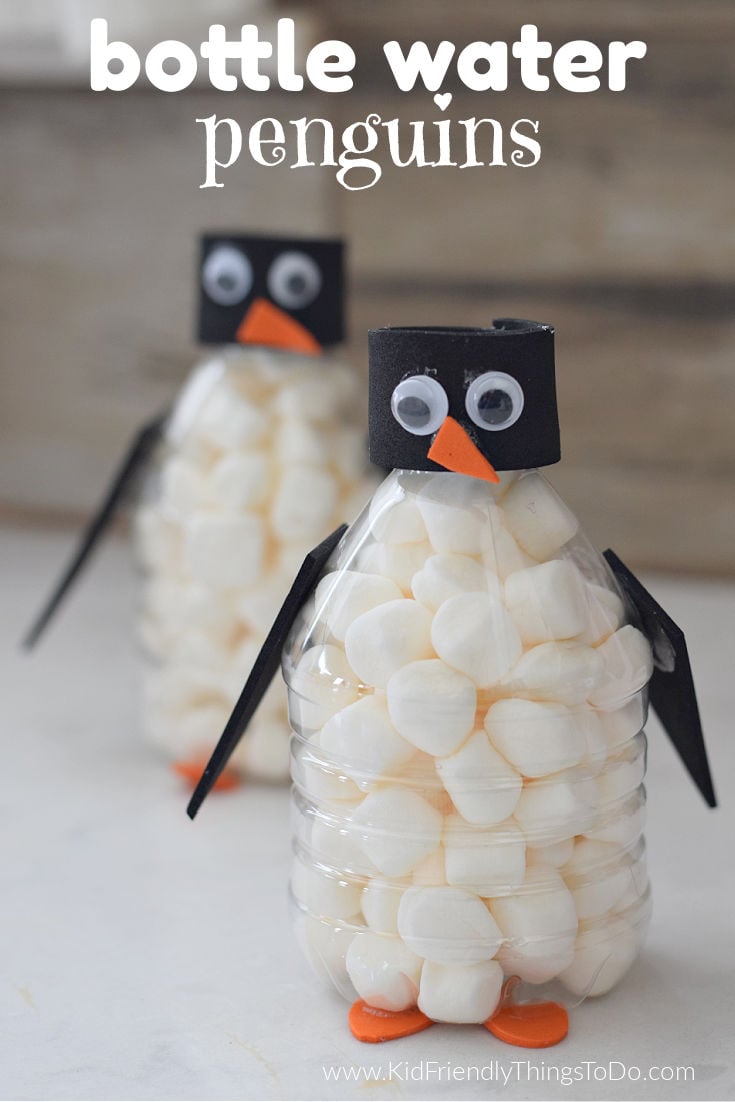 Water Bottle Penguin Craft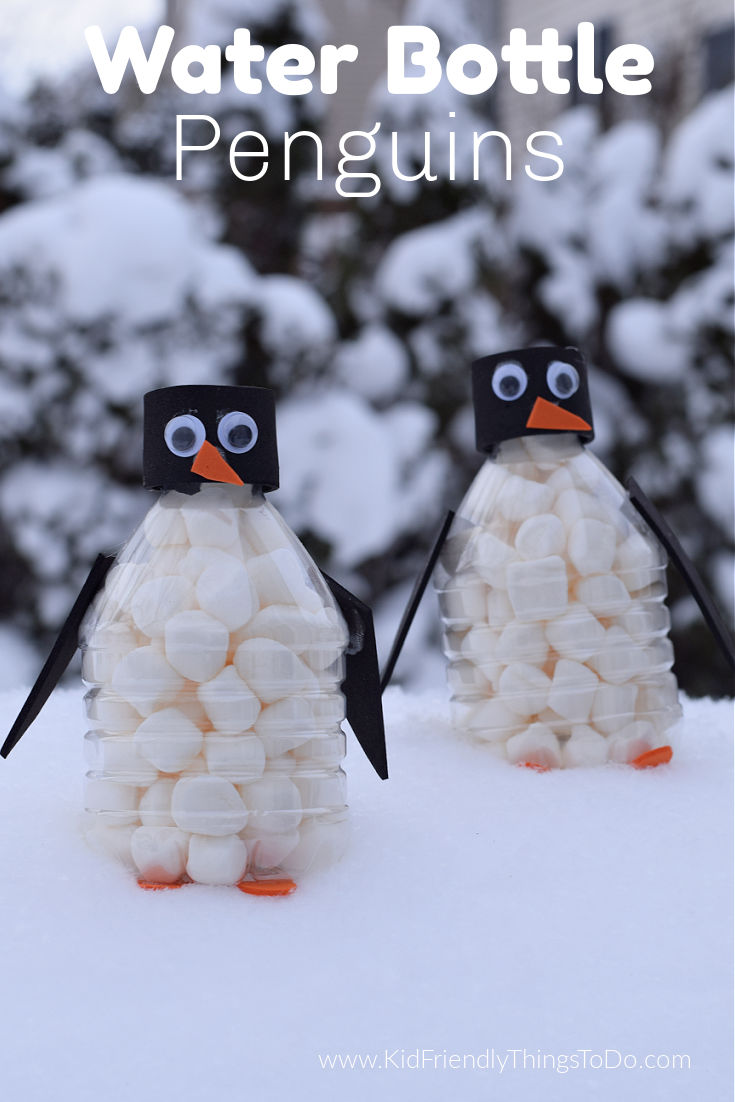 When I made these, we just happen to have about two feet of snow outside, so these penguins fit right into our home. These little penguins would be the perfect craft for a snow day, a fun Christmas craft, or a fun winter craft at home or school.
Tips and Tricks for making this Penguin Craft with kids:
for small children, and preschool children, my biggest piece of advice is to prep – prep – prep. Cut out shapes in advance. Have the water bottle emptied, dried, and ready to craft. Little kids don't mind if they only did one or two steps of a craft to call their own. They do mind, however, getting bored and frustrated with a craft.
I like to use a low temp. glue gun alternative that is a really tacky glue – It's called fabri-tac. It forms a gummy stick that makes pieces secure almost instantly. You might have to hold some down for a few seconds, but it's really quick
It takes about 1 cup of mini marshmallows per penguin – when using the smaller (shorter) water bottles
If you only have taller bottles on hand, that's perfectly fine. You'll just need more marshmallows
You can substitute cotton balls or crumpled white paper for marshmallows
Always use a low temp glue gun as opposed to a hot glue gun when working with kids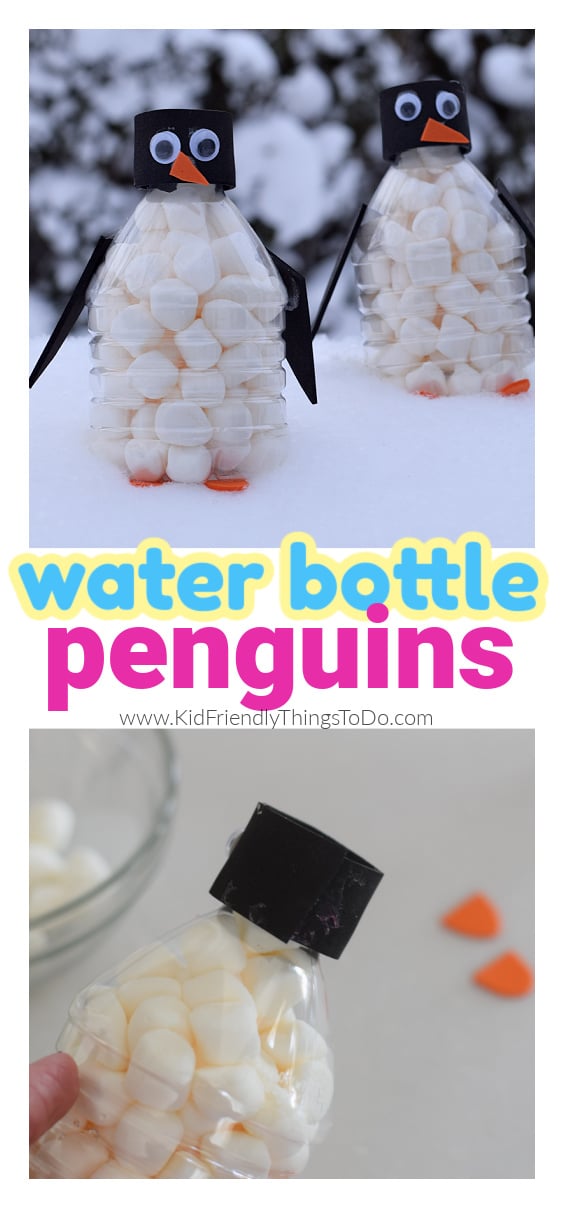 If you are looking for fun and easy winter crafts, you might want to also check out some of my other posts, like making a Homemade Bird Feeder out of Ice, How to Make Bath Salts, or Making a Snowflake out of a Coffee Filter.
These are so simple to make that even toddlers can have a part in making them. When they have finished, they'll have some cute little penguins to add to their winter fun.
Are you ready to make this Water Bottle Penguin Craft? Let's make sure you have everything you'll need…
Supplies you'll need:
empty water bottles – 8 oz. size – I have seen this craft done with the taller water bottles, but I really thought the smaller squattier water bottles would be easier to fill with marshmallows and also look really  cute
mini marshmallows – I used about 1 cup per penguin
black foam paper
orange foam paper
small googly eyes
glue – I like to use Fabr-Tac – you could also use a low temp glue gun
scissors for cutting shapes
Here are my top Amazon Picks for this penguin craft:
(affiliate links)
Instructions:
(for each penguin craft)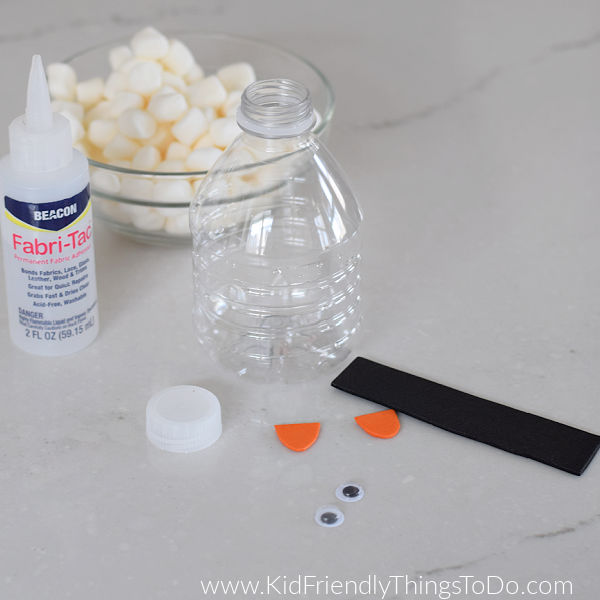 with the orange foam piece – cut out 2 little orange feet into the shape of a U and a triangle for the beak
using the black foam, cut a long rectangle  (or black strip) that will fit all the way around the neck of the bottle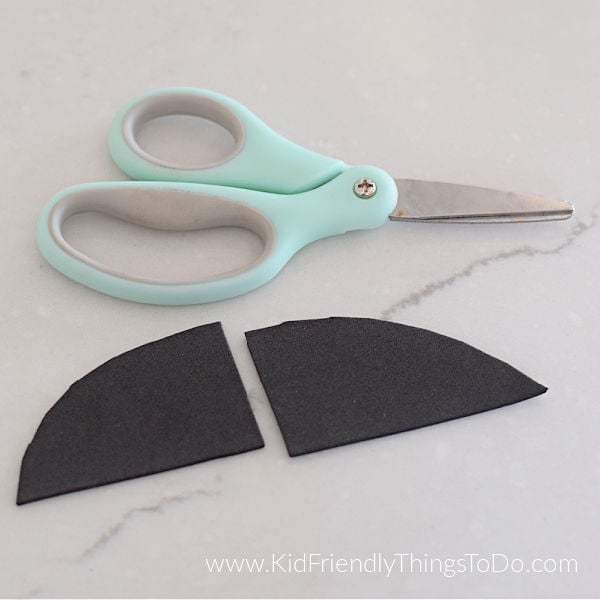 next, cut the penguin wings. I cut a half circle and then cut that in half again to make wing shapes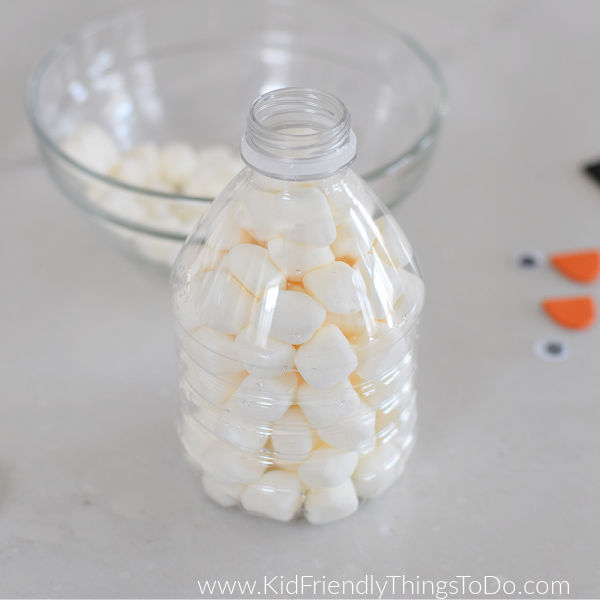 fill the water bottle with mini marshmallows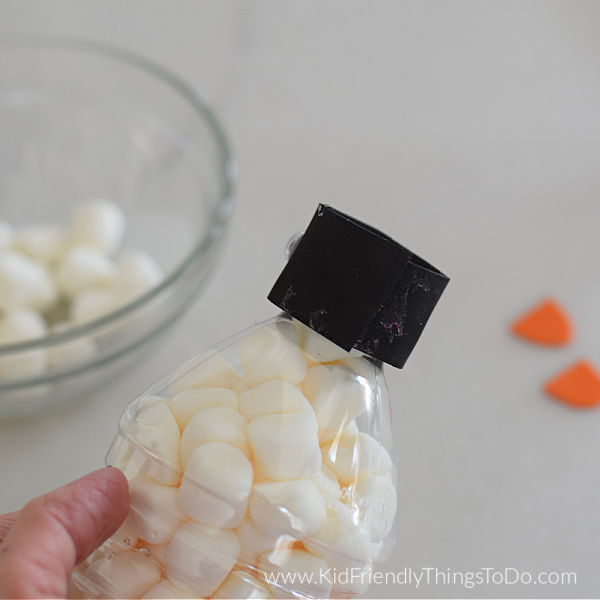 seal the bottle with the lid
glue the black foam strip around the lid and neck of the bottle – securing the seam with glue at the back of the bottle
add the googly eyes to the black piece and secure them with glue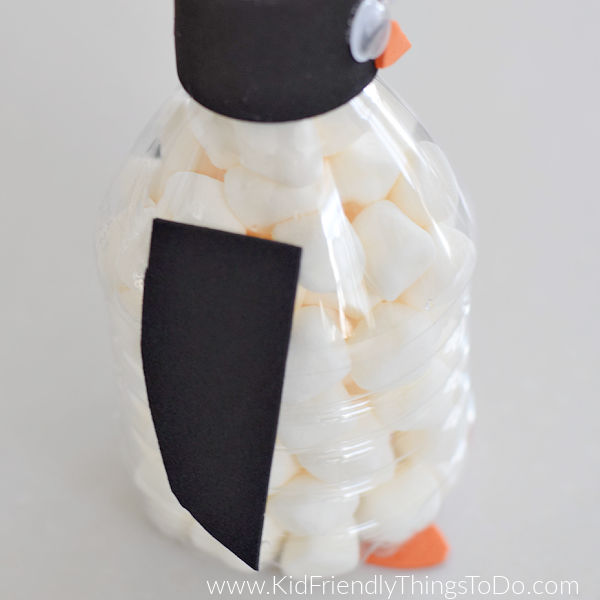 glue the beak under the eyes
add the little orange feet with the curved edges pointing out
glue the wings to the sides of the bottle so the pointed tips are facing the front of the penguin
*optional – you can add a little felt scarf to make these little guys even cuter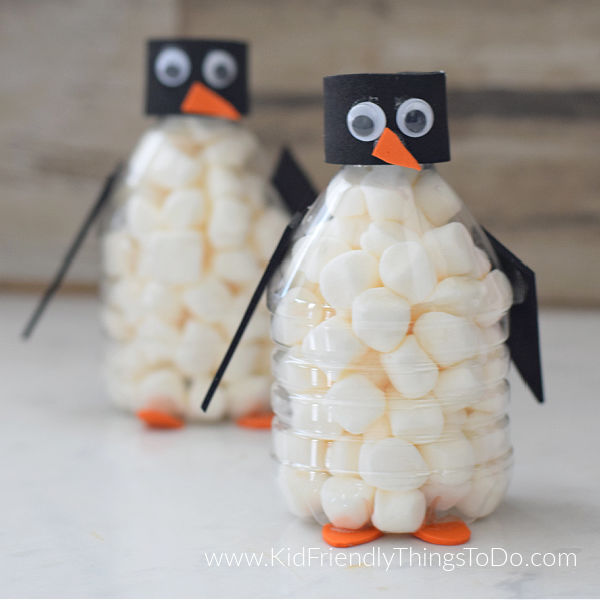 That's it. You're done!