For the St. Patrick's Day table I  thought of Leprechaun Hat St. Patrick's Day Crayon Holders. This Toilet Paper Tube Leprechaun Hat Craft is easy to make and inexpensive. Perfect for St. Patrick's Day crafts and activities.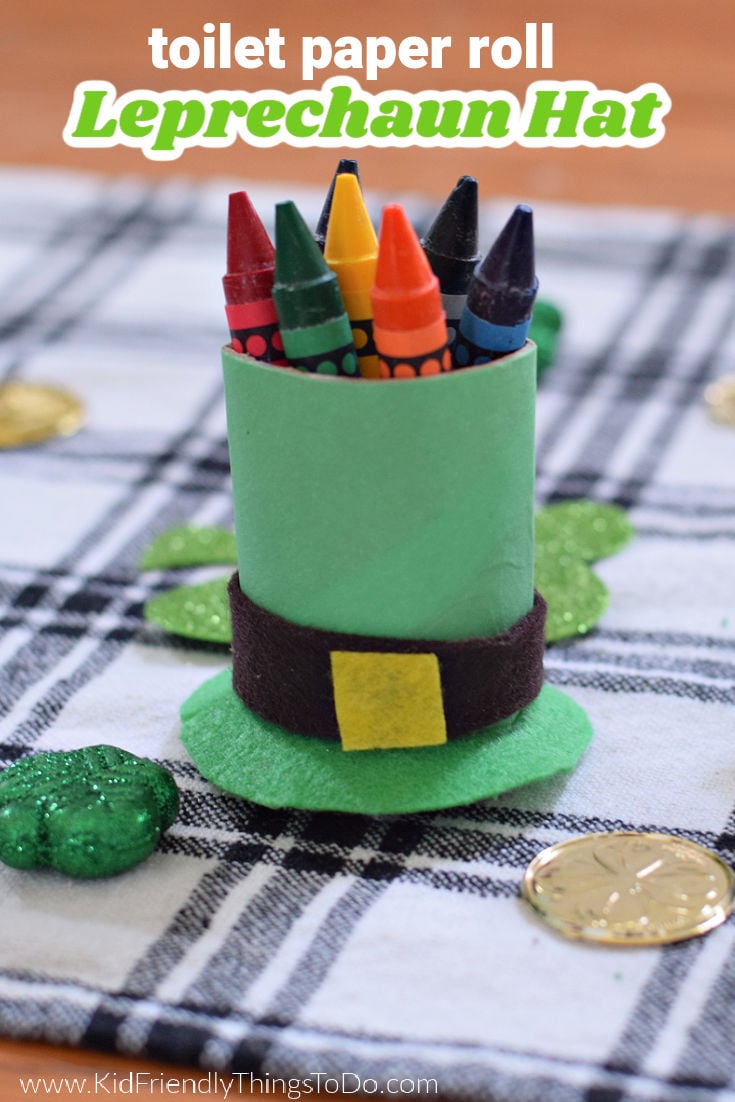 St. Patrick's Day Craft Leprechaun Hat Crayon Holder
I love to add a drawing activity to any party table. I usually use easel paper as my table cloth. I just unroll, and tape until the whole table is white with a paper table cloth. Then I add stickers, and crayons for immediate entertainment.
If you are looking for St. Patrick's Day Craft, try some of my other projects like:
Tips and Tricks for this Toilet Paper Tube Leprechaun Hat
if the paper roll tips over, from the weight of the crayons, you can slide a Dixie cup or something similar into the inside of the paper tube. Fill it with rice or dry beans to weight it down and hold crayons
A fun display for coloring sheets is to use a Leprechaun hat you purchased from the store. Turn it upside down, and use the inside bowl as a sticker & paper holder
Supplies Needed for this Crayon Holder
Green Toilet Paper Rolls
*Spray Paint-Green – if you can not find green tubes
Yellow Craft foam or felt
Green Craft foam or felt
Scissors
Hot Glue Gun and glue sticks
Plastic shot cups, or small plastic cups that will fit inside a toilet paper tube
Instructions for  Hat:
Cut the toilet paper tube so it is about 3 inches long
*If you don't have tubes pre-painted for you…Spray Paint the cut pieces of your toilet paper rolls with the Green paint-covering the outside and let dry
Cut several slits in the bottom of your roll going all the way around, and bend them outward – this will hold your felt (foam) circle-brim
Take your Green Foam or Felt – using a toilet paper roll as a template – trace around the roll onto the green foam
Now, keeping your toilet paper roll stationary, trace the inside as well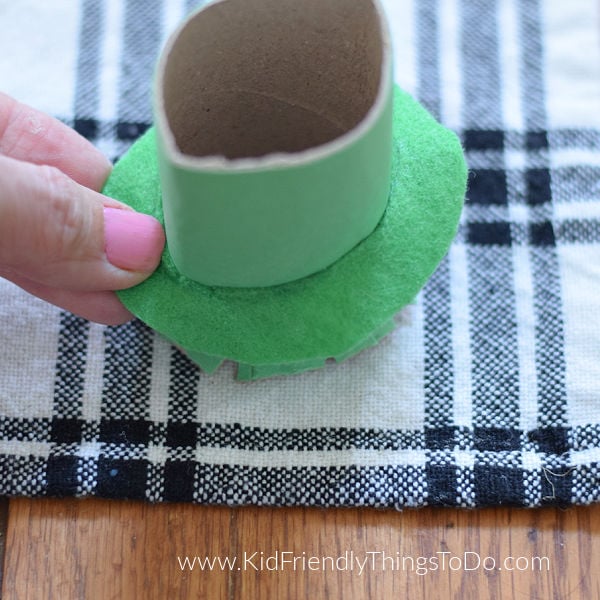 Cut the circle shape out making sure the hole is big enough to fit around the tube and wide enough to be a hat brim
Slide the green felt (foam) circle onto the roll, with the folded-out edges at the bottom
Using your brown felt (foam) cut a narrow strip the length of the circumference of your toilet paper roll
Wrap it around the bottom of the roll-just above the green felt (foam) piece-glue to secure
Using your yellow felt (foam), cut out a small yellow square to serve as the hat buckle
Set it in the center of the black strip and glue
When you're ready, add crayons as a fun crayon holder
~Melissa
KidFriendlyThingsToDo.Com