For the St. Patrick's Day table I  thought of Leprechaun Hat St. Patrick's Day Crayon Holders. They are easy to make and inexpensive. Perfect for St. Patrick's Day crafts and activities.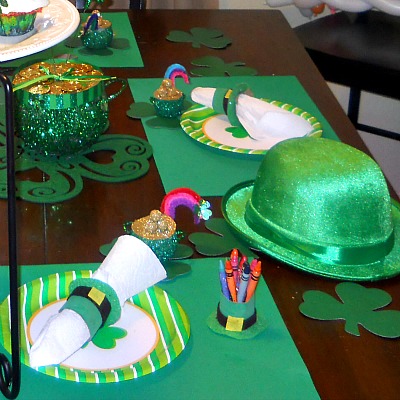 St. Patrick's Day Crayon Holder
I love to add a drawing activity to any party table. I usually use easel paper as my table cloth. I just unroll, and tape until the whole table is white with a paper table cloth. Then I add stickers, and crayons for immediate entertainment.
If you are looking for St. Patrick's Day Craft, try some of my other projects like:
Supplies Needed for this Crayon Holder
Green Toilet Paper Rolls
*Spray Paint-Green – if you can not find green tubes
Yellow Craft foam or felt
Green Craft foam or felt
Scissors
Hot Glue Gun and glue sticks
Plastic shot cups, or small plastic cups that will fit inside a toilet paper tube
Instructions for  Hat:
Cut the toilet paper roll a little longer than the desired length of your napkin ring
Spray Paint the cut pieces of your toilet paper rolls with the Green paint-covering the outside **I made a mistake by not painting the whole outside. I was in a huge hurry, and it shows. My advice to you would be to paint the entire outside and bottom.
Let Dry
Take your Green Foam or Felt – using your toilet paper roll as a template – trace around the roll onto the green foam
Now, keeping your toilet paper roll stationary, trace the inside as well
Pretend the above displays are painted green. I forgot to take a picture of this step
Cut around the larger circle, and cut out the center circle.
Cut several slits in the bottom of your roll going all the way around, and bend them outward – this will hold your foam circle-brim
Slide the green foam circle onto the roll, with the folded out edges at the bottom.
Glue to secure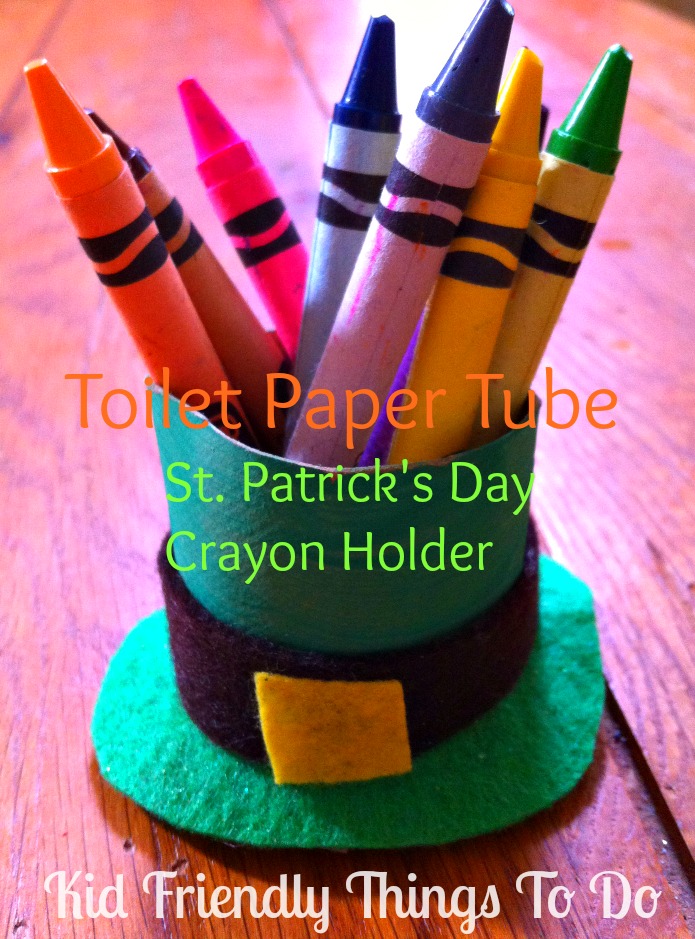 Using your brown foam or felt cut a narrow strip the length of the circumference of your toilet paper roll
Wrap it around the bottom of the roll-just above the green foam piece-glue to secure
Using your yellow foam or felt, cut out a small yellow square to serve as the hat buckle
Set it in place and glue
Now, if you put crayons in this, they tend to tip the hat over. So, to solve that problem, I bought the little plastic shot cups. They are sold in bulk, and they are usually hanging on hooks, in the soda aisle. You can glue it to seal it inside the hat. You could even weigh it down with dry beans, or some other heavy and loose item – something that would allow the crayons to stand upright.
**Here's An Idea For displaying stickers and paper.
Use a Leprechaun hat you purchased from the store. Turn it upside down, and use the inside bowl as a sticker & paper holder!
~Melissa
KidFriendlyThingsToDo.Com