Making a Pretzel Log Cabin is a great idea for President's Day and a fun alternative to Gingerbread Houses at Christmas. They are easy to make with the kids and so much fun.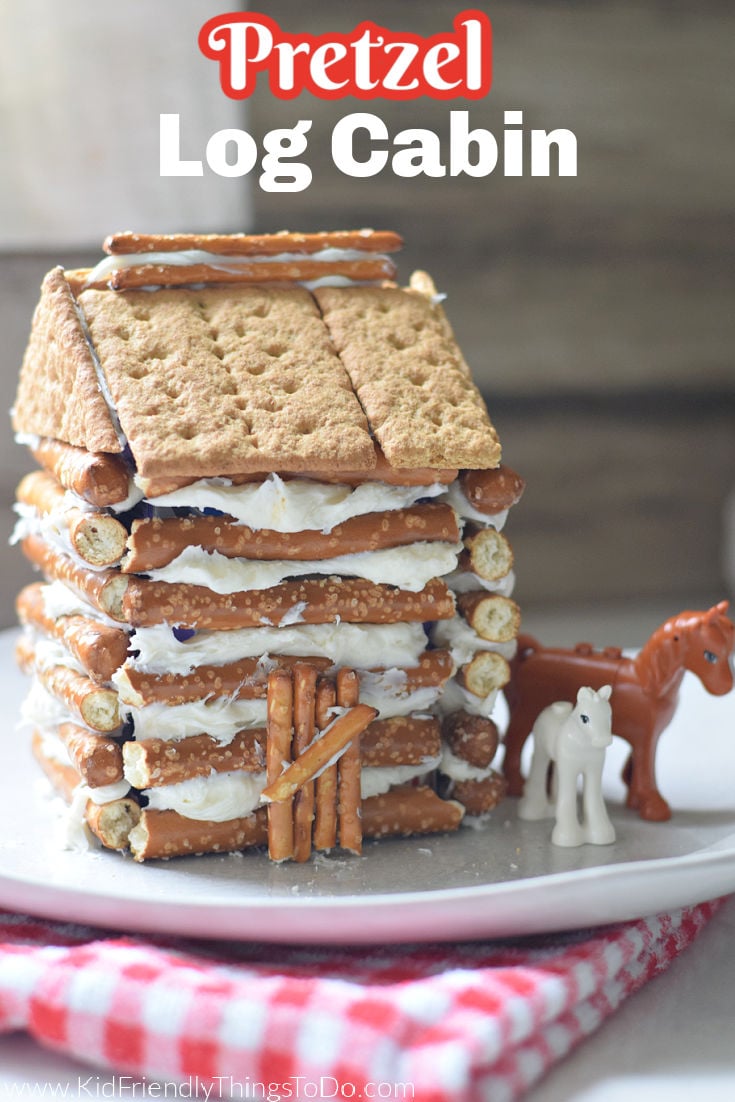 Pretzel Log Cabin
This is the most basic of pretzel log cabins. It's easy to do with the kids, but you could really take your time and make it more elaborate for Christmas projects.
If you are looking for graham cracker house ideas, you might want to check out my post on how to make a graham cracker house, making sugar cone evergreen trees, or making a graham cracker house for Halloween
Ideas for a Christmas Themed Pretzel Log Cabin
add drips of icing like snow hanging from the roof or windows
form windows from mini pretzel sticks or graham cracker pieces
make an opening for the door and windows – frame the door and windows with mini pretzel sticks
add snow to the roof and ground
make sugar cone trees by tipping a sugar cone upside down and frosting it with green frosting
add candy touches or a frosted wreath over the door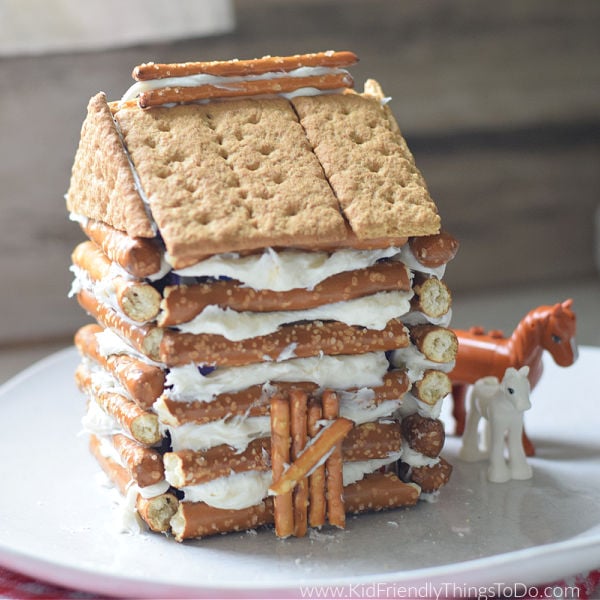 Tips and Tricks for making an easy pretzel log cabin
When trying to get those triangle cuts for the side of the roof, take a square and USE A SAWING MOTION on the graham cracker, at an angle (so you are getting two triangles from one square!).  Press down VERY LIGHTLY, and pretend you are sawing a piece of wood with your butter knife.  I don't know how many I broke pushing down, trying to slice the square into two triangles
Ask your kids to bring home their empty milk cartons from the school cafeteria to use as your base – run these through the dishwasher and let them completely dry
If you don't have a milk carton from lunch, a 16 0z. carton of half & half or whipping cream will probably do the trick
Add powdered sugar to store-bought icing to make a thick paste for gluing the cabin together
My daughter suggested cutting the top strip off of the top of the mini milk carton. I really wish I had listened. It would've made an even rooftop and an easier place to stick a chimney
Tips and ideas for decorating a pretzel log cabins with the kids
I found it is best to get the divider trays for each kid. Portion out the frosting, and decorations before they sit down at their house
For the log cabin, we used various pretzels of all sizes
Crackers and graham crackers make great doors and windows
Wheat pretzel sticks are perfect for fences
You can make logs in a woodpile outside the cabin by stacking small pieces of pretzel rods and using frosting to glue them in place
Combos pretzels make a great chimney or base of a tree
For the green part of the tree – we dipped a marshmallow in water and rolled it in green sugar
Don't Forget to Follow Me on Social Media
FACEBOOK
Facebook Page: Recipes Passed Down
Facebook Page: Kid Friendly Things To Do
Join my Facebook Groups
Easy Family Recipes – Just Like Mom Used to Make
Kid's Crafts and Activities for the whole family
PINTEREST
Supplies Needed for a Pretzel Log Cabin:
Small cream or milk cartons (around 16 oz.) like – half & half, whipping cream, or from the school cafeteria. These small cartons resemble houses already, so they will be the base of the project
White cake frosting
powdered sugar – about 1 cup per 16 oz. of cake frosting
pretzel rods
mini pretzel sticks
graham crackers
plate to put the house
Extra equipment needed…
mixing bowl
spoons to mix
serrated knife for cutting graham crackers
My top Amazon Picks for this log cabin craft
(affiliate links)
Instructions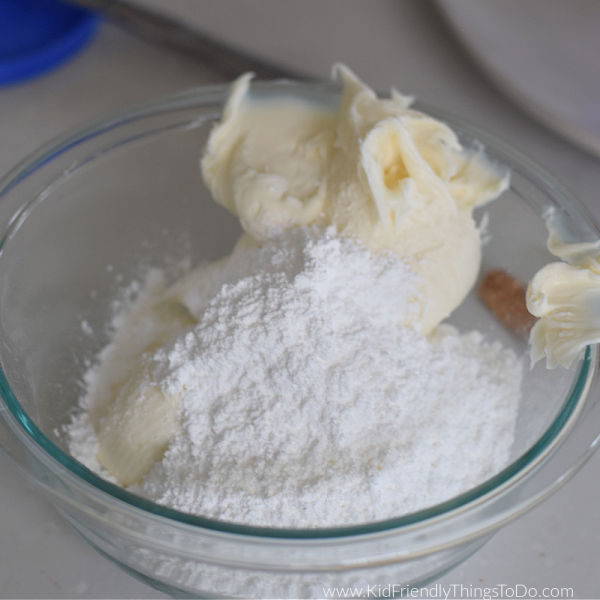 Thickening Frosting 101
Add about 1 cup of powdered sugar to 16 oz. frosting to thicken it.  This keeps the pretzels from sliding off the roof and walls.  It also dries nice and hard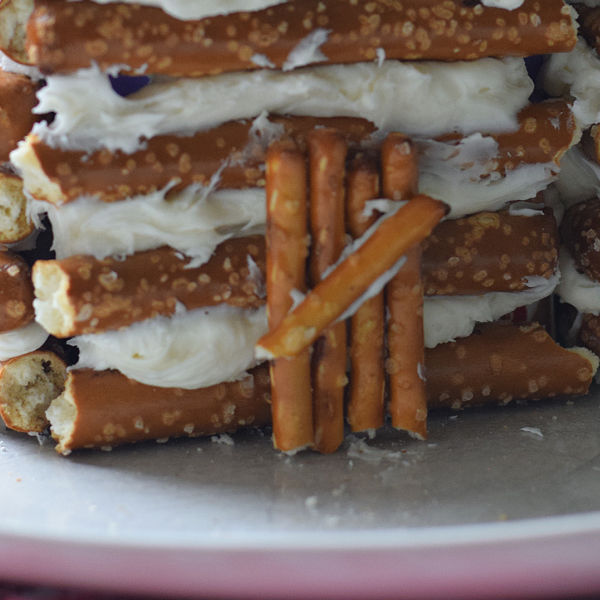 Prepping for building your pretzel log cabin
Before you get started…My next suggestion would be to cut that little strip off of the top of the carton to make the roof more even without it sticking out 
Using your mini milk carton as your base, place it on the plate or tray you'll use for displaying your cabin
break pretzel rods to match the size of your cabin width
make the graham cracker triangles (2 per cabin) by sawing a square at a diagonal
if you are working with multiple kids, you might want to give them each a tray with their own supplies of frosting, pretzels, and spreading utensils
Building the pretzel cabin
use a small plastic knife or something similar to spread frosting on a pretzel rod and stick it down at the base of the house
add a thick layer of frosting to another pretzel rod and place it down onto the last pretzel rod – do not press too firm. You want the white frosting to show like "chinking" on a log cabin would
keep adding more layers until you reach the roof
continue with the other sides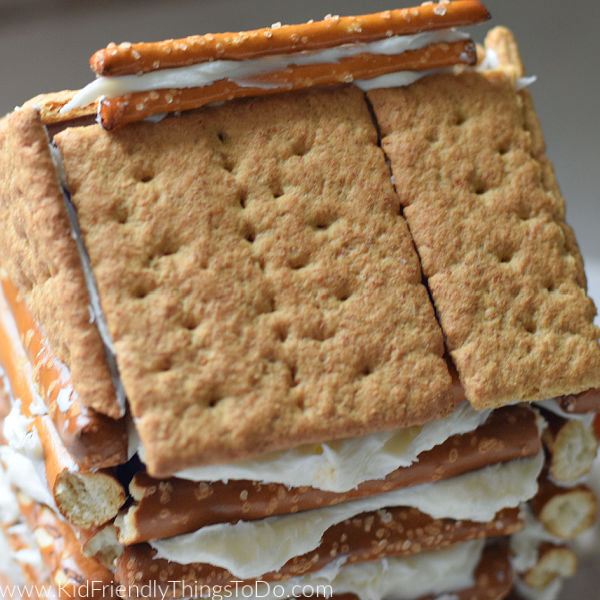 for the roof, glue graham crackers on the slants with frosting
use a sawing motion to cut a graham cracker square diagonally for the triangle parts of the roof
if you left the top portion of the milk carton as I did, you'll have to get creative with candy or mini pretzel sticks
decoration ideas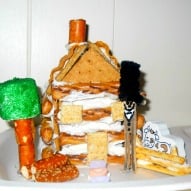 Here's a really old photo of a log cabin one of the kids did for President's day. Maybe you'll find some ideas from it.
Happy Crafting!