Make a pretzel log cabin. This is a great idea for President's Day. Easy to make with the kids and so much fun.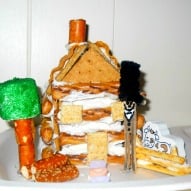 Pretzel Log Cabin
First, you'll need to make a graham cracker gingerbread house for the base.
To make the gingerbread house:
School Cafeteria Milk Carton, or something similar – whipping cream cartons might work
White cake frosting (The containers  in the baking aisle)
powdered sugar
food coloring (optional)
graham crackers
hot glue gun and glue sticks
plate to put the house on (Styrofoam or plastic works best

Assembling the Gingerbread House
Take a clean and dry milk carton ( I put mine on the top shelf of the dishwasher to clean them)
Hot glue graham crackers to the sides of your carton
Hot glue graham crackers to the roof.  Don't get too picky here.  The frosting will cover any of the carton showing through.
Hot glue the graham cracker house to the plate.  Place it in the back, leaving room for a front sidewalk.

One more tip.  When trying to get those triangle cuts for the side of the roof, take a square and USE A SAWING MOTION on the graham cracker, at an angle (so you are getting two triangles from one square!).  Press down VERY LIGHTLY, and pretend you are sawing a piece of wood with your butter knife.  I don't know how many I broke pushing down, trying to slice the square into two triangles.

I use the tall extra large carton of frosting.  Only because I have 4 kids to cover.
I add about 1 cup of powdered sugar to the frosting to thicken it.  This keeps the pretzels from sliding off the roof and walls.  It also dried nice and hard.
I found it is best to get the divider trays for each kid, and portion the frosting, and decorations out before they sit down to their house.  Less fighting that way!
For the log cabin, we used various pretzels of all sizes! We used rods and sticks. We used crackers for doors and windows. We used wheat sticks for fences. We used rods for a pile of logs outside of the cabin. We used combo pretzels for the chimney, and the tree trunk.
For the green part of the tree – we dipped a marshmallow in water, and rolled it in green sugar!
Now, let them get creative!  Spread frosting all over the walls and roof to make the pretzels stick. Use frosting in-between the pretzels to resemble chinking.  The second picture below was my four years old's version of a log cabin. Even preschoolers enjoy this!
Your Abraham Lincoln!