Easy-to-Make Sugar Cone Christmas Trees that are a great alternative to Christmas Graham Cracker Houses. A great Christmas tradition to do with the kids…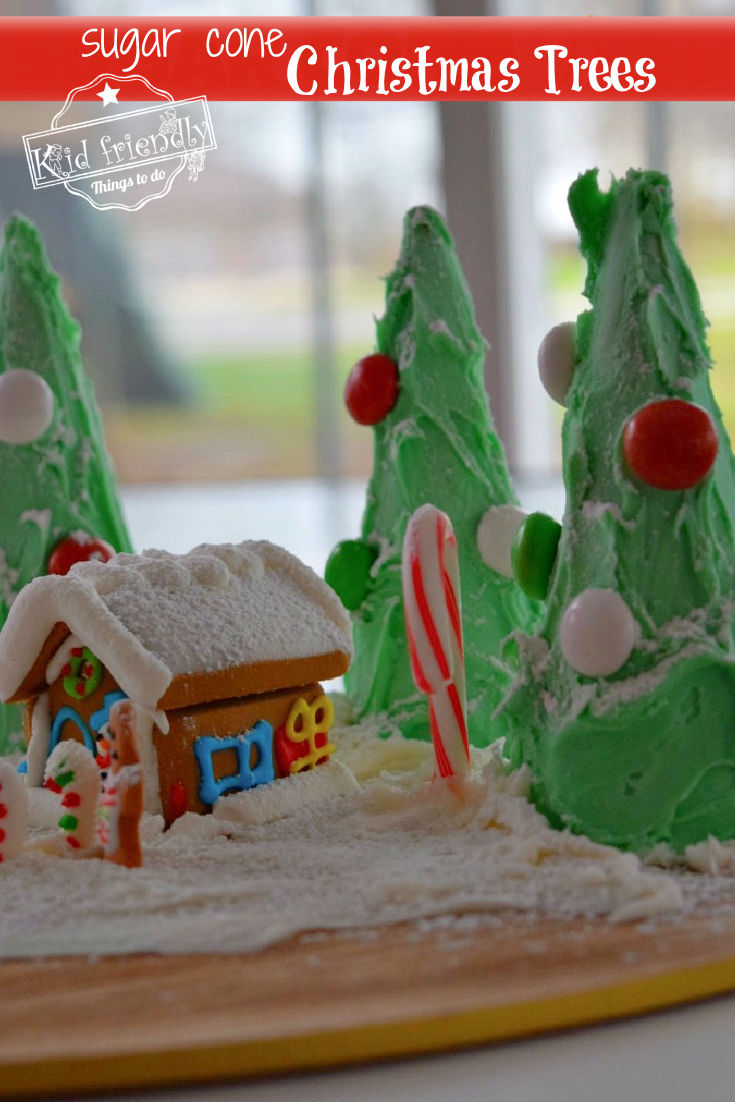 Sugar Cone Christmas Trees
You may have already seen this fun idea of simply spreading frosting on an upside-down sugar cone to create a tree. Years ago, I first saw this clever concept when my daughter and I went to a Gingerbread House Function. I thought it was so much fun, and have always wanted to do it. Well…this year, was our year to finally do it. Honestly, I don't know what took me so long. They still had a ton of fun decorating the tree and didn't miss the graham cracker house at all.
If you are looking for fun things to do with the kids, then check out some of my other ideas, like – Puffy Paint Window Clings, How to Make Reindeer Food, andSnowman Hot Chocolate in Jars Kit
Are you ready to make these Sugar Cone Christmas Trees? Let's make sure that you have everything you need…
For Sugar Cone Christmas Trees You'll Need:
Sugar cones
green frosting
white frosting
powdered sugar – you'll want about 3/4 cup per frosting container
spreading utensils
a platter or paper plate to decorate on
assorted candies to decorate with
optional: coconut flakes for snow, and more powdered sugar, little pre-made gingerbread houses ( I find mine at the Dollar Tree), little gingerbread people – I found some made by Wilton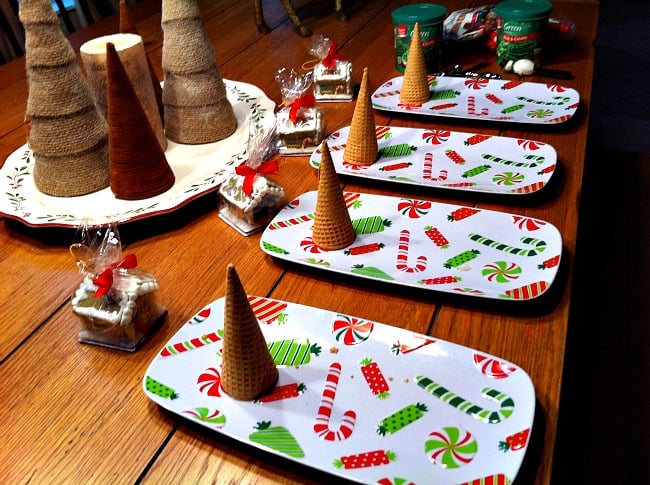 This is my older post picture. Do you see the store-bought gingerbread houses? I decided to keep things really simple and buy the Gingerbread Houses at the Dollar Tree that year. I've been doing it ever since. They are so cute in front of the sugar cone trees.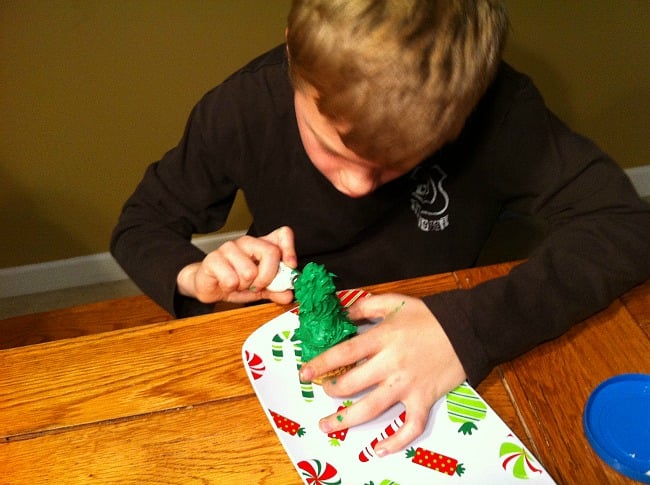 I like to mix powdered sugar with the frosting. It thickens it up, and everything stays on better.
You'll want to spread white frosting on the plate, so the tree and optional decorations stick to the plate and don't slide off
Then just let the kids spread frosting on their trees, and decorate with candy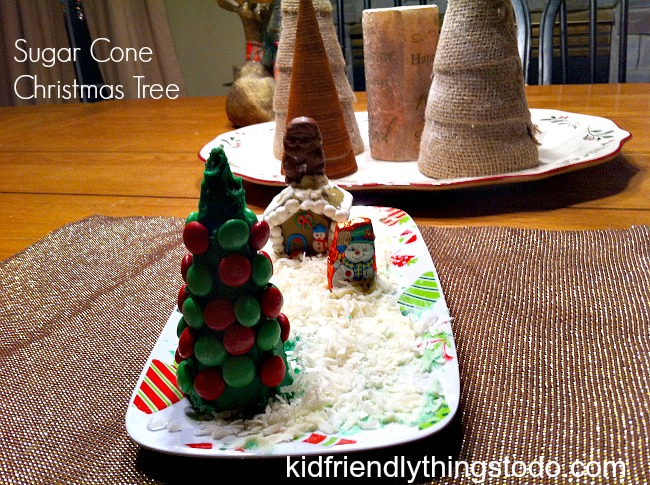 Don't forget to have candy ready
With my four kids, I like to divide it up for them. There is less fighting that way. Yes, they fight like the best of them. Even at Christmas!
When I have hosted class parties, I would divide candy and frosting up for each table
I would even go as far as putting frosting in individual Dixie Cups. You wouldn't believe the taste testing that goes on! Nobody wants to take a holiday virus home, so I would strongly recommend this idea!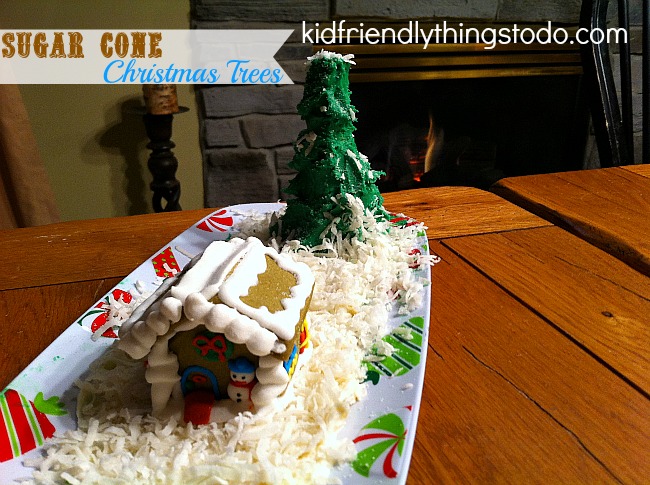 This is a fun idea for decorating. Use coconut flakes! I love how Michael just sprinkled snow (coconut flakes) over his tree and yard.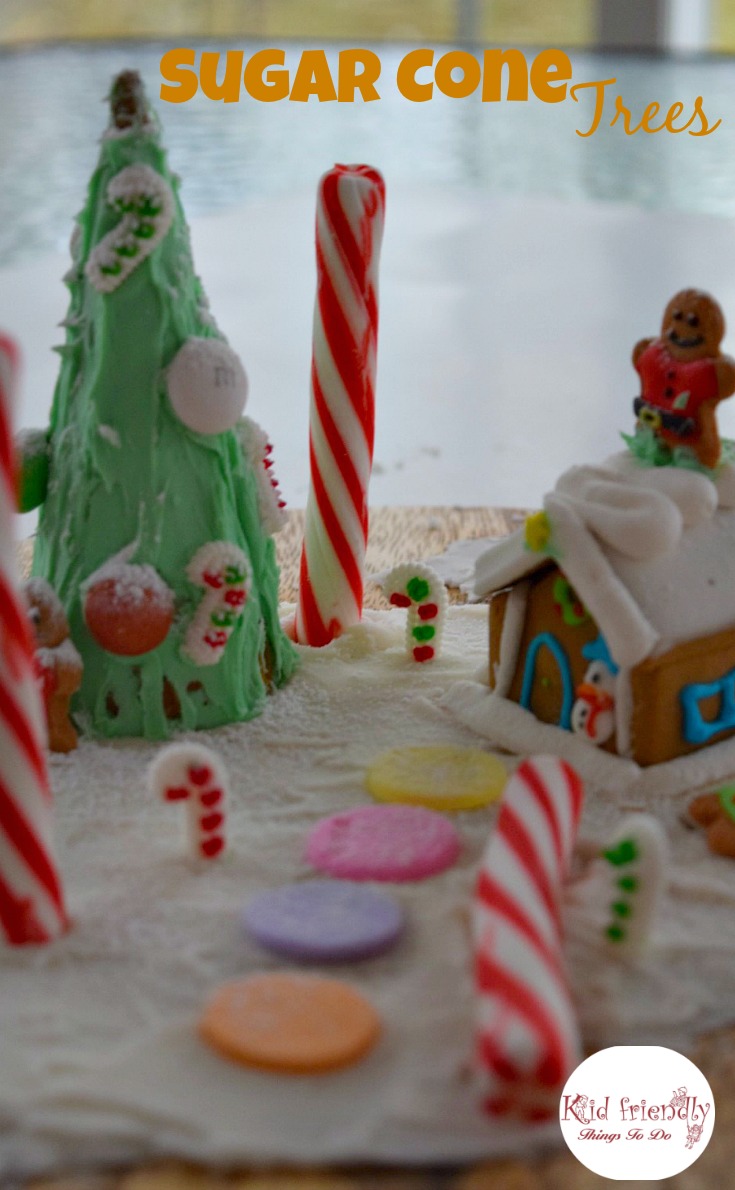 We also like to shake powdered sugar over the trees for a sweet snow look

I completely forgot about the coconut flakes this year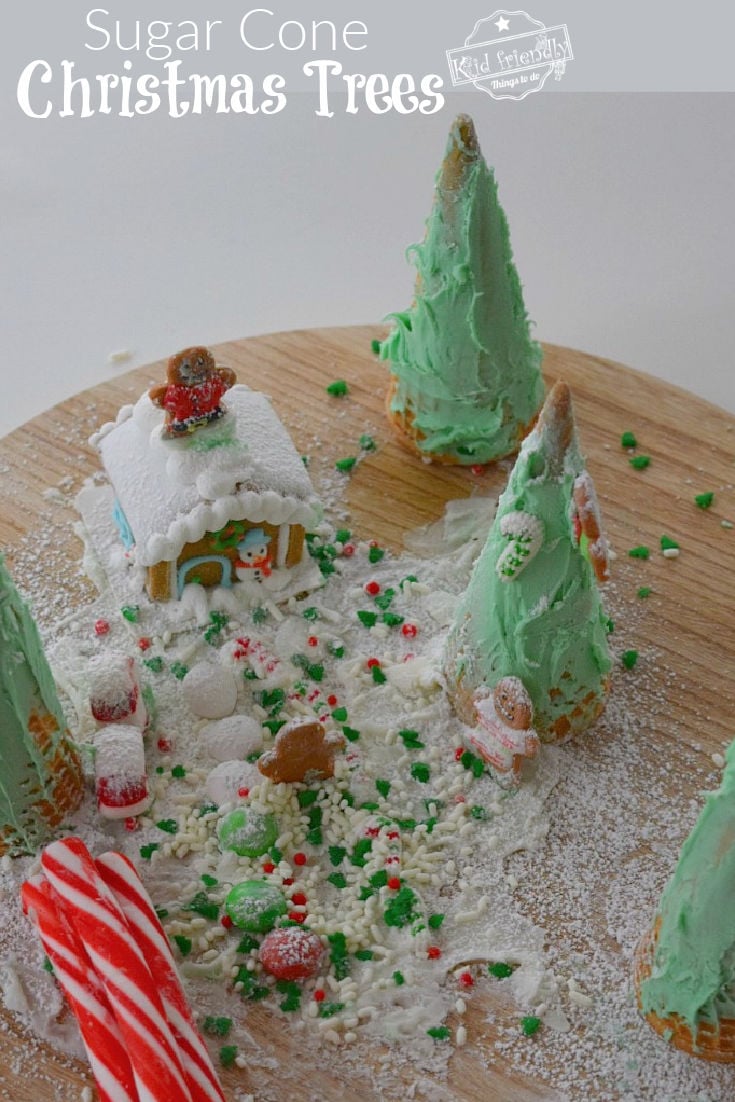 It doesn't look like Connor forgot one single piece of candy for his display! He keeps asking when we get to eat the displays. His display keeps shrinking, too. I think he is secretly sneaking pieces to eat.
Merry Christmas everyone &  Happy Holidays!
~Melissa – KidFriendlyThingsToDo.com