Making Crayons from old crayons is so much fun and the hardest part is peeling off the paper wrapper from the broken crayons. Crayon Recycling is a fun activity to do with the kids.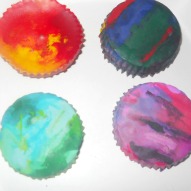 Recycled Crayons
The kids love pairing colors. The possibilities are endless. You could make a rainbow-themed crayon (with all of the colors of the rainbow), a volcano themed (fire colors), a perfectly princess-themed crayon (purple and pink, of course), or a soccer-themed crayon (white with black bits inside)! OK, I've got to stop. I could go on, and on, and on. I think you get the point.
Here's What You'll Need for Recycled Crayons
A Cupcake Tin
Cupcake Wrappers – You might want to double up. Some of the wax managed to leak through my wrappers.
Lots & Lots of Broken Crayons with wrappers peeled off
Access to an oven
Now, Here's What You Need To Do:
Preheat your oven to 250 degrees. Put your cupcake wrappers into your cupcake tin. Fill the wrappers up with whatever colors you want. (You can make designs – only the wax will melt and shift a little. Just be prepared if you have a perfectionist in the house.) Only fill it up about 3/4 of the way. You don't want the wax to spill over into your oven. Place the tin into the oven. Turn your oven light on, and in about 10 minutes, have the kids come and see. Their crayons are melting into a cool design! Leave the crayons in for about 15-20 minutes.
*Important Tip – Have a very steady hand when you remove the crayons. If you don't hold them as level as possible, the designs will just mix together, and make a yucky color.
Set, them in a safe place to cool. They cool off pretty fast. I think in about 20-30 minutes, they are ready to peel the wrapper off and use.
( If they are still warm, leave them alone. You don't want any tears from using them too early.) – I let mine sit overnight.
Have Fun!
More Ideas For Your Crayons
**Note To Teachers & Room Parents.
You could let the kids make their designs at a school activity, and take them home to bake. They'll be so excited to peel off their creation the very next day
Make them a couple of days before your holiday or birthday party, and hand them out as a party favor. Give coloring books with it
~Melissa
KidFriendlyThingsToDo.Com