Popsicle Stick Airplanes are some of the most classic of all toys. Kids have and always will love making and playing with them. This popsicle stick airplane is sure to  please any kid looking for a fun airplane adventure.

Popsicle Stick Airplane
The other day, my five-year-old and I decided we needed to do a craft together. We picked airplanes because what boy doesn't like flying around the house with an airplane? Not only did this airplane make for a fun day inside, but it's also a lot of fun outside as well.
Decorated with wooden beads that represent wheels and craft stick propellers, this plane looks like it's ready to zoom off on an adventure.
Tips and tricks for making this fun airplane craft:
use a low temp glue gun or wood glue for assembling – a hot glue gun gets too hot, in my opinion
if you paint the craft sticks, allow time for drying before moving on to assembling
for smaller kids (preschooler age) – you can pre-glue the propeller, the rudder, and the wings (or body of the airplane) before assembling it with the kids and decorating it
if you don't have crafts sticks, try substituting a clothespin
some great optional decorations would be stickers, glitter, pom pom, or buttons
buy pre-painted craft sticks
Can my child make this entirely on their own?
Although your child can do a lot of this fun and easy-to-make project on their own…I'd recommend some adult assistance, especially if you are using glue. Even a low-temperature glue gun gets very hot and we all know how kids get when they are let loose with paint and glue. Yikes!
Do you love popsicle stick crafts? Check out these fun crafts…
You should really check out my other popsicle ideas like this Popsicle Stick Airplane Craft, this popsicle Stick Flower Pot, and this Popsicle Stick Garden of Flowers
For more fun and more recipes…Come Hang out with Me on Social Media
Facebook Page: Recipes Passed Down
Facebook Page: Kid Friendly Things To Do
I'd love for you to join my Facebook Groups
Easy Family Recipes – Just Like Mom Used to Make
Are you ready to make this airplane craft idea? Let's make sure you have everything you'll need 
Supplies Needed:
Crayons, Markers, or Paint (or use pre-painted craft sticks)
*if painting – a sponge paintbrush
2 Large sized popsicle sticks
4 standard-sized popsicle sticks
scissors
(2-4) wooden beads
low temp glue gun and glue sticks – If you have the time and the patience, Wood Glue would be the strongest holding glue for active play
*recommended – wax paper, paper plate, or something similar to protect your work surface from paint and glue
Here are my top Amazon Picks for this fun craft
(affiliate links)
This is what we did to make our fun Popsicle Stick Airplane Craft:
Instructions: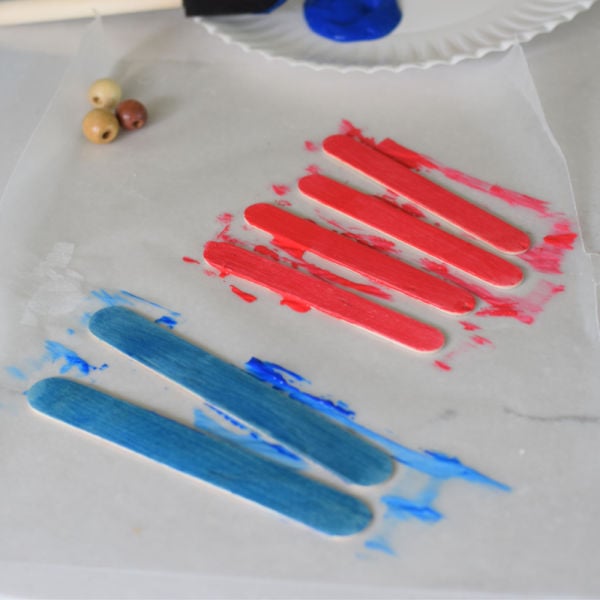 Decorate all of the popsicle sticks – I painted them this time,  but in the past, we've had fun coloring them or using markers to decorate
Making the rudder – tail of the plane 
Once dried – use scissors to cut one of the standard size popsicle sticks in half  and glue it upright onto the center of another standard sized stick
set that aside for now
Making the propeller

Assemble the propeller by making an X and gluing it to secure the sticks together
Add a wooden bead to the middle of the X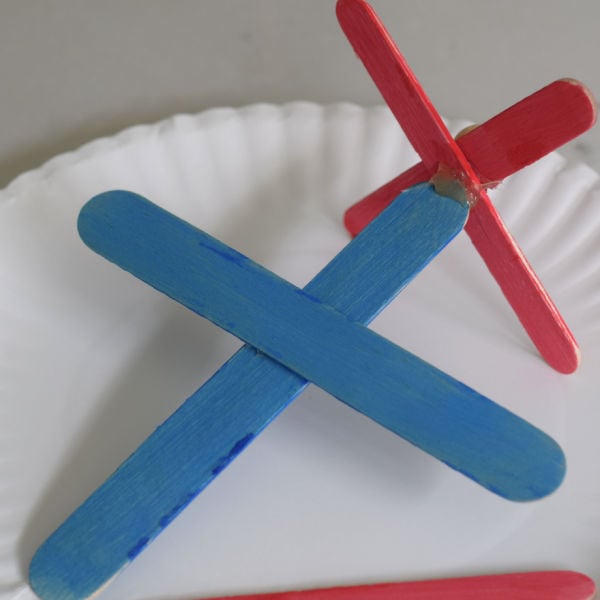 Making the plane's wings: 
Make a "t" or "cross" shape with your 2 large popsicle sticks – the cross in the "t" should be toward the top just like a lower case "t" is
Glue the propellor to the front of the plane (the part that has the shortest end above the cross-section)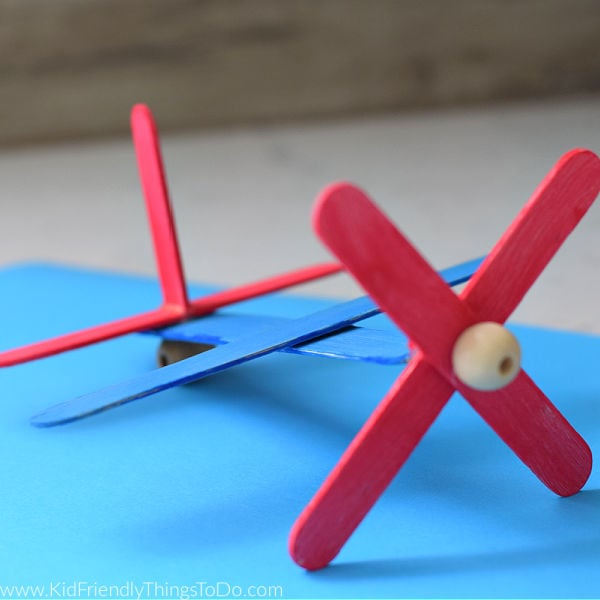 Glue the rudder piece onto the back of the blue cross
Add another round bead as a wheel under the backside of the plane, as shown
*If the kids want – they can add 2 more beads under the middle of the plane (the wings) for more wheels
Happy Crafting!
~ Melissa – KidFriendlyThingsToDo.com