You are going to love these No Carve Pumpkin Decorating Ideas for Halloween. If you are ready to add a little bit of no carve creativity and fun to your Halloween traditions, then you'll want to check out this post with over 30 pumpkin decorating ideas from Halloween our school event…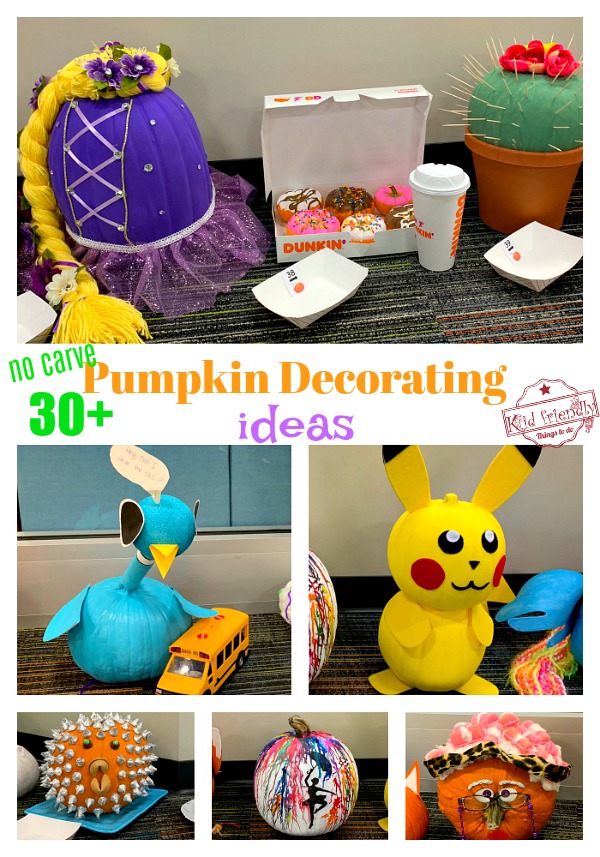 No Carve Pumpkin Decorating Ideas
These ideas all came from our school wide Halloween event that was held last year. Families were asked to participate in a pumpkin decorating contest. As I was carrying our pumpkin into the hallway, I was blown away by everyone's creativity.
Of course, I took several photos to share. Unfortunately, there won't be tutorials or links to share on how to decorate these pumpkins – only inspiration and ideas for you to check out. I'm sure you'll be able to run with the ideas and come up with your own pumpkin masterpiece.
What's the Best Paint to Use on Pumpkins?
Rustoleum spray paint can be used on pumpkins. Chalk paint is another paint that works well. A sealant can be used to help keep the paint from chipping. Puffy paint is great for detailing. If you are letting the kids paint the pumpkins, you might want to use a washable paint
How Do You Prep A Pumpkin for Painting?
You should wash and dry your pumpkin to get rid of dirt and debris
Tips and tricks for working with  painted pumpkins…
Wash and dry pumpkins
Using oil based paints will help the paint stick longer – most spray paints are oil based
You can use a sealant after painting
Glues that work well are hot glue (used by adults). For kids, Fabri-Tac glue works well. It is really tacky and dries quickly. Another glue alternative is large glue dots. They are extremely sticky
Don't forget to protect your surface with a disposable plastic tarp or newspaper
Glitter paint can be used to add a touch of sparkle. Use it over the base paint
Let's get started on these cute pumpkin ideas…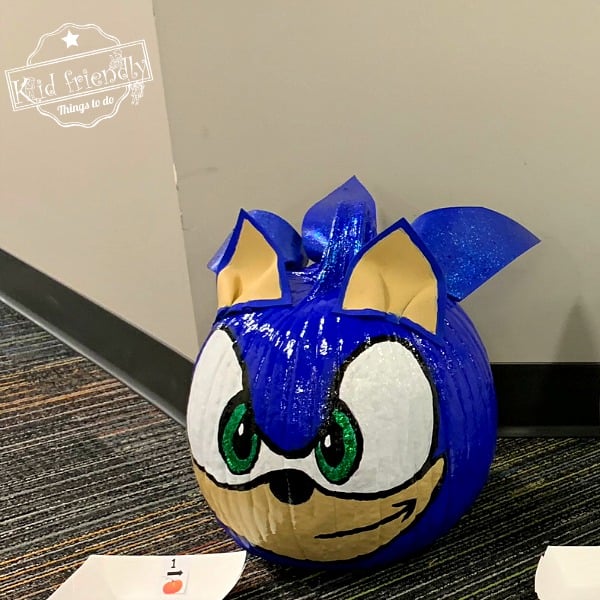 Sonic The Hedgehog Painted Pumpkin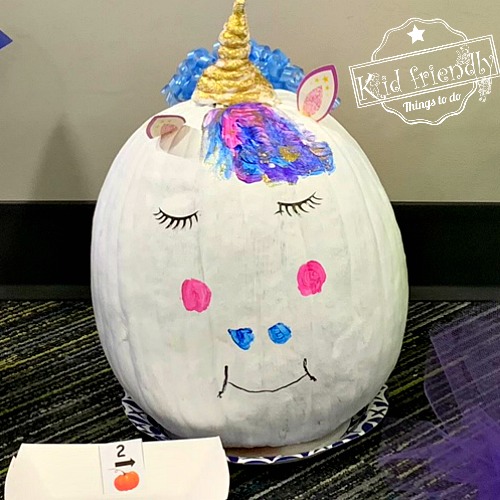 Unicorn Pumpkin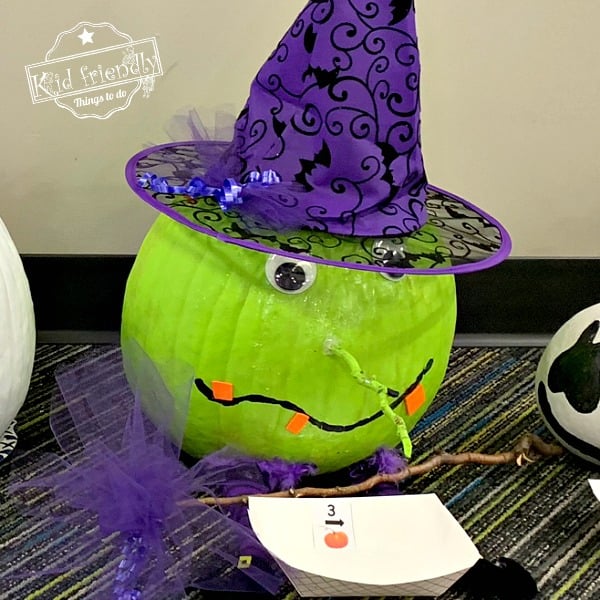 Witch Pumpkin and Broom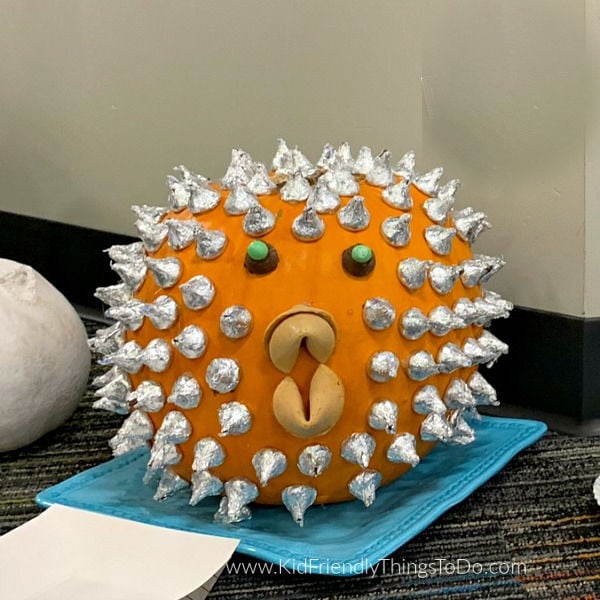 Puffer Fish Pumpkin – This looks like it's decorating with Hershey's kisses, fortune cookies, rolos and green candies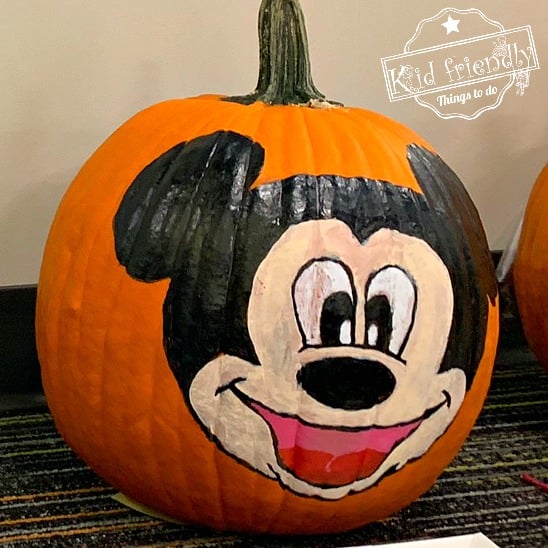 Mickey Mouse Pumpkin – This would take some artistry from someone that likes to paint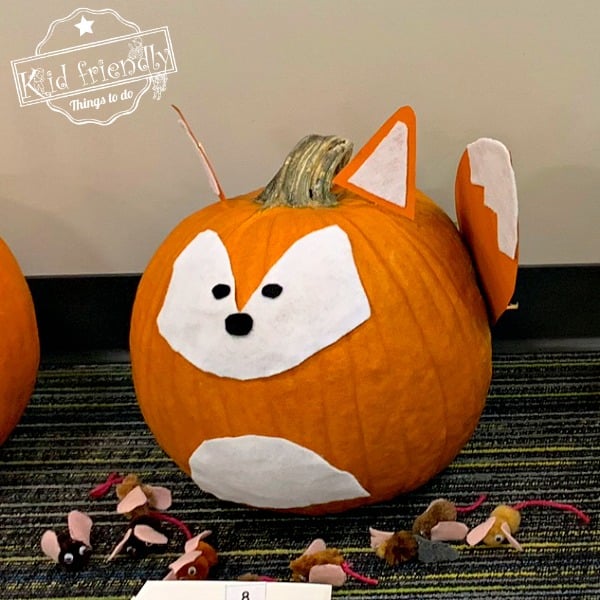 Fox Pumpkin and Mice – It looks like felt was used to decorate the pumpkin and the mice were made from pom-poms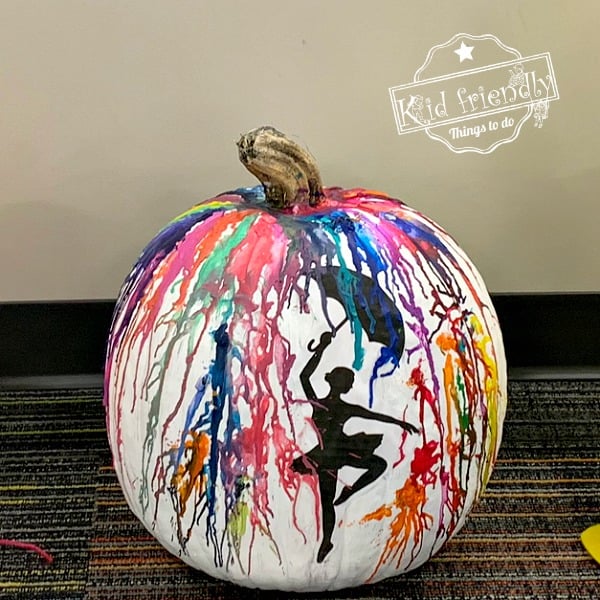 Crayon Pumpkin with Silhouette – I have seen these on Pinterest. I believe that crayons are placed on top of the pumpkin and a hair dryer is used to melt the crayons causing the wax to run down the pumpkin
Ariel Pumpkin – Blue paint to represent the ocean, glitter, beads and a crown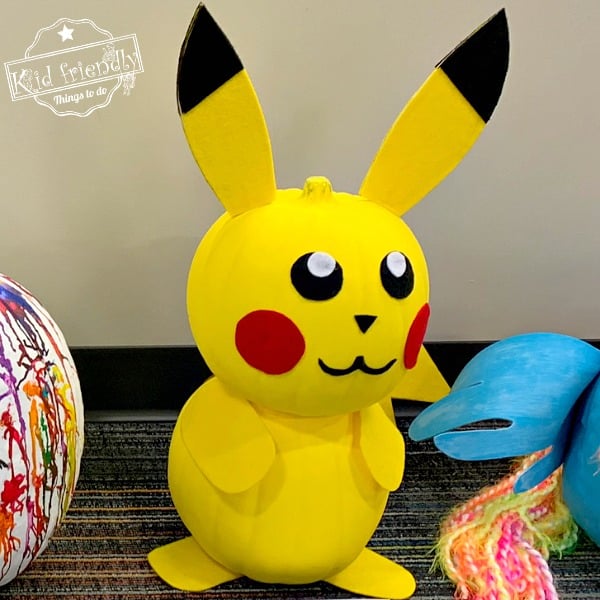 Pikachu Pumpkin – I believe that these were foam pumpkins that you can buy at most craft stores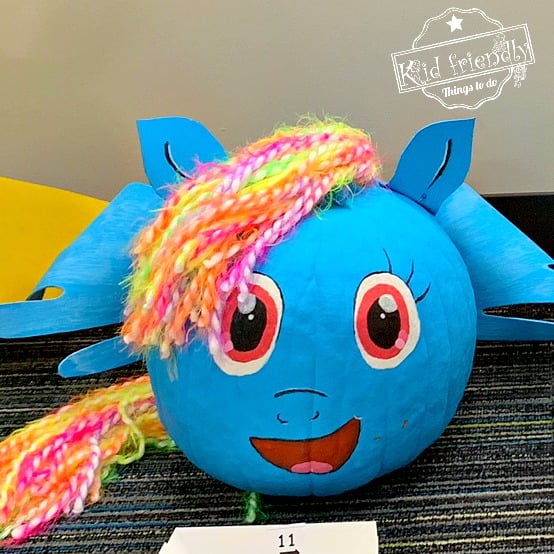 My Little Pony Pumpkin – Painted with yarn and card stock or craft foam paper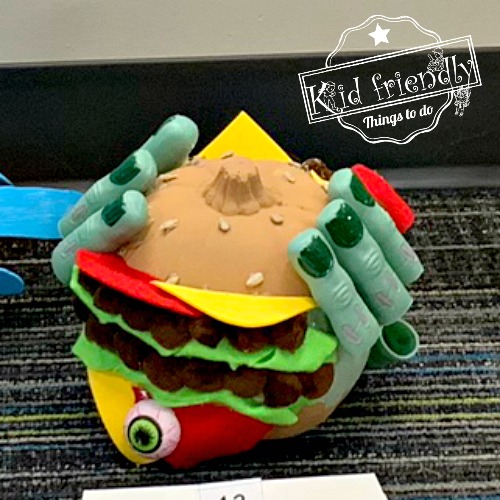 Cheeseburger Pumpkin with monster hands – I believe the pumpkin is painted and seeds are glued to the top, craft felt or foam is glued to the sides to represent cheese, lettuce, beef and tomato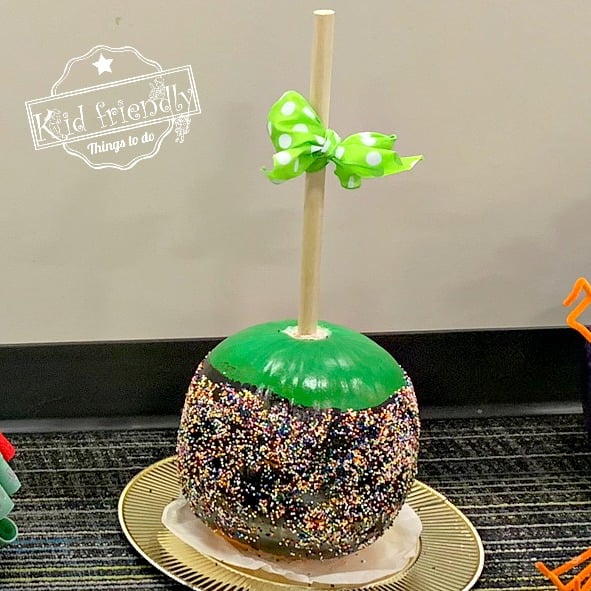 Candy Apple Pumpkin – Painted green and dark brown with glued on sprinkles and a wooden dowel inserted in the middle
Don't Let the Children Drive the Bus – A book by Mo Williams – Painted Pumpkin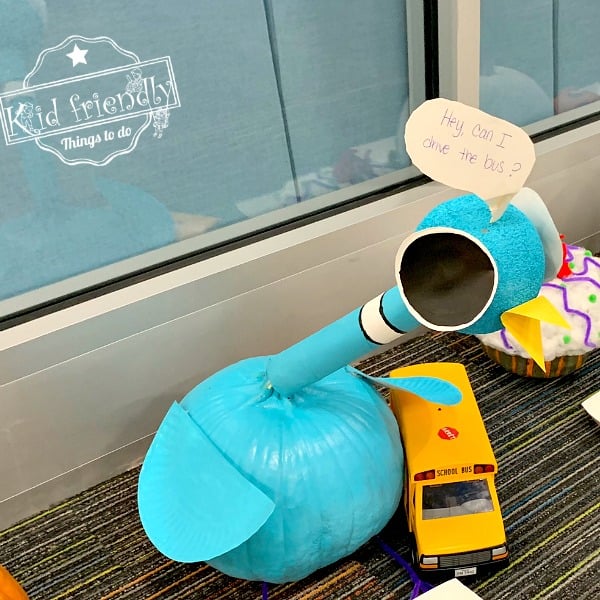 This pumpkin is painted light blue with paper plate wings, paper towel tube neck, and styrofoam ball head. Paper eyes and beak were added as well as a prop for the bus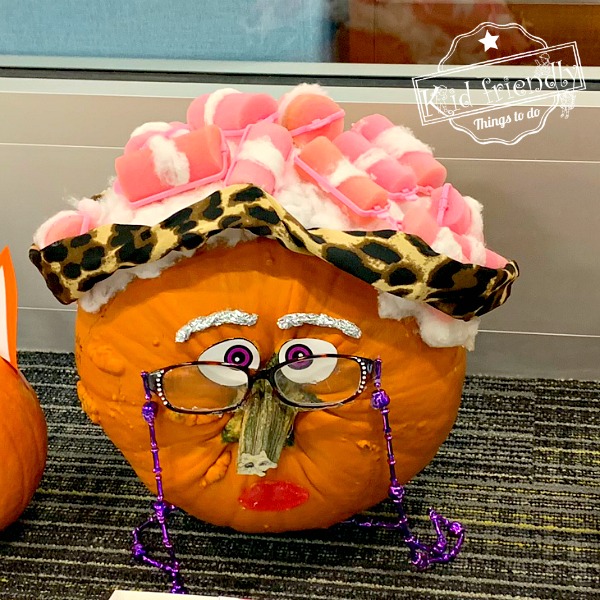 Little Old Lady Pumpkin – Fiber Fill for hair, rollers, hair band, glasses, foil eyebrows, painted mouth and paper eyes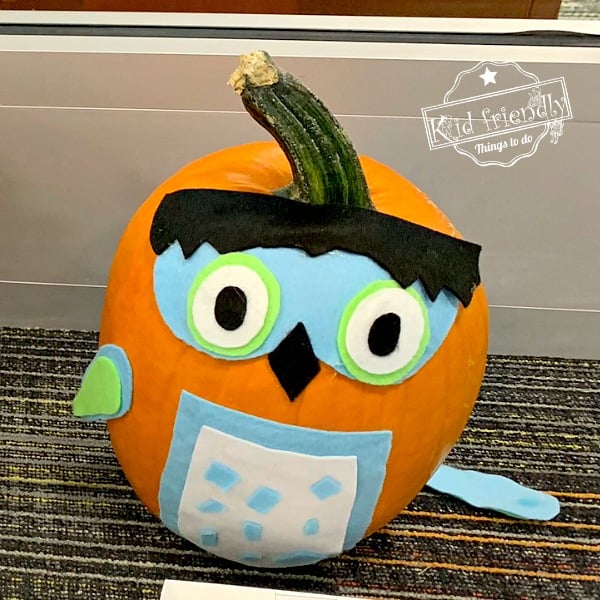 Owl Pumpkin – Felt cut outs glued onto pumpkin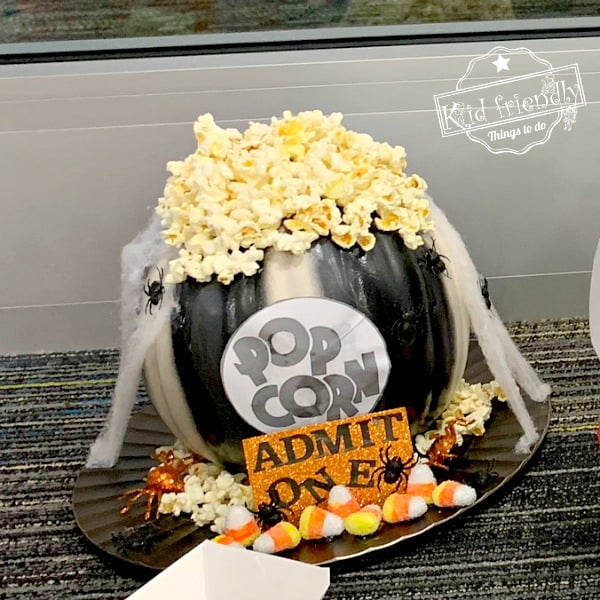 Haunted Popcorn Pumpkin – black and white stripes, with cobwebs, popcorn and decorations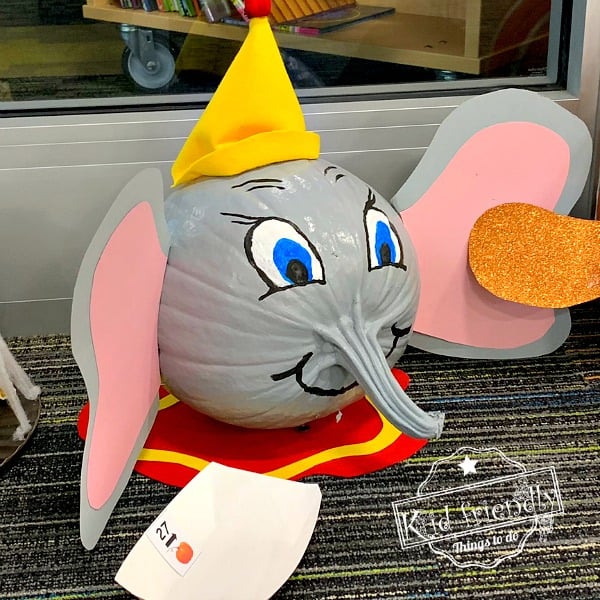 Dumbo Painted Pumpkin – painted with paper ears, and felt hat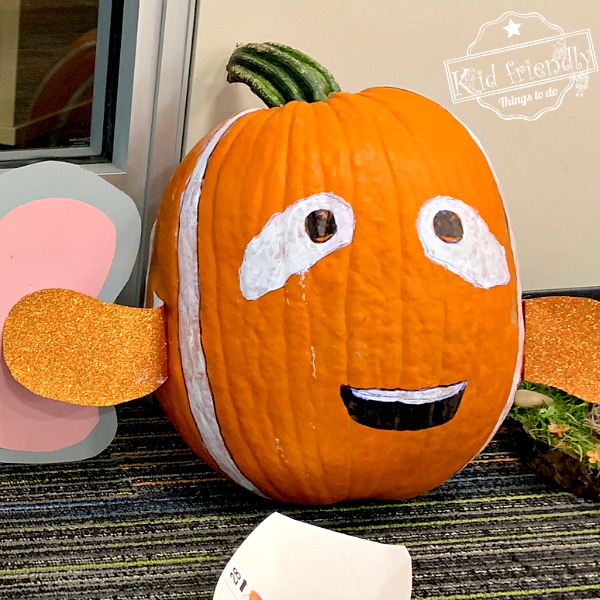 Nemo Painted Pumpkin with glitter paper fins
Dinosaur Hatching Painted Pumpkin – with a dinosaur toy disassembled and then glued to the pumpkin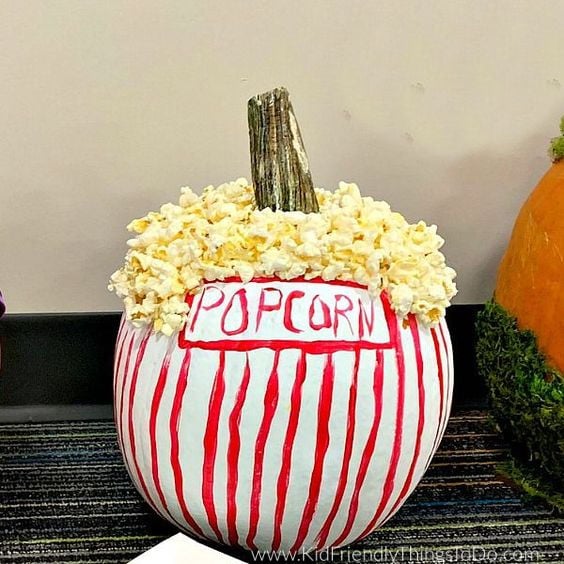 Popcorn Bowl Painted Pumpkin – with popcorn glued to the top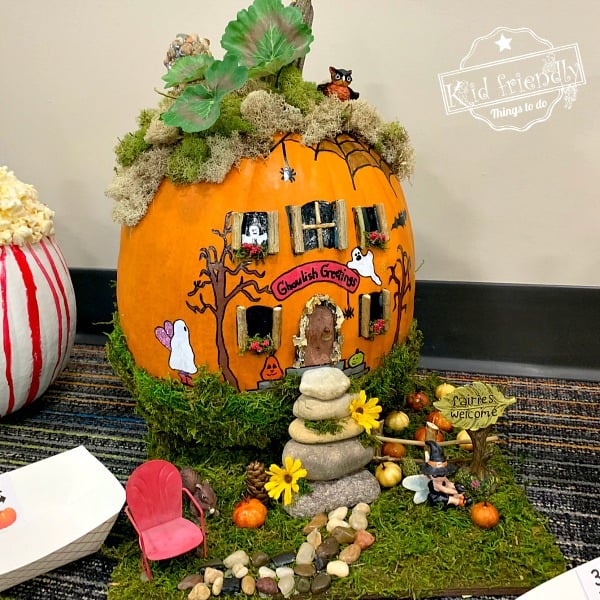 Haunted Fairy House Pumpkin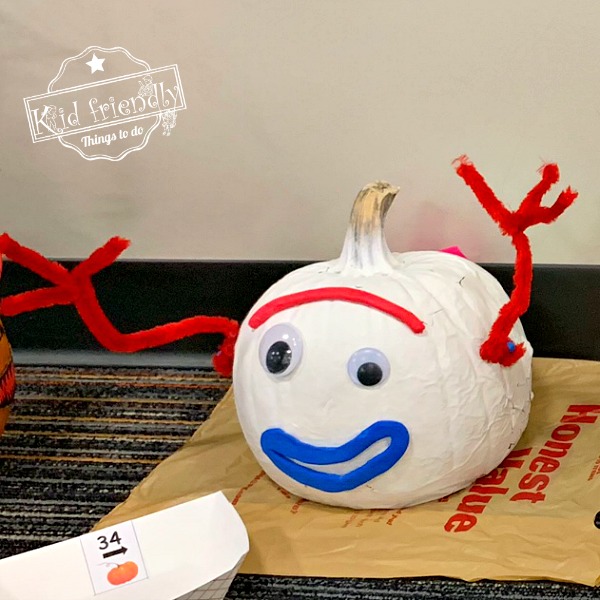 Forky (or Sporky) Painted Pumpkin – playdough mouth and eyebrow, googly eyes, pipe cleaner arms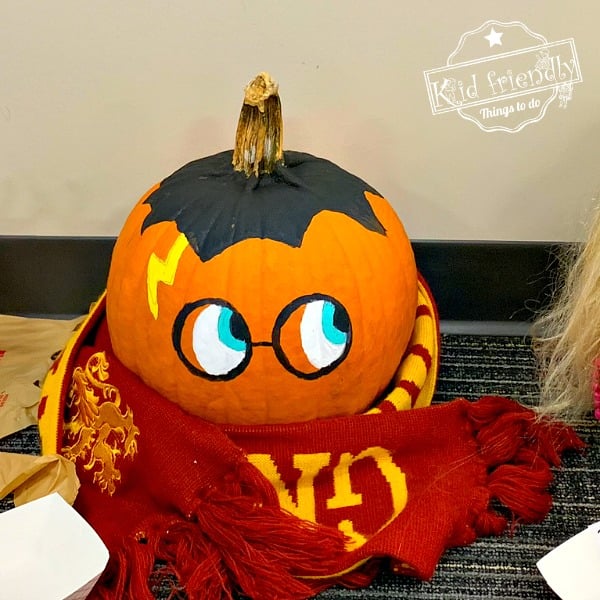 Harry Potter Painted Pumpkin – with scarf as a prop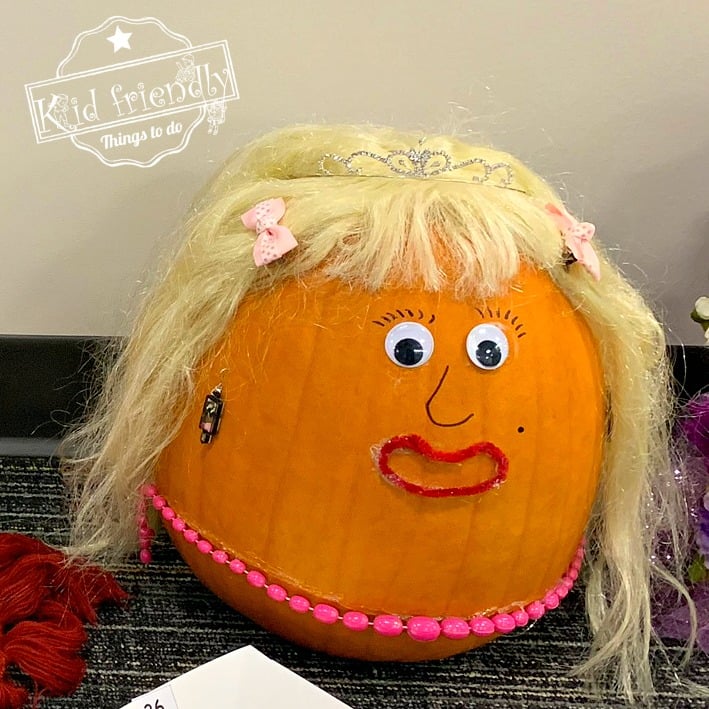 Little Princess Girl Pumpkin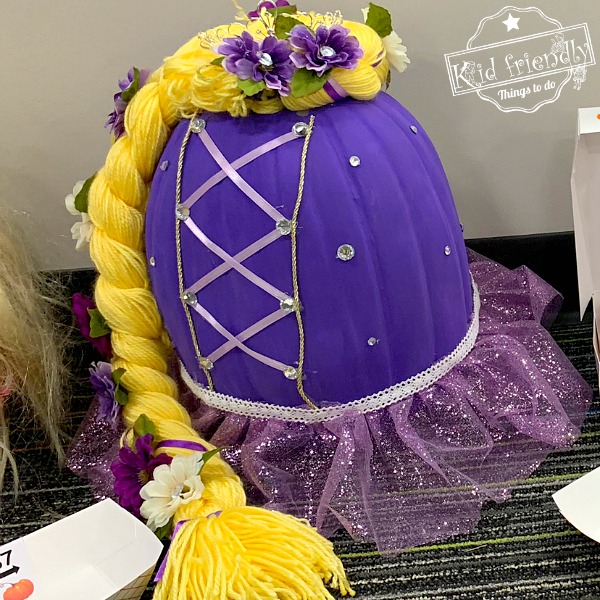 Rapunzel Painted Pumpkin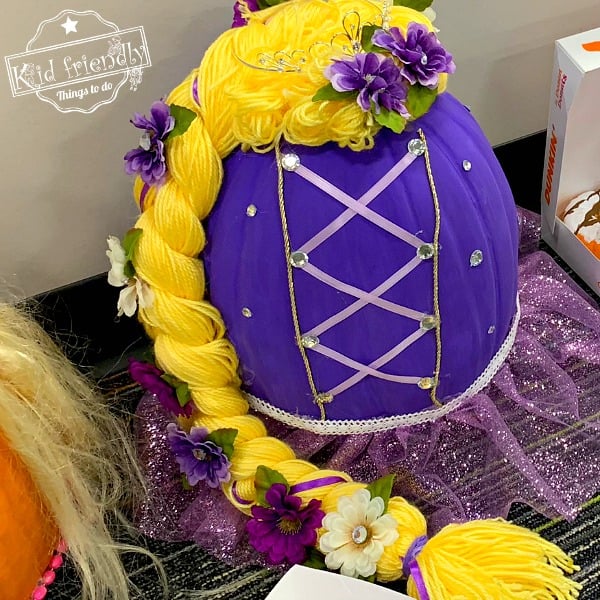 with beads, ribbon, wig and tutu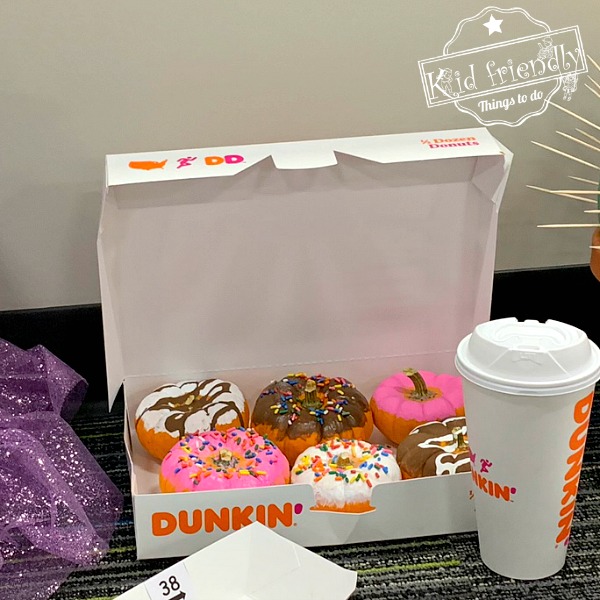 Dunkin' Donut Pumpkins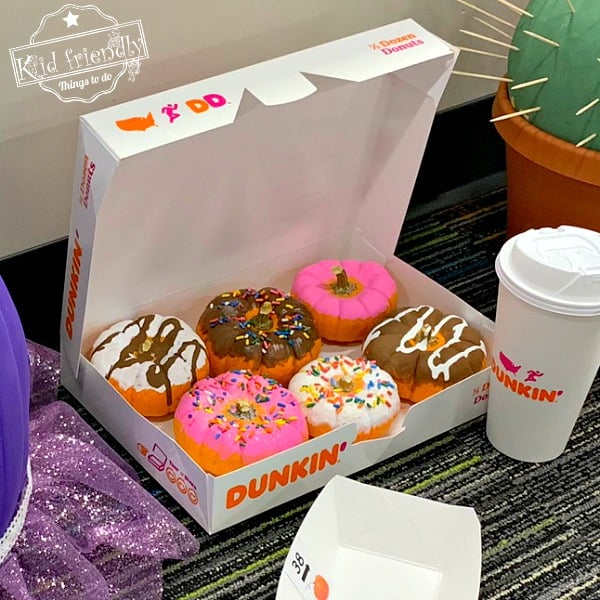 Mini pumpkins painted with sprinkles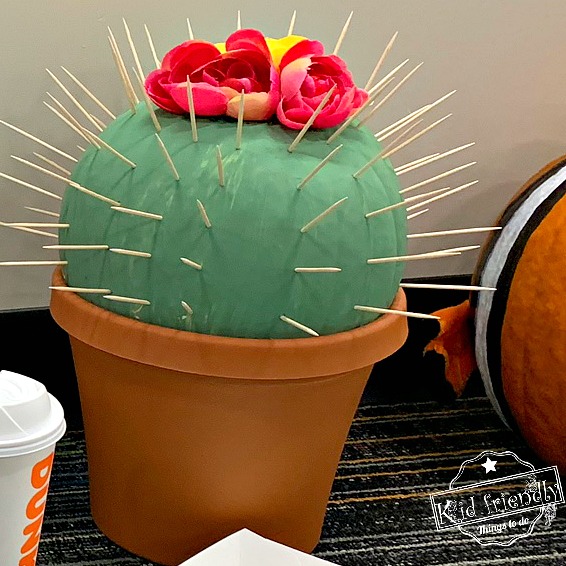 Cactus Painted Pumpkin – toothpicks, flower and clay pot help set the stage for this fun pumpkin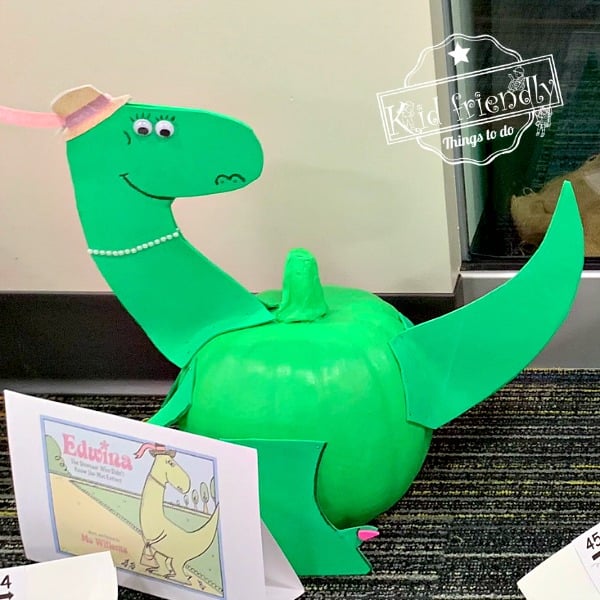 Edwina the Dinosaur Painted Pumpkin – with craft foam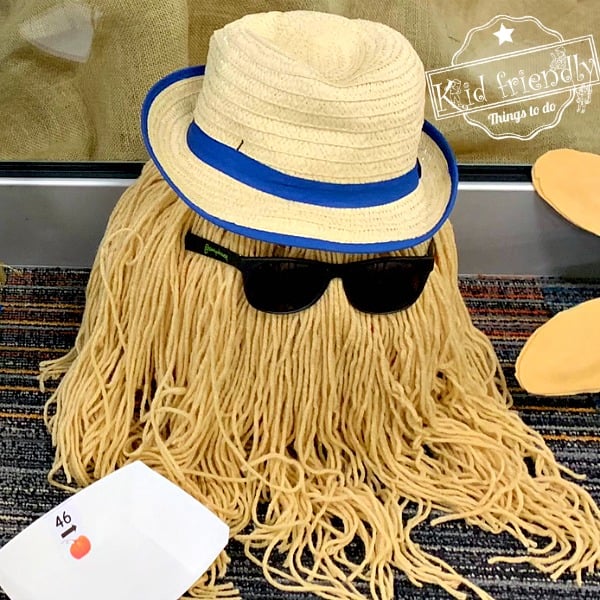 Cousin It – Yarn or even a mop would work for this pumpkin with glasses and a hat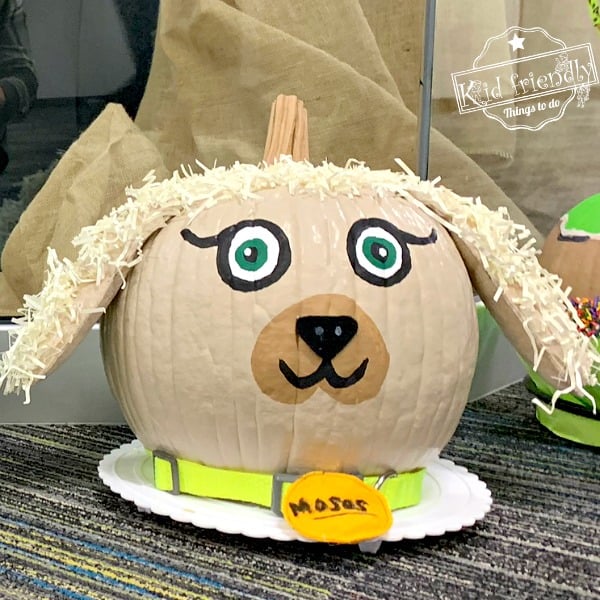 Dog Painted Pumpkin – I don't know what material the ears are made from. Shredded paper is added for fur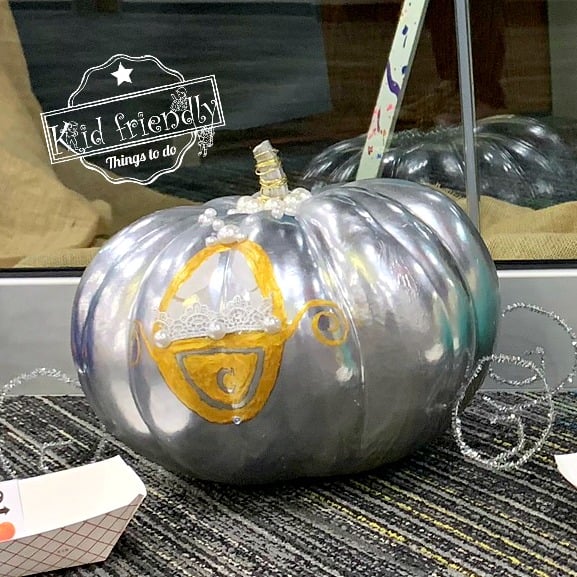 Cinderella Painted Pumpkin – This was our contribution. Another Cinderella pumpkin was also entered into the contest. Our competitors added a toy carriage and plastic horses which won the little girls over. I have to give them credit for thinking that one through. Even though our pumpkin didn't place, I still think it's pretty cool.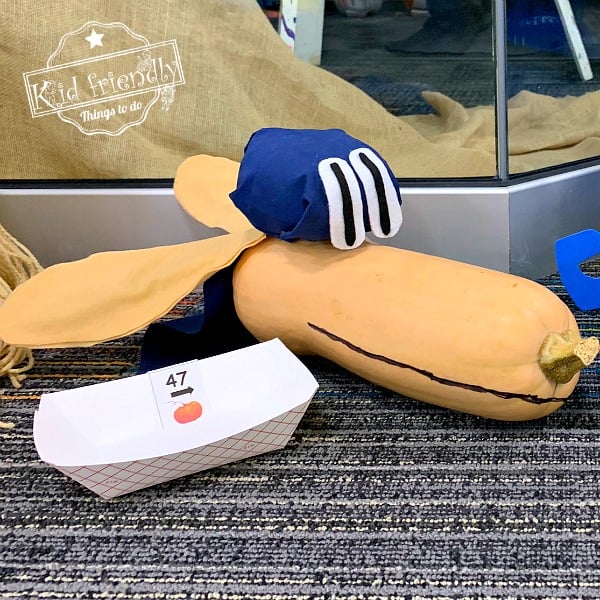 Technically this pumpkin is a butternut squash, but still so clever! This is Dog Man. He is a children's book character. It looks like felt was stuffed and glued for the ears. The hat looks like it is blue fabric wrapped around an object and glued.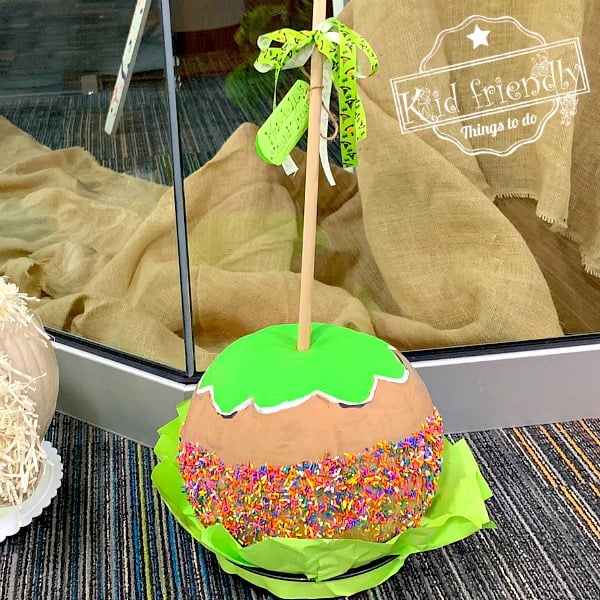 Caramel Apple Painted Pumpkin – This is painted with sprinkles, placed in tissue paper with a wooden dowel inserted in the middle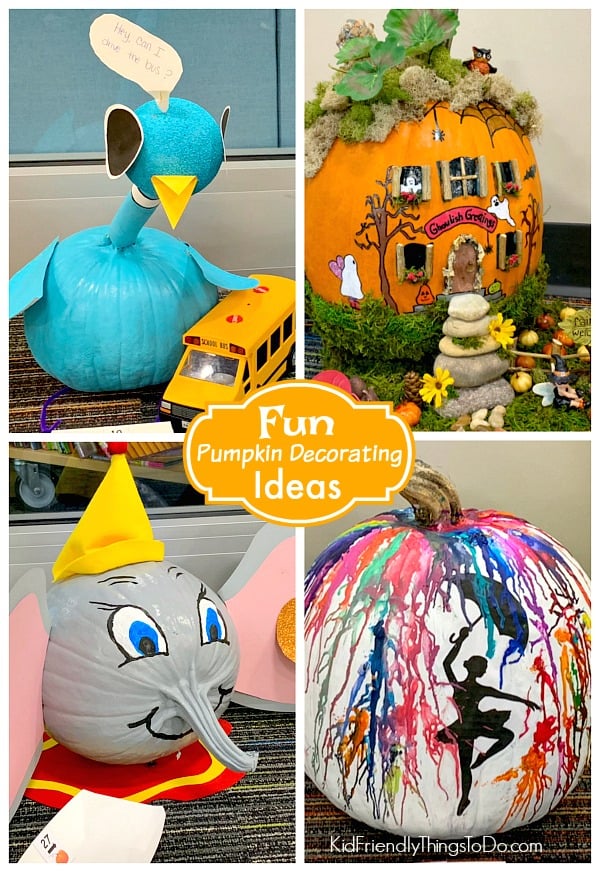 That's it, everyone. I hope you found some inspiration from the photos.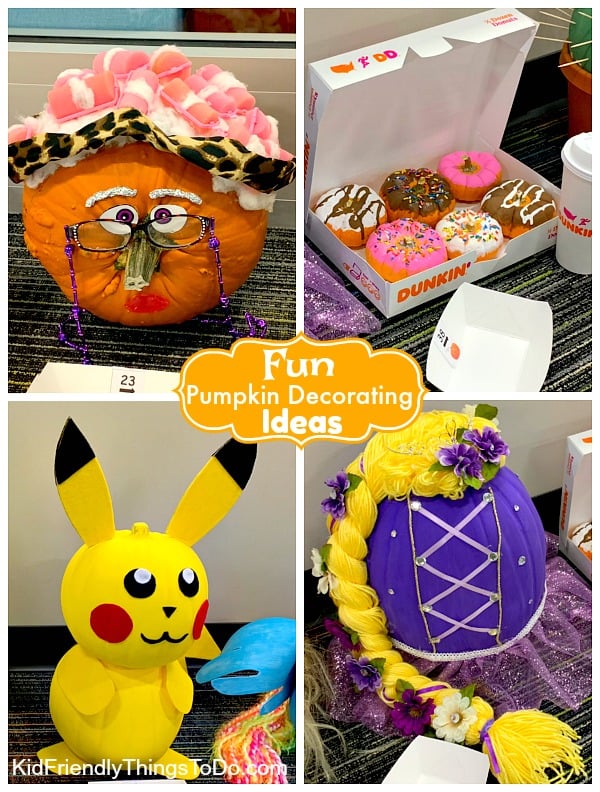 If you need further instructions, you can probably find similar pumpkins on Pinterest that will help you achieve the pumpkin you want.
Happy Halloween!