Make this fun "glowing" display with glow in the dark paint for your Halloween Party! Or, let your trick-or-treaters enjoy it on your doorstep Halloween night! I just used glitter spray paint on the pumpkins – Easy Peasy! Here are some close up pictures of the fun letters so you can make the same display! If you look open the page, you'll see the "O"s have a spider hanging out on a web! So cute!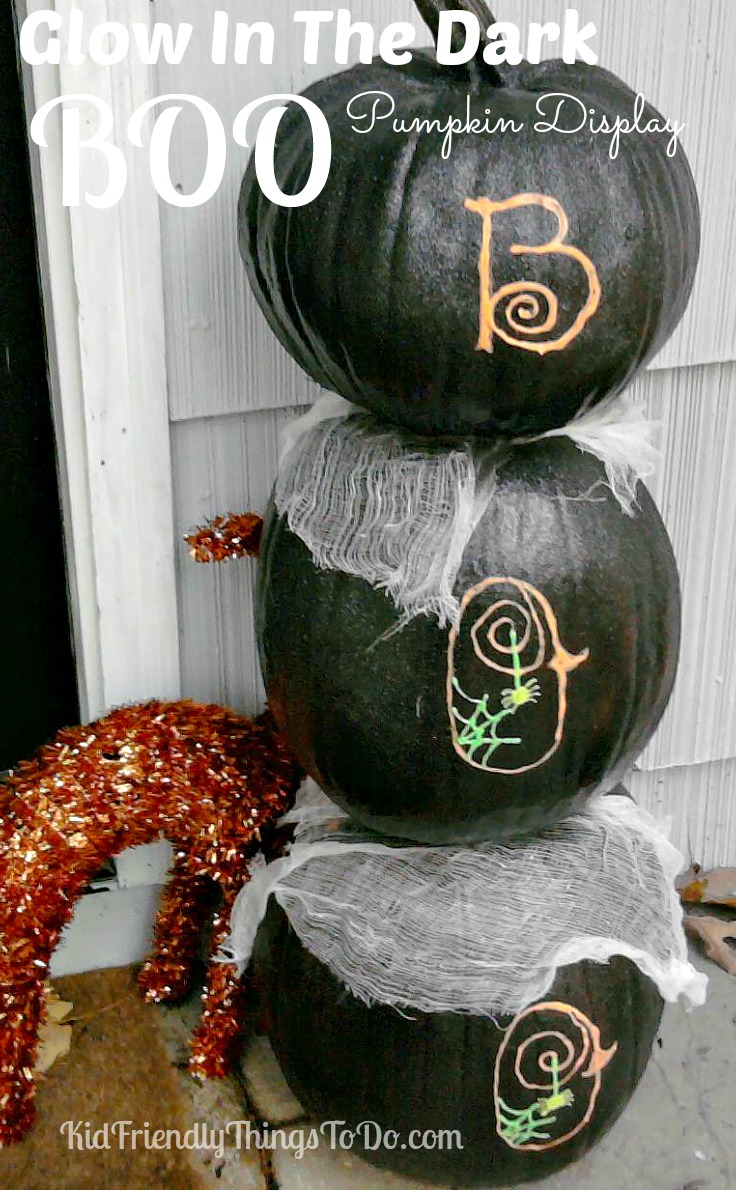 I first used black spray paint to paint the pumpkins all black (Rustoleum holds up the best) – let dry
Then, I went over the black paint with glitter blast! They are so shiny and beautiful. You could just stop there! But, if you want to make the "BOO" display, read on…
Don't forget to use glow in the dark paint! It comes in a squeeze bottle, which makes it easy to write with. Find it in the fabric paint aisle at Michael's craft store, or a similar craft store.
The B is just a fancy "B" give it a little spiral inside the bottom of his belly, and some fancy flares to his stick! And, there you have it! A fancy "B"!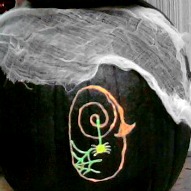 The "O"s are just and Oval starting on the top right going clockwise and back up, then heading inside the top with a spiral for the top half of the Oval!
Hang a spider from the end point of the spiral by using a contrasting color, like the green I used, and pulling it down under the spiral
Add a spider to the green line by making a "yellow circle" -or a kids thumb print! and give it 8 little legs!
The "green" web is in the bottom left of the oval. I made 3 green lines, Starting with a wide sideways "V" and a line in the middle of the "V", then I connected the "V" lines to the Orange Oval with green paint going across in 2 spots to form a WEB for the spider!
I added a little flare on the orange oval at the middle-right section, just for more fun!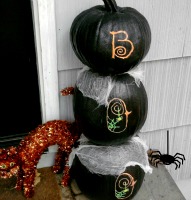 I gave the pumpkin spiders more webs, by adding some cut pieces of cheese cloth between each pumpkin.
I cut a whole in the bottom of the B pumpkin and the middle O pumpkin and stacked them on their stems
Enjoy!
Melissa – KidFriendlyThingsToDo.Com – A site providing kid friendly crafts, recipes, and fun ideas for the whole family! Plus, lots of fun things to do with kids in Connecticut, Massachusetts, and Rhode Island are reviewed including pictures!