This craft has been compensated by Collective Bias, Inc. and its advertiser. All opinions are mine alone. #ItsMyMasterpiece #CollectiveBias
Have you seen the new Diet Coke bottles? They definitely caught my eye. How could they not? The designs are so artistic, and each one is so unique. As a matter of fact they are all 100% unique! I love that! Of course, you know me…I'm not going to let something that fun escape me. As soon as I saw them, I made big plans for them! I snatched up a few bottles for our Family Fun Night and soon after, got to work on creating a fun Diet Coke Bottle Wind Chime with the kids! Come on in, and I'll show you how you can make one, too.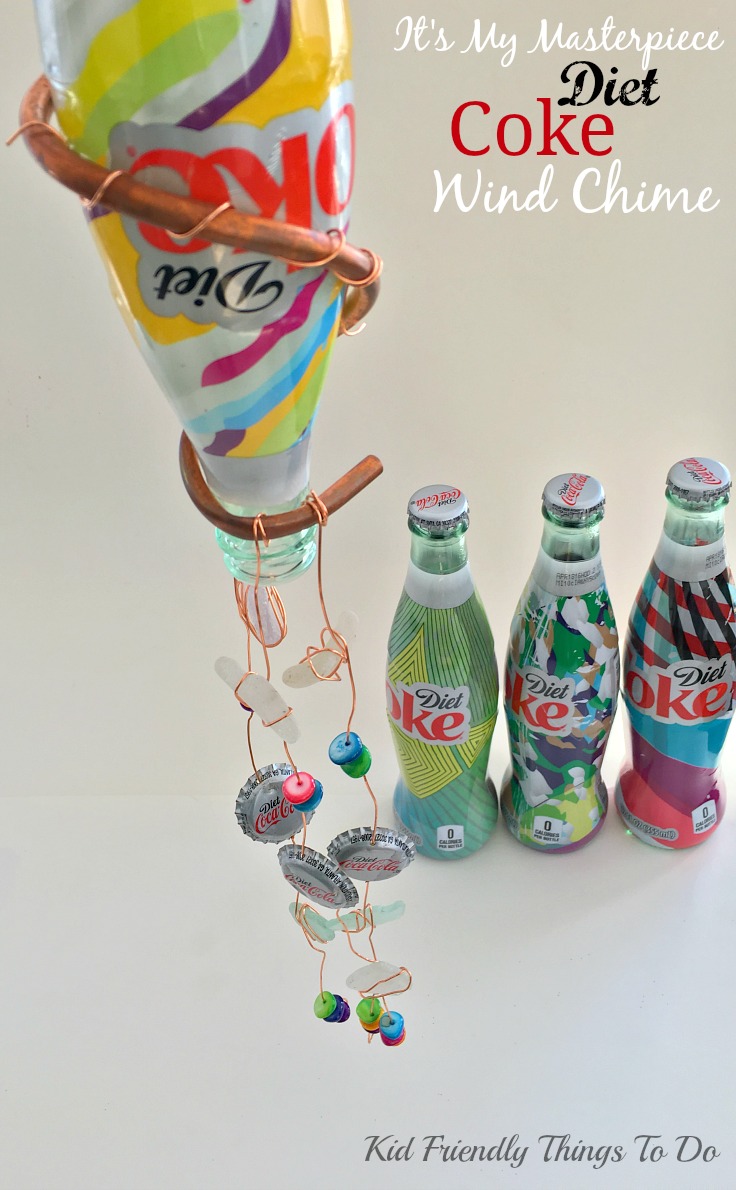 Ta Da! I love how colorful and cheerful the bottles are. With our winter Mid-West blizzard outside, this colorful decoration is just what we need.
I knew right away, that we would want to incorporate the Diet Coke bottle caps. Coca-Cola, to me ,holds a special place in my heart. Not only is it an American Icon, but Coca-Cola holds a significant memory from my childhood. It reminds me of family, sweet southern summers, and the sound that, when you hear it, you recognize as "Aah". Now, it's also a part of my kid's childhood. There isn't a special holiday that goes by without mom bringing home a fun 6 pack of glass Coca-Cola bottles as a treat.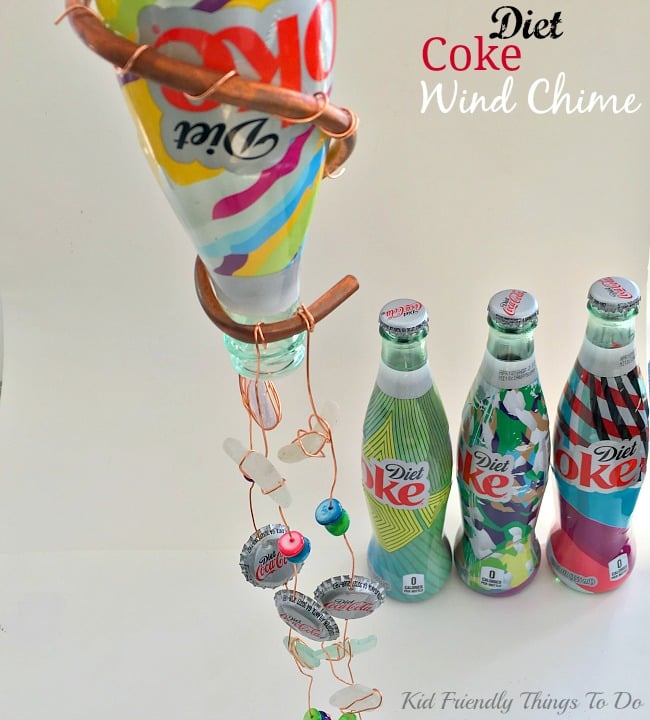 I also wanted to throw in something that would remind us of our summer days, and memories made together. That's where the sea glass came in. As a family, we have spent hours on the beaches of Rhode Island (in my experiences – the best sea glass beaches), Lake Michigan, and the East Coast of Florida exploring the sand for treasure. My favorite treasure is sea glass. We have tons! I always knew we would make something with it, but I never envisioned a Wind Chime…not until I saw the Diet Coke bottles and the wind chime potentials that immediately sprung into my head.
Here's what you'll need to make your own Diet Coke Wind Chime: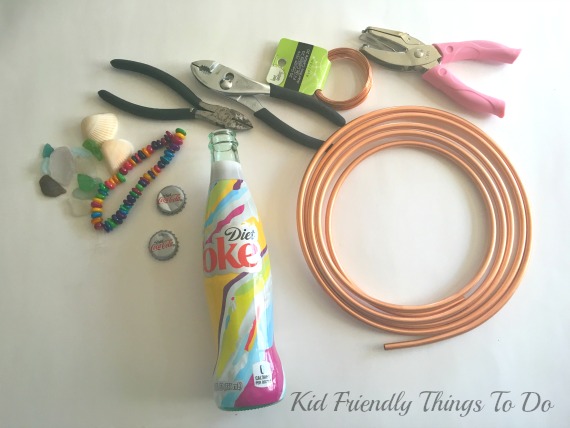 A New One of a Kind, Diet Coke Bottle – you can find them at your local Walmart
Copper Coil – you can find this at a hardware store. It bends easily, and is my new favorite crafting tool. I bought a 10 ft. section which is enough for 1-2 bottles
Copper or Brass wire – find this in a DIY jewelry section
Beads – find this in a craft store, also the jewelry section of craft stores (that's where the prettiest ones are)
Hole Punch – 1/8 inch. – find this in the scrap book aisle – this is for the bottle caps
Anything else that you might want to add to your wind chime, like shells, or sea glass 😉
Now on to the fun!
You'll first want to drink the Diet Coke out of one bottle (yum!), or more if you plan on making lots of wind chimes
Rinse and allow to air dry
Wrapping the bottle:
It's so easy to wrap the coil around the bottle. Start at the narrow part of the bottle, wrapping it about 3/4 of the way around and then start moving up the bottle going at an angle
Once you have reached the top, you can just create a hook for your tree or stand by carefully curving the tubing. If you bend it at too sharp an angle, you might snap the tubing
I even used another bottle to guide my curves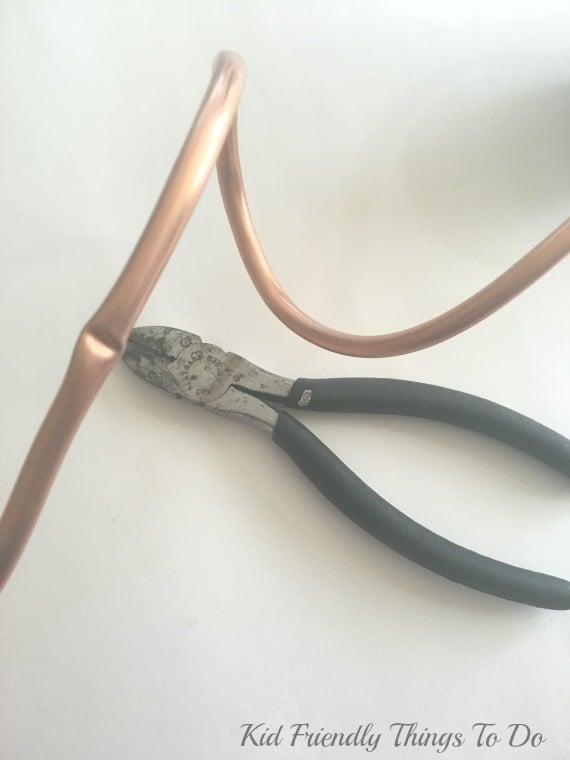 Once you're satisfied with your hook, find your stopping point, crimp the coil with your wire cutters and bend the tubing back and forth until the extra snaps off. You might be left with a sharp piece, but you can use pliers to manipulate the tubing and bend it down
Decorating: Yay!
This is where the smaller copper wire comes in and the kids will really enjoy this creative section!
Use your wire cutters to cut sections of wire. I used 3 sections, but you could add more to really get some chime action. If you're working with the kids, you could cut one wire per kid! I used about 2 ft. of wire per strand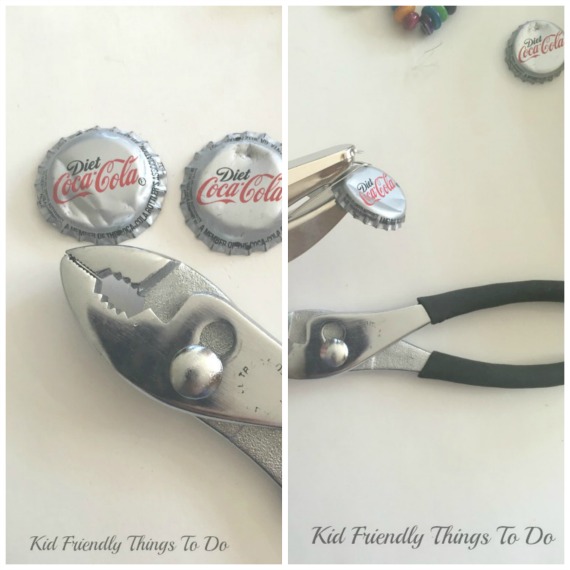 If you want to use the bottle caps, use your pliers to bend them into a flower like shape and your hole punch to punch holes on opposite sides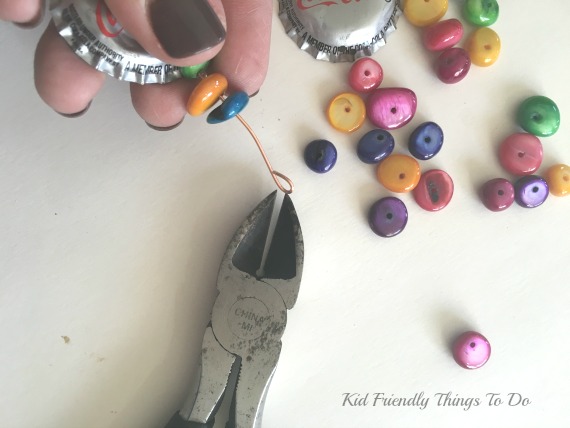 Then, just start beading items, and wrapping stuff up in your wire. I made the display into a pattern. I did sea glass, beads, bottle caps, sea glass, beads with about 1 inch of space between each item.
Don't forget to crimp or give a little bend to the wire under each object so for example, the beads don't just slip to the bottom
End with a little turn in your wire as a stopper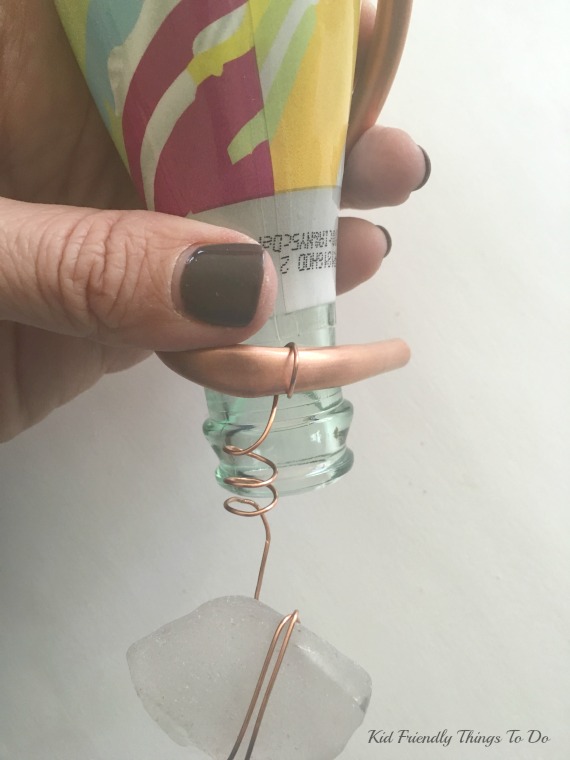 Hang them from the copper coil by wrapping it in sections between the coil and the bottle. Use your pliers to really tighten the grasp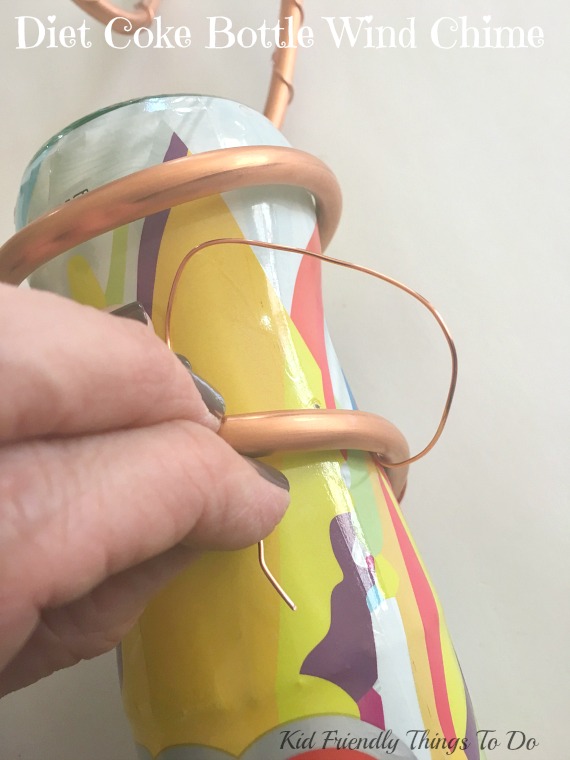 If you want to get really fancy, wrap some wire around the tubing, like I did
That's it! Enjoy you're one of a kind creation!
Don't Forget To Share Your Masterpiece With The World! See how, below: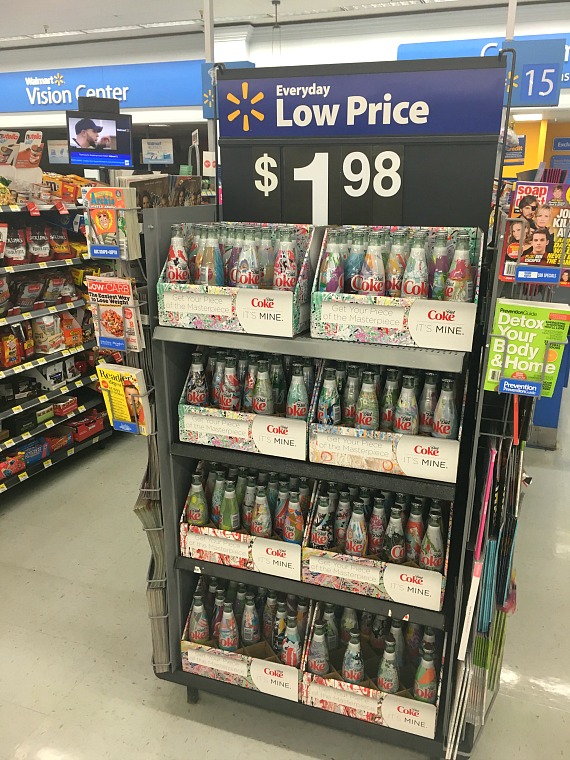 As I mentioned before, you can find the bottles at your local Walmart. I found mine up front, by the registers.
Then, stop back by and tell me what your New Diet Coke bottle inspired you to create! I love to hear from my friends.
Until then, have a wonderful day, and happy creating!
~Melissa – KidFriendlyThingsToDo.com