A Cranberry Pineapple Upside Down Cake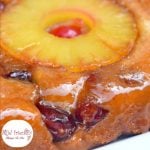 Posted by Melissa in Christmas, Dessert, Easy Family Recipes, Thanksgiving | 0 comments
This dessert showcases beautiful cranberries, and pineapples making it perfect for a Holiday Dessert! And, let me tell you, after tasting it, I have used full will power against eating the entire platter! It's hard for me to resist a cake with sour cream in the batter!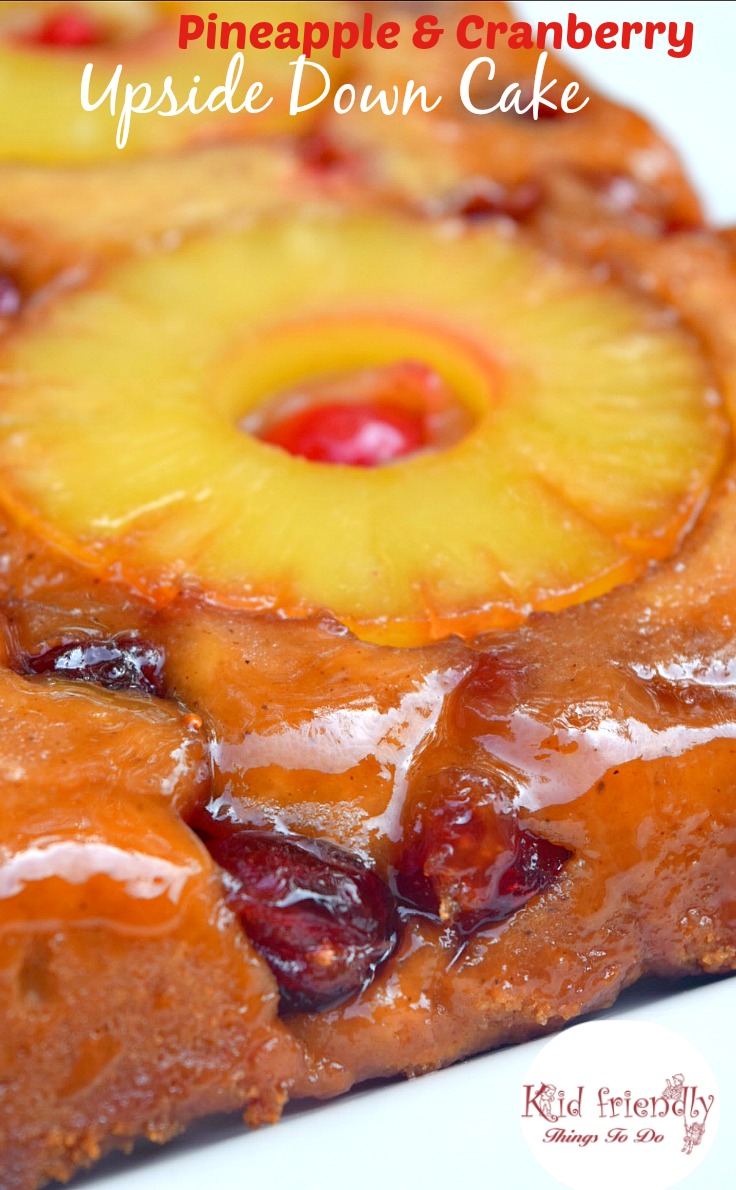 The kids are no stranger to this cake, either. They absolutely love it. The cranberries didn't even scare them away. I like to encourage the kids to eat as much pineapple as possible. Did you know that pineapple has amazing health benefits? It helps strengthen bones and even stimulates weight loss! Hmm…maybe we don't have to feel so guilty with this guilty pleasure. You can check out the many, many other health benefits of adding pineapple to your diet in this amazing article written by the very sweet Helen, called 19 Science Backed Health Benefits of Pineapple by clicking on the link.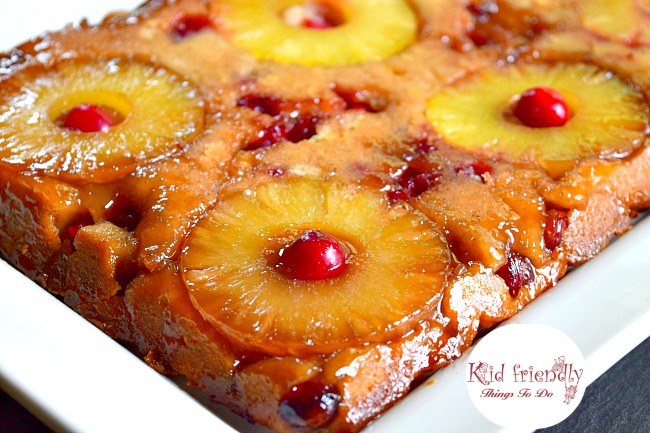 I love that the whole house smells like Christmas when I bake this. The cloves and cinnamon are filling the house up with such a wonderful aroma!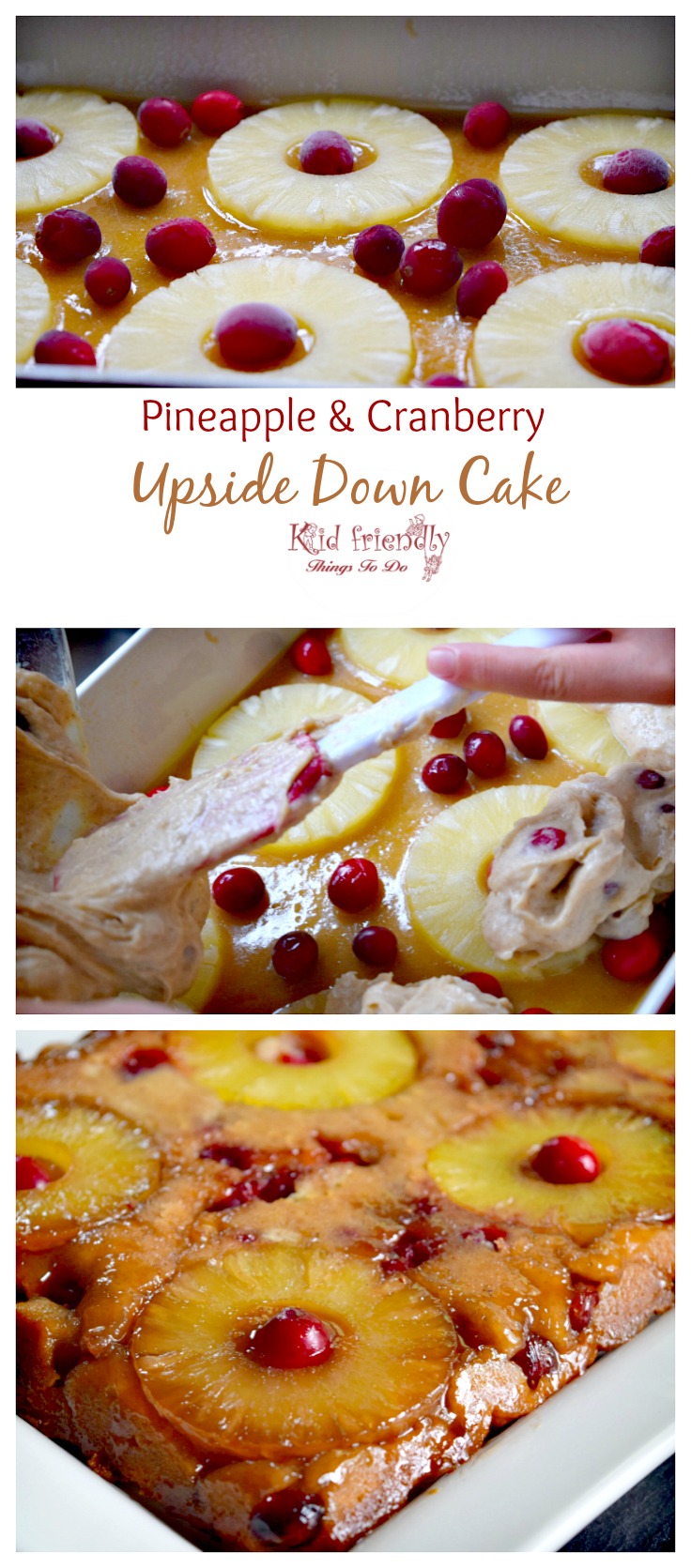 Enough about my house smelling yummy, let's get onto the recipe so you can experience the smells and tastes of this delicious Cranberry and Pineapple Upside Down Cake!
Cranberry Pineapple Upside Down Cake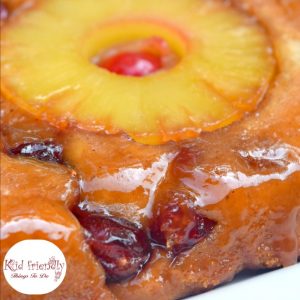 Scale
Ingredients
The Bottom Layer

1 cup

of packed brown sugar

1/2 cup

of unsalted butter

1

can of sliced pineapples drained (

20 oz

.)

1 cup

of fresh or frozen cranberries
The Cake Portion
1/2 cup

of unsalted butter, softened

1

&1/4 cup of sugar

1/2 cup

of applesauce

2

eggs

1

t of vanilla extract

2 cup

s of all-purpose flour

2

t of baking powder

1

t of salt

1

t ground cinnamon

1/2

t of ground cloves

1/2

t ground ginger

3/4 cup

of sour cream

1 cup

of fresh or frozen cranberries
Instructions
Preheat your oven to 350 degrees
Grease a 9×13 baking pan
We are starting off with the caramel portion. (bottom layer)
In a saucepan over medium heat – Heat the 1/2 cup of butter until melted, and add brown sugar
Stir together and cook for a couple of minutes
Pour the caramel mixture into the greased pan
Place your pineapple slices into the caramel mixture – I fit about 9 slices into my pan – rows of 3 across, and down
Place a cranberry in the center of each slice
Spread the rest of the cranberries in-between the pineapple slices, and the edge of the pan
Onto the Cake portion
Cream the butter, and sugar together until they are well mixed
Add the applesauce, and mix that in too!
Add the eggs, whisking it all together
Whisk the vanilla in
In a separate bowl, start mixing the dry ingredients – flour, baking powder, salt, cinnamon, cloves, and ginger
Place sour cream into a small bowl
Start adding the creamed sugar/butter mixture into the flour mixture, alternating with the sour cream – Mixing it all together with each addition
Fold in the fresh cranberries
Pour the cake batter over the caramel/pineapple layer
Bake for 50-60 minutes, until a toothpick inserted into the middle of the cake comes out clean
Let the cake cool for about 10 minutes
Invert the cake onto your serving platter
Serve alone, or add whipped cream or ice cream!
Yummy
~Melissa – KidFriendlyThingsToDo.com